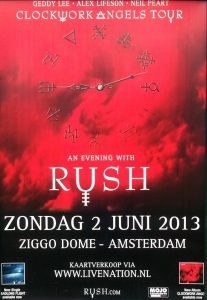 Autant la tournée précédente de RUSH nous avait laissé quelque peu sur notre faim – et en tous cas sur une relative demi-satisfaction à certains égards (voir Chap. 1 de Intensities, The Vintage Years 1978-2011) – autant cette tournée européenne 2013 (10 dates seulement) atteint des sommets sans doute jamais atteints par le passé. Les Canadiens nous invitent à un show entièrement revisité par la magie d'un lay-out et d'un design totalement inédits, aussi impressionnants que spectaculaires mais sans jamais tomber dans le "grand-guignolesque" floydien, dans le "barnum" de la bande à Bono ou dans la comédie musicale (au propre comme au figuré) style Pierres qui Roulent par exemple. Le lay-out surdimensionne ici le show en le transcendant littéralement, sans en être à aucun moment le prétexte ni l'alibi : subtil équilibre et savant dosage dont bien peu peuvent se targuer, et raffinement à la portée d'une rare minorité.
Au regard de la trentaine de shows à notre actif, il n'est pas présomptueux d'affirmer que nous touchons ici à l'aboutissement parfait et que nous faisons plus qu'effleurer la perfection aboutie de quarante ans de maturation et de vieillissement. RUSH, comme le bon vin, bonifie en vieillissant et offre à l'amateur (qui sait que plus tard il sera peut-être trop tard) la jouissance de l'éphémère dans la fine fleur de l'âge. La maturité artistique et musicale de RUSH déploie toute sa splendeur et toute sa maestria, épanouissement mature du mariage parfait de la technologie, de la technique et de l'art. C'est tout bonnement à la quintessence même du génie conceptuel labellisé RUSH dont nous sommes les témoins privilégiés ce soir dans un Ziggo Dome amstedalois plein comme un Polonais.

Le power-trio articule sa première heure autour d'une set-list tout bonnement détonante, faisant la part belle aux eighties qu'il revisite et rajeunit, nous prenant à contre-pied à chacun des enchainements plus surprenants les uns que les autres. Les deux heures suivantes s'ouvrent sur un long périple par leur dernier album, éponyme de cette tournée « Clockwork Angels ». Alors que le trio s'est historiquement toujours refusé de se faire accompagner d'un quatrième homme pour aider à la manoeuvre, c'est exceptionnellement qu'Alex Lifeson et Geddy Lee sont cette fois quelque peu soulagés dans leur gymnastique multi-instrumentiste par la présence sur scène d'un… ensemble à cordes durant la seconde heure ! S'étant interdits de sombrer dans le travers commercial d'un live symphonique, deux violoncelles et cinq violons viennent pour l'occasion discrètement s'installer derrière le toujours impressionnant et imposant attirail de Neil Peart. De quoi donc soulager d'autant nos deux lascars des synthés et autres samplers dont ils doivent habituellement s'embarrasser alors qu'ils ont déjà bien à faire avec leurs manches. Superbe touche donc, aussi discrète et effacée qu'efficace, toute en finesse et en doigté – aux antipodes des pompeuses et pompantes versions « symphoniques » de certains.
Débutant par surprise leur set avec Subdivisions, ils le clôtureront en prenant toujours à contre-pied le public faisant l'impasse sur certains de leurs inévitables classiques : à l'image des deux solos de Neil et de tout le décorum on stage notamment, cet Evening with RUSH sort tout bonnement de l'extraordinaire en réservant au public surprises sur surprises. Qui donc peut s'en enorgueillir de la sorte après quatre décennies ?! Qui d'autre peut faire à la fois preuve d'un tel renouvellement et d'un tel naturel dans la perfection ?! RUSH est un grand cru arrivé à maturité: s'en délecter est une volupté de fin gourmet qui nous fait dire qu'il est de ces instants de grâce qui n'ont pas de prix car ils n'ont pas de valeur. We will not pay the price, but we will count the cost…. Que nous réserve donc Cologne après-demain ?!