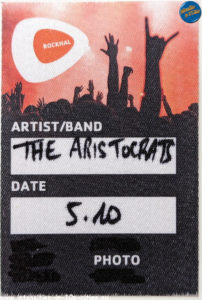 Les amateurs de rock de haut vol, les véritables connoisseurs avaient une date à marquer d'une pierre blanche dans leur agenda : celle du 05 octobre 2023 à laquelle le trio de virtuoses débarquait à la Rockhal pour un concert qui s'annonçait mémorable. Et mémorable, il l'a été. Exceptionnels, ils l'ont été ! Guthrie Govan, Bryan Beller et Marco Minnemann sont définitivement les maîtres du genre, celui d'une fusion audacieuse et improbable de styles allant du jazz au métal, en passant par le funk, le blues voire même la pop.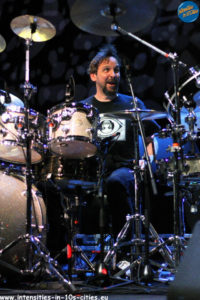 Et l'on ne parle même pas de leur sens de l'humour particulier : un concert des ARISTOCRATS, c'est 100% de blague, 200% de virtuosité et 300% de complexité pour un résultat global qui frise l'excellence musicale et la perfection mélodique. Quand ce n'est pas au contraire de la dérision totale, lorsque par exemple le trio démonte, dézingue et massacre la bienséance et le bon goût musical élémentaire avec leur Blues Fuckers qui clôture la soirée dans une joyeuse vrille aussi cacophonique qu'hilarante.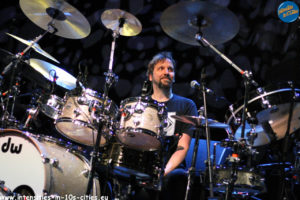 The ARISTOCRATS, c'est un voyage musical pour le moins particulier voire hors norme qui perdure depuis plus de deux décennies. Le band se forme spontanément en 2011 à la suite d'une performance improvisée au Winter NAMM Show à Anaheim, en Californie : contents de leur alchimie improbable sur scène, ils décident au pied levé de continuer ensemble après ce concert quasi-improvisé. The ARISTOCRATS conquiert rapidement les oreilles averties d'un public connaisseur et amateur d'humour, de complicité et de virtuosité. Capables de fusionner les influences de chacun de ses membres, The ARISTOCRATS est avant tout une formule synergique et synergétique sans pareille, ou quasi.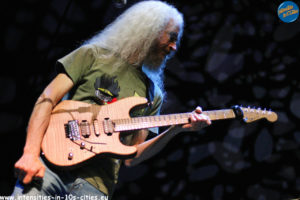 Govan impressionne par sa technique et sa musicalité. Beller, confirme sa réputation de bassiste polyvalent et inventif qui a accompagné quantité de pointures. Et last but not least, Marco Minnemann demeure un batteur aussi prodigieux que créatif. S'il collabore avec Paul Gilbert ou Steven Wilson, ce n'est pas pour rien. Et son émouvant hommage rendu à Neil Peart tout juste décédé lors du dernier passage des ARISTOCRATS ici même le 16 janvier 2020 était sans doute annonciateur de sa toute récente collaboration avec Alex Lifeson. The ARISTOCRATS, que des pointures. Et les pointures ne fréquentent que les pointures. Qui se ressemble s'assemble…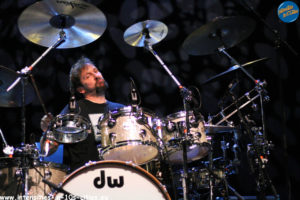 Le spectacle est à la fois énergique, humoristique et interactif, où la musique oscille entre complexité et accessibilité, sérieux et décalé, originalité et familiarité. C'est tout ça, The ARISTOCRATS. Et bien plus encore : une extraordinaire complicité et une synchronisation à couper le souffle, les deux allant de pair pour ce band improbable et exceptionnel, pour un des groupes les plus talentueux et les plus amusants de la scène rock instrumental. Parce que ce trio à la technicité imparable et à la virtuosité stratosphérique fait également preuve d'un talent démesuré. Un style inclassable, des riffs lourds et implacables là, des notes de jazz qui s'envolent, plus loin une touche de flamenco…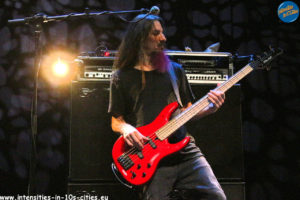 La création, l'audace et l'originalité sont permanentes et pour autant, le groupe ne perd jamais son public : une vraie démonstration à laquelle un public de vrais connaisseurs (des deux sexes) assiste, tantôt dans un silence assourdissant pour deviner les notes étouffées, tantôt partageant de grands éclats de rire quand le trio se lâche en humour totalement décalé. Loin d'être seulement un spectacle pour passionnés, les shows des ARTISTOCRATS sont aussi de grands moments de partage. À se demander comment nos lascars s'y prennent pour nous offrir cette débauche dans une concentration aussi maximale qu'est décontractée et hilare leur attitude. Les connoisseurs étaient manifestement présents ce soir dans l'assistance. Dans le pit-photo également: nous y étions seuls…