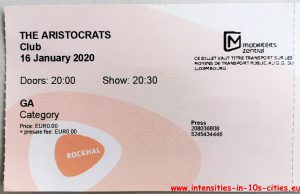 Minuit bien sonné: GOVAN et MINNERMANN débarquent au bistrot voisin de la Rockhal, et s'installent à la table voisine de la nôtre pour écluser – comme nous – quelques Guinness jusqu'à la fermeture des lieux. Au moment de lever le camp, on leur serret la pince en leur adressant en guise d'au revoir: « Your Neil PEART tributes were much, very much appreciated: thank you from the bottom of our heart… »
Et de fait, Marco lui a dédié un peu plus tôt dans la soirée son remarquable et excellentissime solo d'inspiration fort peartienne, tandis que plus tard Beller rendait lui aussi un vibrant hommage à RUSH, ce groupe sans lequel beaucoup ne seraient tout simplement pas – pour reprendre ses termes.
Ceci dit, Nous poser un lapin à quelques heures de l'ouverture des portes, ça on ne nous l'avais jamais fait. Bingo…
Mais soit: les cartes sont entre les mains du management, souverain en matière d'accréditations-photos, et c'est ainsi. Une fois n'est pas coutume, nous assisterons dès lors au show sans nous préoccuper de cadrer correctement notre cliché ni de choisir la bonne vitesse, la bonne ouverture et la bonne exposition de nos shoots.


Pour reprendre les termes du band, « What do you call an act who blends elements of dirty rock, folk, jazz, and explosions of esoterica into one mind-melding album? » The ARISTOCRATS of course ! Avec Guthrie Govan aux guitares, Bryan Beller à la basse et l'extraordinaire – mais pas plus que ses deux compères – Marco Minnemann aux drums, probablement sommes-nous en présence d'une des meilleures alchimies de rock-fusion instrumentale et exploratoire du circuit.
Une discipline exemplaire doublée d'une liberté bien cadrée, une classe folle servie par une rare virtuosité, le tour de force du trio débouche sur une production exclusive que le band précise répondre à une règle de base non-négociable: the music must be pleasurable for the listener and it most definitely has to be fun to play. Et le fun est bien au programme de ces deux grosses heures de démonstration, un peu trop même avec un humour qui n'aurait pas déplu aux Monty Python entre tous les morceaux, mais au risque à la longue de casser le rythme de la soirée.
L'excès nuit en tout, mais on leur pardonne – comme on excuse l'incartade du premier de classe boutoneux et à lunettes…