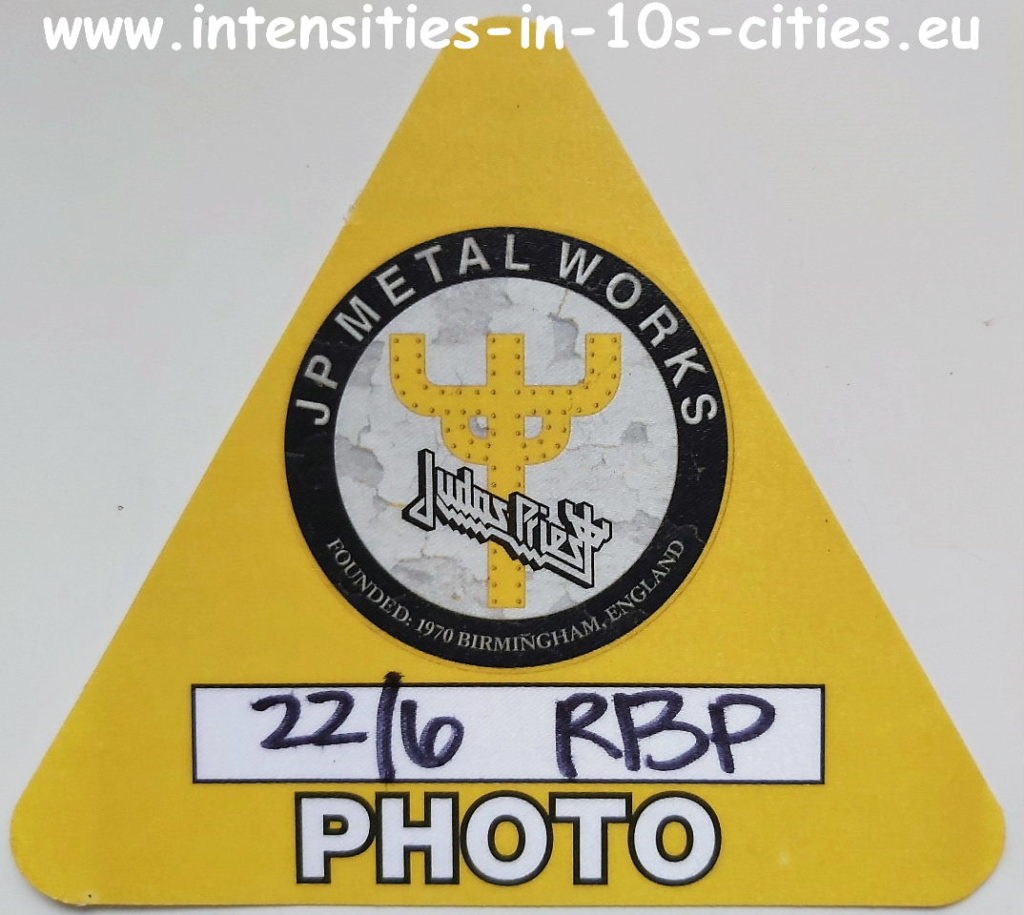 Judas Priest Metal Works – Founded: 1970 Birmingham, England, arbore notre pass-photo: tout est dit. Les USA ont Detroit, le Royaume-Uni a Birmingham. La Motor City a accouché de monstres sacrés (de Nugent à Alice Cooper, de MC5 à Iggy Pop en passant par Bob Seger et tant d'autres) tandis que la seconde en Angleterre a enfanté elle aussi de sacrés monstres – Black Sabbath et JUDAS PRIEST pour n'en citer que deux. Dans la fournaise de ces deux cités industrielles, la compétition entre les bands était âpre et faisait rage nuit et jour: c'est à celui qui jouait le plus, le plus fort et le plus longtemps. Survival of the fittest, jour après jour. Marche ou crève. C'est de la sorte que ces bassins industriels, ces berceaux métalliers et métallurgiques à leur heure de gloire ont généré la furie et l'énergie impensables ailleurs – the real rock'n'roll. Dieu soit béni.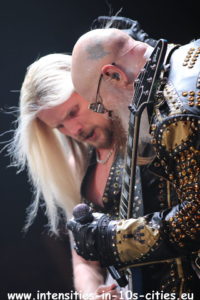 Après les adieux de KISS début de ce mois au Sportpaleis pour leur 50ème anniversaire, avant la Final Order de UFO et le Farewell Tour de WHITESNAKE après-demain au Hellfest à l'occasion de leur demi-siècle sur la route également, un quatrième pilier de la scène fête ce soir (et avec deux ans de retard pour la raison que l'on ne nomme plus) ses 50+2 berges et tire de même sa révérence – et quelle révérence : JUDAS PRIEST, les maitres ou les parents de la NWOBHM (à moins que le titre ne revienne à BLACK SABBATH, à IRON MAIDEN, à MOTORHEAD, à UFO, à SAXON ou à tant d'autres qui ont écrit en lettres d'or l'enfantement de la New Wave of British Heavy Metal des seventies ?). Une page se tourne, un chapitre se clôt, désormais plus rien ne sera comme avant – même si la bande à Bruce Dickinson et à Steve Harris, dieux du stade (ou plutôt des stades) continue inlassablement d'écrire l'histoire sans pareille de la NWOBHM. Dieux des stades d'un côté, Seigneur du Cuir de l'autre pour JUDAS PRIEST, make up your choice – pour peu qu'il faille poser un choix.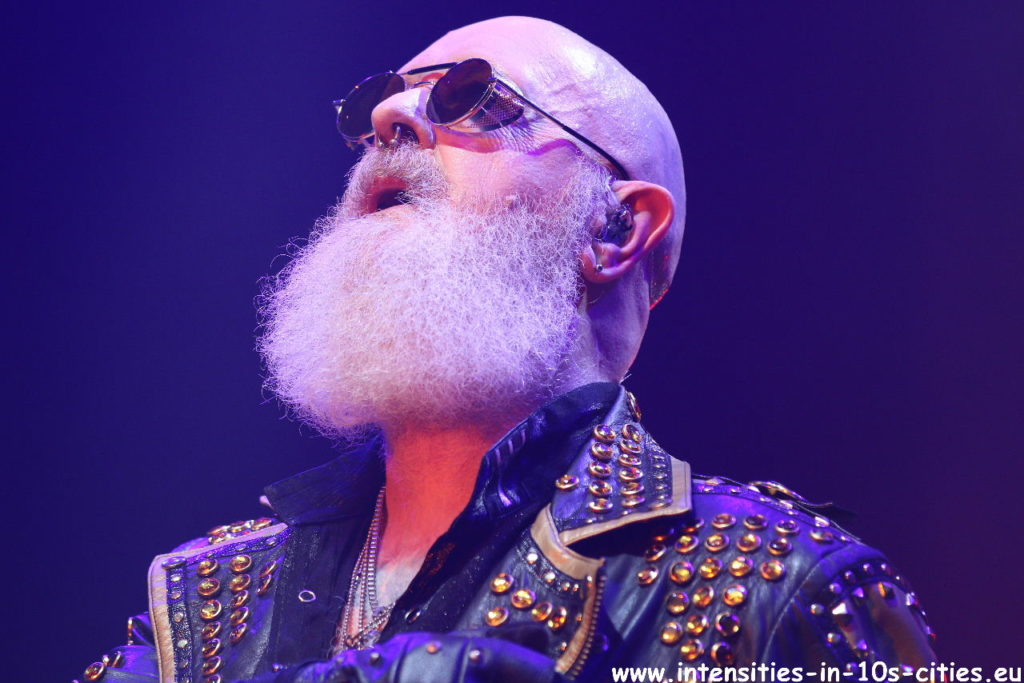 Une autre légende est à l'affiche ce soir en opening act : The Voice. Glenn HUGHES himself a intégré ce collectif DEAD DAISIES en faisant tant qu'à faire main basse sur les vocals abandonnées par John Corabi et sur la basse délaissée par Marco Mendoza. D'une pierre deux coups. Strike ! 1 pour le prix de 2. Le fidèle Dough ALDRICH, second couteau devenu premier par la force des choses, reste à la manoeuvre: la six cordes toujours bien charpentée, il devient ainsi le pivot du band tout en assurant la stabilité et la continuité des affaires.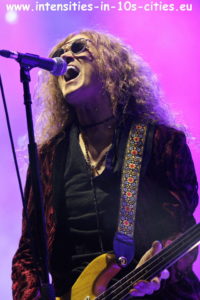 The DEAD DAISIES fait le job, ni plus ni moins: un set propret ponctué de deux dispensables reprises purpleliennes (Mistreated et Burn) sans intérêt aucun, hormis pour The Voice laissant ainsi libre cours à ses traditionnelles et tout aussi dispensables vocalises. On préfère sans conteste HUGHES à la basse (où il excelle particulièrement ce soir) plutôt qu'aux vocals (où il irrite un tantinet). Et quoi de plus pathétique que ses traditionnelles et ô combien ridicules génuflexions et courbettes de ballerines à chaque photo-finish de concerts?! Considérations certes superflues mais qui font passer la bande-son des DEAD DAISIES au second plan alors que déjà le PRIEST va débouler sur scène.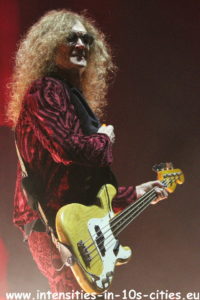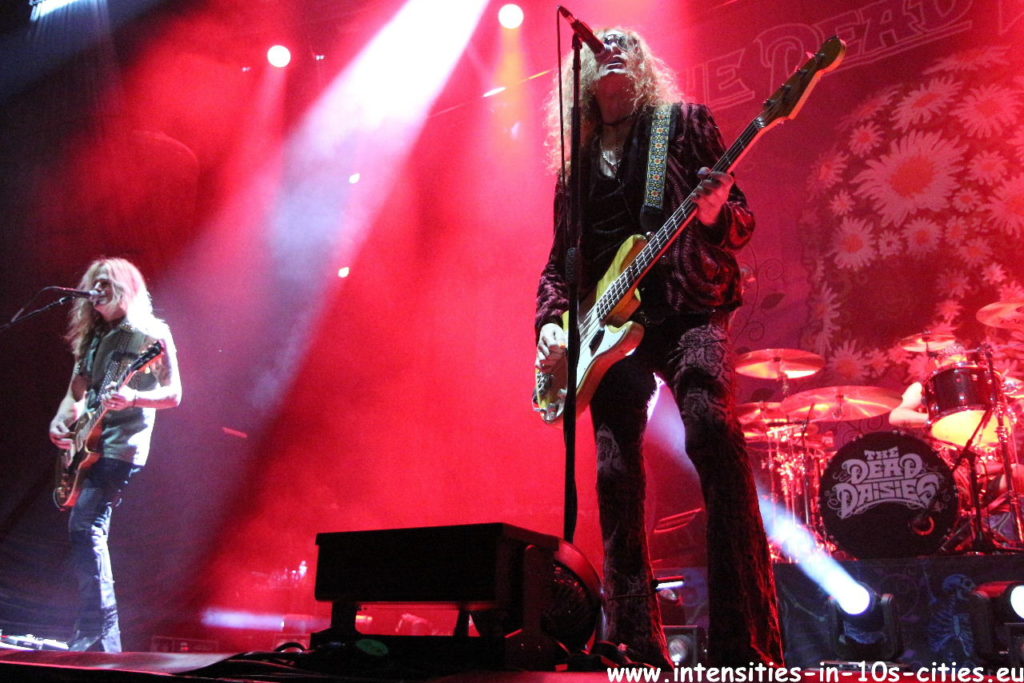 La classe totale. Et même la total-class. Dans un décorum metal factory, JUDAS PRIEST éclabousse la Rockhal de sa maestria, de son brio et de sa superbe. Faisant semblant de ne pas y toucher, mine de rien et semblant de rien, HALFORD et ses potes nous délivrent la set-list parfaite, le florilège ultime, la master-class absolue. JUDAS sort par la très grande porte et termine sa carrière au sommet de son art à l'issue d'une magistrale grand-messe, et avec l'intelligence de ne pas commettre la tournée de trop. S'arrêter au sommet de son art, clôturer sa carrière au faite de sa discipline, probablement l'aboutissement et le plus grand signe d'intelligence et de respect que JUDAS PRIEST pouvait offrir à ses hordes de quinquas et de sexas aux crânes désormais chauves et aux bides pour la plupart ventripotents. Et que dire de la projection fugace d'un Glenn Tipton sur l'écran géant le temps d'un court solo ?! Ne manquait qu'un hologramme de KK Downing pour que la boucle soit bouclée.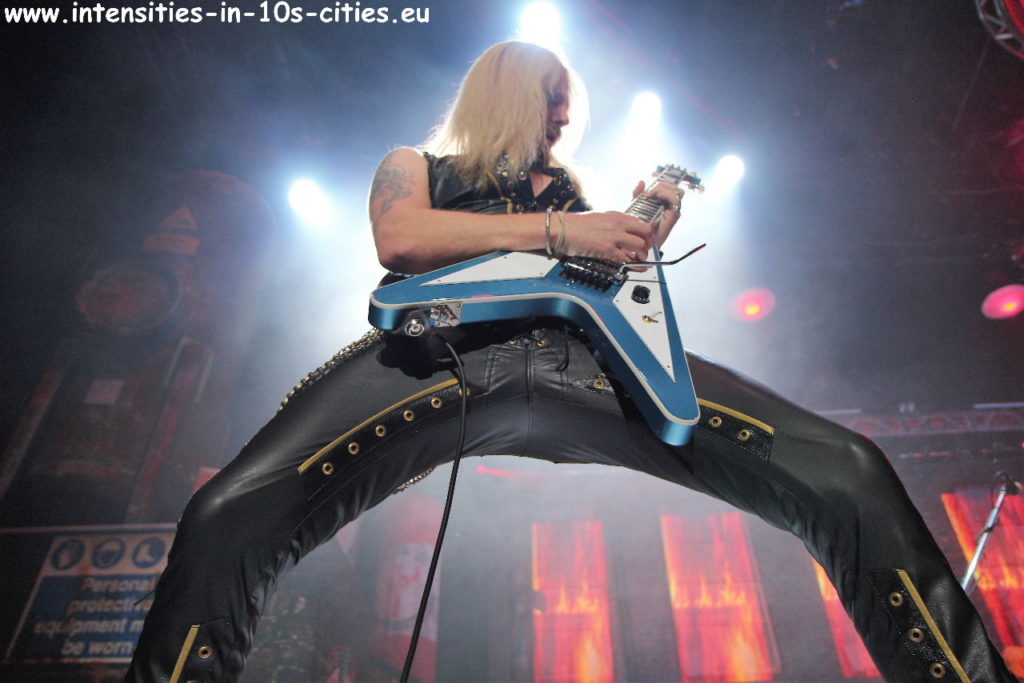 Quel plus bel adieu JUDAS PRIEST pouvait-il offrir à ses fidèles ? De quelle manière plus élégante et plus distinguée, plus flamboyante et plus magistrale JUDAS PRIEST pouvait-il refermer son tour-book ? Pour qui n'était pas de la cérémonie ce soir, la question restera à jamais sans réponse. Pour qui en était, la question ne se pose plus. Ite missa est. Amen.