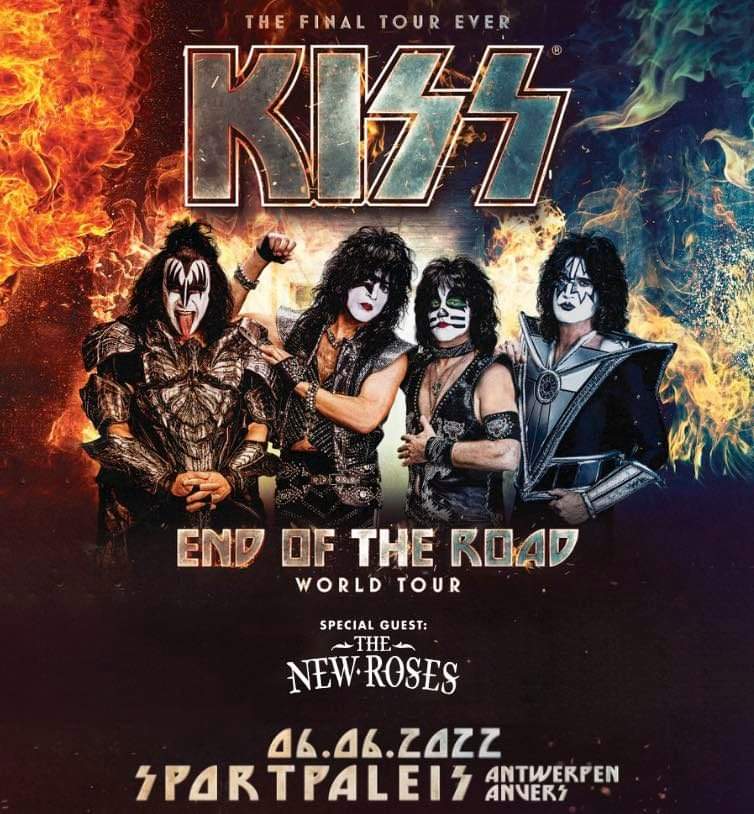 The Final Tour Ever – End of the Road World Tour annonce l'affiche, après que le quatuor ait reporté ses adieux en 2020 et en 2021 pour les raisons que l'on ne nomme désormais plus avant qu'elles ne se reproduisent. Pourtant, les gars nous l'ont déjà faite celle-là, même que c'était très exactement en juin de l'an 2000 alors qu'ils célébraient déjà leur « Farewell Tour« . C'était il y a tout juste… 22 ans, et nous en étions au Canada (Toronto et Montréal) ainsi qu'aux States (Buffalo) en compagnie du Nuge. Nous y assistions avec tout autant de délectation et d'excitation que ce soir. Business as usual…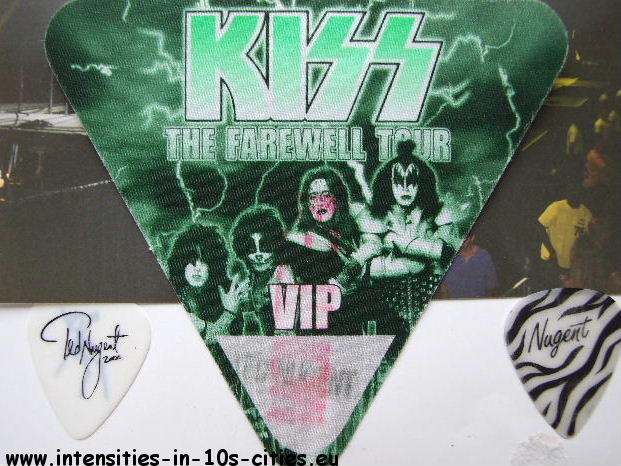 Qu'importe le flacon pourvu qu'on ait l'ivresse. Et ce n'est pas de flacon dont il est ce soir question, mais de camion-citerne (et accessoirement de semi-remorques). Deux heures durant très exactement, c'est un best of que KISS nous déverse entre deux pétards, trois feux d'artifice, quatre plateformes et cinq explosions, un véritable florilège de 45 ans d'une carrière en dents de scie où le meilleur a côtoyé le pire – si ce n'est que ce soir, seul le meilleur a droit au chapitre et rien que le meilleur. You wanted the best, you got the best ! Pour la 14ème prestation belge de KISS, Paul STANLEY rappelle néanmoins à qui en douterait encore que cette néanmoins première à Anvers sera également la dernière sur le sol belge. The Final Tour Ever, ou bien The End of the Road Tour ou encore The Farewell Tour ? L'avenir nous le dira, même si le band semble en phase pour raccrocher avant la tournée de trop.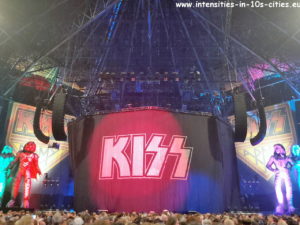 Difficile pour qui n'a jamais assisté à un concert – pardon: à un show de KISS de réaliser le mix parfait que le band réussit entre entertainement, show et rock'n'roll. Car à l'instar de Scorpions ou d'autres Aerosmith, nous l'avons écrit quantité de fois, les grimés ont écrit dès les mid-seventies et durant bien, bien plus d'une décennie les plus belles pages du rock'n'roll avant d'ensuite sombrer dans une soupe peu constante alternant donc le meilleur comme le pire. Psycho Circus, sorti à la fin du dernier millénaire, doit être une des dernières pépites à l'actif de KISS, dont l'exécution de son titre éponyme demeure un des nombreux moments de gloire en ce chaud soir du 06 juin 2022.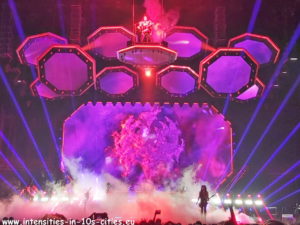 Doit-on attendre avec impatience la prochaine tournée d'adieu de KISS, ou doit-on redouter que le groupe revienne sur sa parole et nous gratifie de la tournée de trop ? Pour notre part, ces 4ème (Hellfest 2019) et 5ème KISS représentent l'aboutissement ultime d'une carrière marquée d'un panache sans pareil, d'un tape-à-l'oeil souvent excessif, de shows grandiloquents et grand-guignolesques, mais aussi et surtout d'un rock'n'roll où l'entertainement et le second degré ont toujours fait bon ménage. Il n'y a pas à dire, mais le (glam) rock de KISS va nous manquer grave. Pas à vous…?