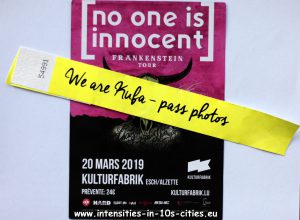 Pas grand monde en début de soirée pour BLISS OUT à qui est confiée la délicate mission d'ouvrir pour NO ONE IS INNOCENT dans une KuFa encore quasi vide. Et qui, d'ailleurs, ne débordera pas franchement le moment venu pour la tête d'affiche de monter sur les planches à 21h00 précises. Et jusque 22h05 précises, top chrono. Si la peur fait bouger, elle fait rarement avancer – et elle ne fait en tout cas pas vraiment durer…
« On a tracé notre route, on s'est jeté dans l'arène. Creusé le même sillon pour exploser les scènes, de la sueur sur les planches et rien calculer en concert, comme si on jouait sa vie, comme si c'était la dernière ! » Cet extrait tiré du titre "20 ans", résume parfaitement la carrière de NO ONE IS INNOCENT, une carrière marquée par des succès, des tempêtes, des coups de gueules, et des combats jamais perdus d'avance. Et un dernier né, Frankestein – qui donne son nom à cette tournée.
NO ONE IS INNCOCENT est un de ces groupes qui font du bien en assumant pleinement leur message et leur discours gaucho-humaniste, enragé et vindicatif. Mais le décalage est quelque peu violent entre le discours et les faits avec un set pour le moins court à la montre: une prestation de 55′ suivie d'un rappel de 10 petites minutes, c'est un peu short de la part d'un groupe qui se revendique intègre et authentique. Certes, la qualité et l'intensité de cette équipée sauvage étaient de la partie, mais ça n'excuse pas tout…
NO ONE IS INNCOCENT est puissant et agressif, vomissant sa rage à l'égard de la violence, du colonialisme et de la guerre. Toujours fidèle à son ADN, entre des racines chez Black Sabbath, Rage Against The Machine (dont ils reprennent ce soir un inégalable "Killing In The Name") et The Stooges, les Français savent encore surprendre avec une formule à l'épreuve du temps : riffs implacables, groove, hymnes incarnés et textes revendicatifs.
Nous découvrons live ce soir – il n'est jamais trop tard – la formule NO ONE IS INNOCENT, manière de s'assurer qu'ils demeurent bien dans le cercle restreint des chefs de clans du rock à grosses guitares. A grosses guitares et à textes – un peu comme si Georges Brassens avait troqué sa gratte pour un Marshall et avait fumé un joint de trop en s'inspirant de la prose de Tagada Jones.
NO ONE IS INNOCENT peut se prévaloir d'avoir officié en première partie d'AC-DC lors du dernier passage des Autraliens au Stade de France: cette seule référence devrait se suffire à elle-même – quoique le contraste soit violent avec l'affluence réduite de ce soir à la KuFa. Mais comme on dit au bar: qui peut le plus peut le moins…