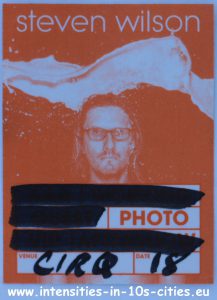 Dresser un portrait de Steven WILSON peut s'avérer de prime abord une tâche assez rebutante. Avec ses cheveux ni assez longs ni assez courts, ses fines lunettes de vue, son teint pâle et sa silhouette mince de végétarien, l'homme n'a rien d'une rock star et il ressemble davantage à un étudiant en anthropologie malgré ses 50 et des berges.
En outre, sans aller jusqu'à donner raison à un chroniqueur qui lui attribuait le charisme d'un bigorneau, on ne peut que rester parfois perplexe devant son jeu de scène (pieds nus, pointant des index énigmatiques vers le public entre deux riffs ou secouant sa main libre dans le vide lorsqu'il chante débarrassé de sa guitare).
Du côté de sa vie personnelle, ce n'est guère plus enthousiasmant, rien ne filtre, ou si peu. Pas de frasques à se mettre sous la dent, ni de petites amies délurées. Les filtres, d'ailleurs, il en a souvent utilisés au début de sa carrière, en studio pour masquer une voix à laquelle il accordait peu de confiance, sur ses disques en se cachant derrière de nombreux pseudonymes fantaisistes ou sur scène avec des lunettes et un rideau de cheveux qui lui masquaient le visage.
Les pieds nus viennent encore de là: Steven WILSON avoue une aversion depuis l'enfance pour les chaussures. Au départ, il monta sur scène contraint et forcé et l'accepta comme un mal nécessaire ("a necessary evil"). Jouer pieds nus n'exprimait donc pas une quelconque volonté d'affirmer un style, mais juste le moyen de se sentir le plus à l'aise, ou plutôt le moins mal à l'aise possible.
Et le riff déboule, incisif et hypnotique, à la fois élaboré et limpide, qui vous happe, vous aspire et vous transporte inexorablement. Ce n'est pas tant vous qui pénétrez la musique de Steven WILSON qu'elle qui investit vos synapses, laissant sur les tympans et le cortex sa marque indélébile, pour le meilleur et… seulement pour le meilleur.
On peut attribuer à la naturelle réserve de WILSON deux origines. Il s'agit d'une part d'un trait de caractère inné, mais surtout d'une décision bien consciente. Il aurait sans doute pu accomplir les efforts nécessaires pour se mettre davantage en avant mais il ne l'a pas jugé utile, ou plutôt il ne l'a pas jugé en adéquation avec la conception qu'il se faisait d'une carrière d'artiste. La musique, sa musique devrait parler pour lui. C'était cela qu'il voulait livrer au public et rien d'autre, surtout pas, en tout cas, une mise en scène de sa personnalité.
N'allez pas y voir de la fausse modestie ou une extrême pudeur. En vérité, Steven WILSON considère que toutes les informations privées émanant de sa personne ne pourraient que polluer son oeuvre. Car il sait finalement très bien ce qu'il veut atteindre et ne compte pas distraire l'auditeur avec autre chose que ce qu'il a enregistré. Il reconnait éviter toute cette nouvelle société de l'immédiateté qui permet de tout savoir sur les artistes en les googlelisant parce qu'elle fait disparaître la magie.
Certes, il est bien conscient de passer pour une sorte de rabat-joie et d'antisocial, mails il le récuse car l'essentiel pour WILSON est de préserver la part de mystère indispensable pour que la magie opère, cette magie qui va faire que le fan va considérer le musicien de rock comme une rock star, comme une icône hors du monde du commun des mortels.
Il estime simplement en fait que c'est la condition sine qua non pour que la musique touche l'auditeur ainsi qu'elle le faisait dans ces années '70 qu'il regrette tant. Aussi parle-t-il lui-même comme le fan qu'il est resté lorsqu'il déplore que l'on pouvait savoir ce qu'a pris David Bowie au petit-déjeuner, allant même jusqu'à y voir la mort du rock en tant que mythe.
Se préserver pour préserver le mystère, voilà quel pourrait être l'un des aspects de la profession de foi de WILSON, non pour devenir lui-même une icône mais simplement pour que son public puisse éprouver des sentiments analogues à ceux qu'il avait pu ressentir lui-même adolescent pour les artistes qu'il admirait alors. Une relation à l'ancienne en quelque sorte, reposant essentiellement sur l'oeuvre elle-même.
Bien sûr, cette attitude, si elle permet de mettre l'oeuvre en valeur et de préserver son jardin secret, possède un revers: à trop s'effacer derrière sa musique, Steven WILSON n'a pas su attirer l'attention des médias populaires, parce qu'il n'est pas apparu comme l'homme d'exception pouvant captiver les foules, susciter l'engouement. Et pourtant, il réalise des choses exceptionnelles, d'où sa réussite à défaut peut-être de succès.
Difficile donc de peindre un portrait précis et fidèle de l'individu qui pourrait réparer cette relative injustice puisqu'il manque les matériaux permettant de le concevoir….
Ces extraits, nous nous permettons de les emprunter aux premières pages du remarquable ouvrage de Frank BARDEL "Steven WILSON, the Dark Side of the Prog" (© Editions Camion Blanc – 2017). Ils ne peuvent que vous inciter à en savoir plus en vous invitant au voyage. En vous invitant à plonger dans l'oeuvre multiple et protéiforme du dernier génie conceptuel qu'a probablement enfanté le 20ème siècle..