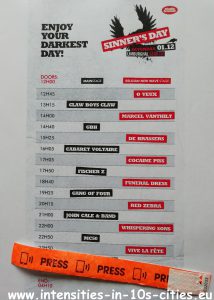 C'est à Genk que Wayne KRAMER choisit de mettre un terme à la tournée mondiale de MC5 après avoir dévasté une soixantaine de villes des deux côtés de l'Atlantique. À l'instar de son nombre de bougies, le groupe arbore un nouveau blason : MC50, célébrant de la sorte le 50ème anniversaire de cette perle fondatrice du punk qu'est Kick Out The Jams.
1968-2018: le feu roulant de KRAMER n'a rien perdu de sa superbe, et cette dernière date semble décupler son énergie et celle de ses comparses, notamment Kim Thayil en provenance directe de Soundgarden ainsi que Billy Gould, ex Faith No More, qui remplace à la basse Dug Pinnick (King's X) que nous avions vu cet été. Wayne KRAMER demeure ainsi le seul membre fondateur de MC5 aux commandes de la tournée, mais avec l'intelligence de s'entourer d'une bande de musiciens hyper talentueux à laquelle se joignent également Brendan Canty de Fugazi à la batterie et Marcus Durant de Zen Guerrilla qui endosse un costume de front man.
Il y a 50 ans, les 5 de la Motor City MC5 enregistrait à Detroit, leur ville natale, leur « Kick out the Jams ». Rarement, les paroles d'une chanson auront été aussi explicites, ce qui vaudra au groupe les foudres de la censure: certains disquaires refusent de distribuer le vinyle, dont ils jugent les propos offensants. MC5 réagit violemment, et se fait virer de sa maison de disques. Ce brûlot live est aujourd'hui considéré comme le disque précurseur du punk…
50 ans plus tard, Kramer crie haut et fort dans le communiqué officiel de sa tournée qu'il revient pour jouer « Kick Out the Jams » encore une fois, car c'est le meilleur hommage qu'il puisse rendre au groupe originel en ramenant le monstre à la vie. Ainsi, lors de chaque date, KRAMER & Co jouent l'album dans son intégralité, variant les plaisir en complétant chaque soir la setlist de quelques autres pépites.
L'ultime set de cette tournée jubilaire est une véritable explosion, un feu d'artifice, le bouquet final. Au point qu'il est parfois difficile de concevoir que c'est bien le même Wayne KRAMER survolté sur scène que celui, paisible et sage, qui déambule backstage quelques instants auparavant à l'instar d'un papy rangé.
Nous avions eu l'immense honneur d'assister l'été dernier au set de MC50 au Sjock Festival, mais la prestation de juillet est sans commune mesure avec l'énergie déployée ce soir, telle le rouleau compresseur d'une rage scénique comme pour mieux conjurer et compenser la probable émotion de mettre la clé sous le paillasson de cette tournée. Et les incroyables, émouvantes et longues étreintes du band tant avant de monter sur scènes qu'au moment de la quitter nous ramènent bien à la triste réalité: les 50 bougies de Kick Out The Jams sont ce soir définitivement soufflées.