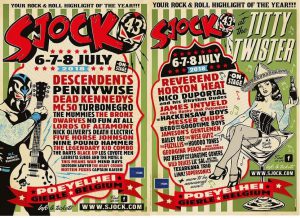 Les gars de The LORDS of ALTAMONT, on les avait vus roder et tourner en rond toute la journée dans le backstage, et l'on se demandait qui donc pouvaient bien être ces mecs tatoués jusqu'au cou et à la longue tignasse: roadies ou artistes ? Il faudra attendre leur montée sur scène pour réaliser qu'on avait passé pas mal de temps à siroter quelques chopes et déglutir un sandwich à leur côtés, en terrasse dans le Village : comme quoi on peut s'appeler The LORDS of ALTAMONT et passer incognito… du moins près des ignares en la matière que nous sommes !
Mais incognito, The LORDS of ALTAMONT le sont nettement moins une fois sous le feux des projecteurs – que du contraire. Terminant eux aussi leur tournée européenne au SJOCK Festival, ils nous réservent pour l'occasion une des plus belles prestations du weekend – qui sera d'ailleurs la seule à se poursuivre par un petit rappel, un unique petit rappel.
A moins qu'ils n'aient sans doute quelque peu écourté leur set pour le seul et jouissif plaisir de s'offrir un rappel, et faire ainsi la nique à tous les autres groupes ? Ils en ont bien la gueule, les chenapans.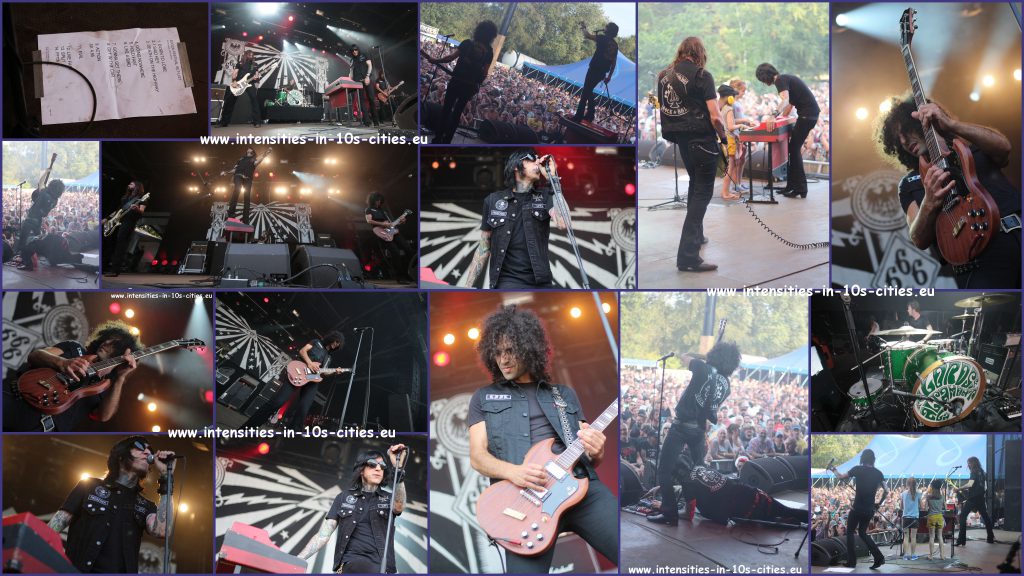 L'imitation Hammond (à moins que ce ne soit un vrai ?) méchamment et violemment martyrisée sur scène apporte toute la profondeur et fournit tout le ronflant qu'on peut souhaiter pour enjoliver des compositions qui tiennent admirablement bien la route, dans un style musical très classic rock tendances frasques californiennes à la Motley Crüe. Et quel juvénil plaisir lorsque The LORDS of ALTAMONT convient deux gosses à venir tenir le clavier…!
Parce qu'en-dehors, c'est qu'ils sont polis et gentils comme des jeunes gars de bonne famille, ces Californiens. Même qu'en fin de soirée, ils viennent nous demander tout poliment pour visionner nos clichés. Comme quoi l'habit ne fait pas toujours le moine…