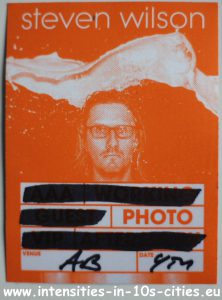 Il y a de ces concerts où l'on sait, dès la première note, qu'on va se ramasser une claque. Que l'on va communier à un moment d'une intensité exceptionnelle, que l'on va prendre part à une expérience sensorielle hors du commun. Ce An Evening with Steven WILSON dans une mythique Ancienne Belgique sold out depuis des mois et des mois maintenant, fait partie de ces parenthèses temporelles qui vous transportent dans un autre espace-temps, qui vous téléportent dans une autre dimension…
Il y a des chanteurs, il y a des guitaristes, il y a des musiciens, il y a des song writers, et il y a des stars qui peuplent le rock'n'roll circus. Puis il y a quelques Artistes, une poignée de Génies de la trempe de WILSON, qui ramènent tous les autres à leur simple condition. Touche-à-tout de talent, hyperactif de génie, Steven WILSON est sans doute le dernier génie conceptuel enfanté par le 20ème siècle.
L'éclectisme et le génie de WILSON nous transportent à nouveau ce soir entre rock progressif, psychédélisme avant-gardiste, métal poli, jazz-fusion et intimisme feutré. Steven WILSON mixe nos émotions, les soumettant tantôt à la brûlure de la lave en fusion, tantôt les apaisant par la douce caresse d'une plume délicate dont il nous frôle l'épiderme. WILSON, c'est tout et son contraire. C'est l'alpha et l'oméga.
Oui, Steven WILSON, c'est l'alpha et l'oméga de la musique moderne: il a tout ingurgité, il a tout digéré, il a tout assimilé pour mixer ce brassin et nous en ressortir la quintessence moëlle sous la forme d'une expression musicale qui ne ressemble à nulle autre. Il pousse même l'audace de moderniser radicalement la pop indé, en étant le premier à s'amuser du scandale qu'a provoqué son dernier opus parmi sa fan base et parmi les spécialistes (sic) qui savent mieux que lui dans quel style musical le catégoriser (re-sic).
Car oui, le sorcier WILSON qualifie sans complexe de pop music son dernier bébé, dans la lignée des plus grands artistes pop(ulaires) dont il vante le génie et le côté pop(ulaire): The Beatles et Abba (sans oublier Tears for Fears, Talk-Talk ou Kajagoogoo – clin d'oeil second degré à son comparse stage right). Et de tenter de transformer le temps d'un morceau pop l'Ancienne Belgique en une piste de danse, se gaussant à l'avance de contempler barbus, tatoués et fans d'Opeth se fendre d'un petit pas de danse.
L'admiration sans borne qu'il voue à celui qu'il considère être le musicien le plus talentueux parmi tous (… Prince…), n'a de pareille que la dévotion qu'il témoigne à sa Fender Telecaster millésimée 1963 usée par les ans, meurtrie par les sévices qu'elle a dû subir et par les tortures endurées entre ses mains de génie.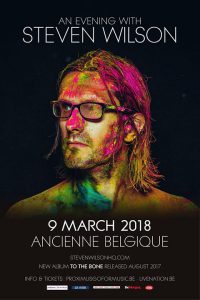 Moment de suprême volupté que où cette Telecaster, branchée sur un ridicule Hugues & Kettner qu'il dépose à ses pieds, transporte 2000 et quelques âmes au 7ème ciel par le biais d'un Even Less d'anthologie. Seul sur scène dans cette version ô combien dépouillée, la vraie dimension de WILSON nous éclate à la figure, nous explose les mirettes, nous éclabousse la face, nous métamorphose les tympans et nous ravage les neurones.
Un moment de grâce. Un moment d'anthologie. Un moment d'éternité. A l'image d'une soirée sans nulle pareille…