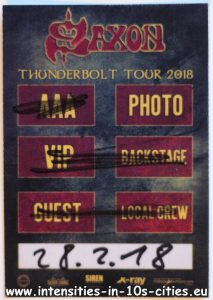 SAXON ne perd jamais de temp – et ça dure depuis 1979. Leur 22ème album Thunderbolt sorti début de ce mois, les voilà 3 semaines plus tard déjà repartis sur la route. Ce first leg du "Thunderbolt 2018 European Tour" est une sorte de court échauffement en salles de taille modeste, manière de tester la machinerie avant de partir à l'assaut d'une tournée mondiale plus tard cette année via le haut de bien des affiches de festivals estivaux. Une routine vieille de plusieurs décennies donc…
Rejoint par DIAMOND HEAD et par les Brésiliens de ARMORED DAWN en opening act, SAXON est le fast and furious de la NWOBHM. Cela ne fait-il pas 40 ans que ça perdure, aux côtés de quelques autres étendards qui font encore et toujours bien mieux que de simplement conserver de beaux et de bons restes. Seule la mort de l'un ou l'autre titan de cette époque bénie d'entre les dieux a pu mettre un terme à des carrières qui reposent encore aujourd'hui sur une fidélité absolue à une ligne de conduite musicale, ainsi que sur une absence totale de compromission ou de soumissions aux modes et autres effets mainstream.
L'hommage de Biff BUFORD rendu ce soir à Lemmy n'en est à nouveau qu'une illustration parmi bien d'autres. Quel autre "mouvement" musical, quelle autre tendance artistique peut-elle se prévaloir d'être toujours au sommet des décennies après son apparition, dans un monde où tout va toujours plus vite, ou tout est démodé avant d'avoir vieilli, où tout est old-fashioned avant même d'avoir fait ses preuves, où l'obsolescence programmée est devenue le modus operandi de quantité de groupes d'opérette et d'artistes à la spontanéité d'un poulpe et à l'inspiration d'un mollusque…??
Si une part belle du show est consacrée à leur dernier bébé tout juste sorti dans les bacs (… pour ceux qui sont encore de la génération où le toucher de l'objet d'art demeure sans équivalent), il faut bien avouer que c'est lorsque SAXON débouchonne ses cuvées Wheels of Steel, Denim & Leather, Strong Arm of the Law et autres Crusader millésimés que la température monte encore d'un cran.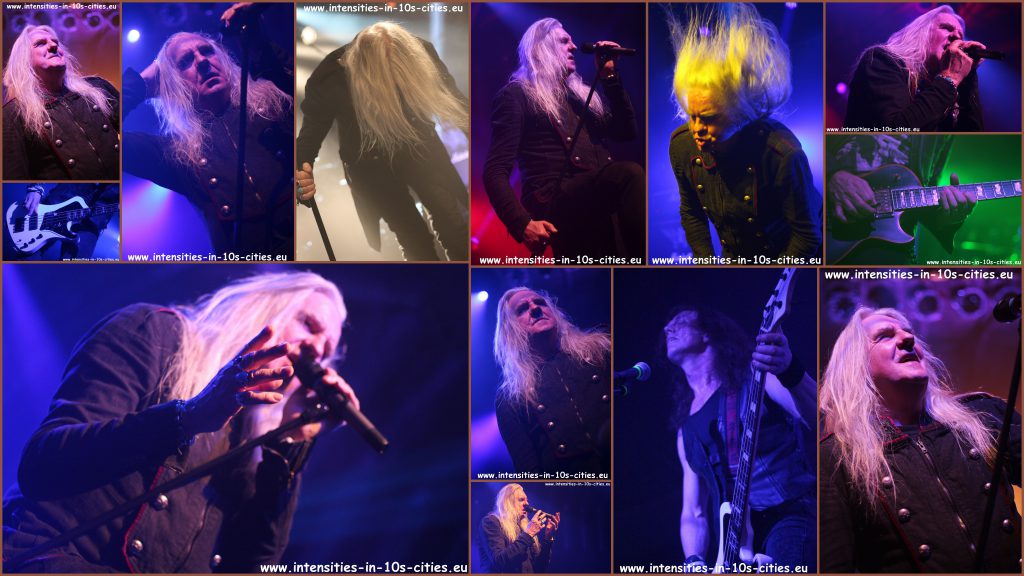 Ceci dit, Biff demeure un tout grand gentleman qui allie humour, simplicité et convivialité lorsqu'il s'agit de maintenir la pression. Il fait en outre montre d'une surprenante humilité et d'une gentillesse peu courante à l'égard d'un public à qui il voue le plus grand respect.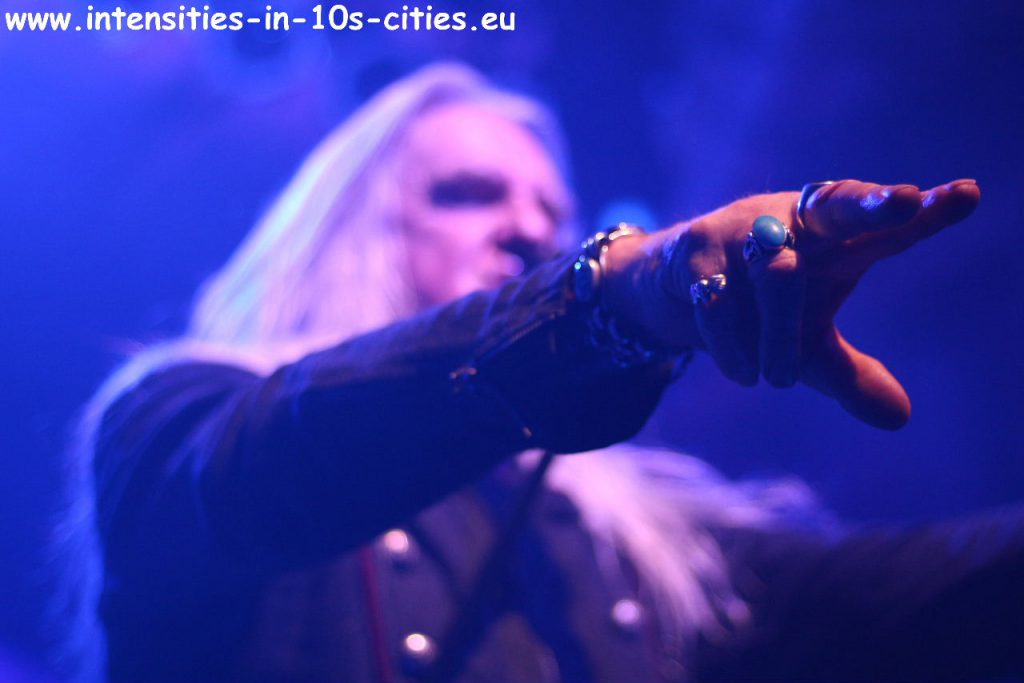 Quand on n'a plus rien à prouver, sans doute cette attitude est-elle d'autant plus remarquable que peu courante dans ce monde de l'entertainment où le paraître et le superficiel demeurent les maîtres-mots (ou plutôt les traitres-maux…).