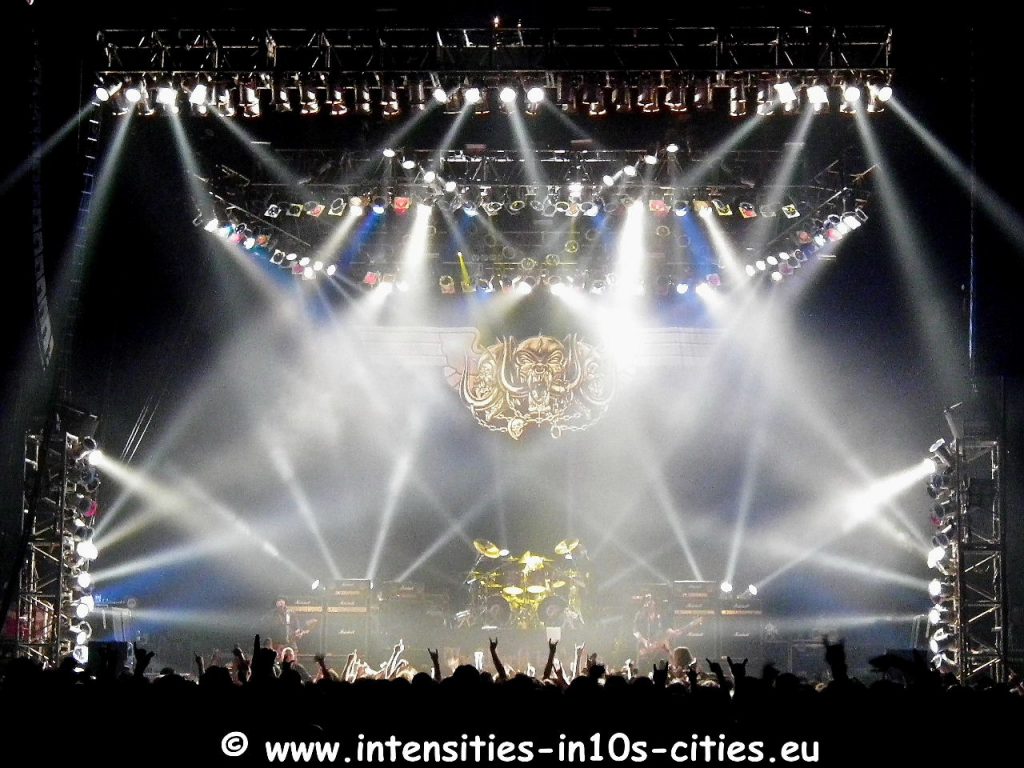 Killed by Death… Le rock'n'roll (pas le rock) est en deuil. Triste réveil, ce mardi 29 décembre 2015. La radio vient de nous tirer du sommeil et aurait mieux fait de ne pas vomir ses nouvelles. Les bad news du matin annoncent la mort de LEMMY… En deux petits jours seulement, un cancer foudroyant diagnostiqué jour de Boxing Day (ce 26 décembre) a eu raison de 60 années d'excès en tous genres. Les yeux embrumés par l'annonce de cette perte, il nous faut remonter aux souvenirs adolescents de la disparition de Bon SCOTT ou de Phil LYNOTT pour retrouver ce même sentiment de vide et de perte incommensurable…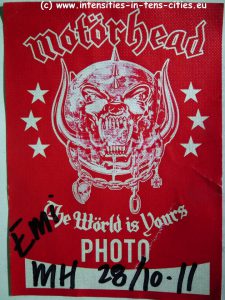 Salaud, LEMMY, f*****g bastard que tu es… Tu aurais au moins pu encore attendre "un peu", et nous offrir le plaisir d'assister à ton concert du 1er février prochain au Zénith de Lille pour nous permettre à nouveau de te tirer comme convenu une dernière fois le portrait. Mais non, non: au lieu de cela, tu as préféré tirer ton irrévérence habituelle et mettre un terme à une des dernières énigmes médicales de ce début de 21ème siècle: celle de ta survie (de moins en moins bon-pied bon-oeil, il est vrai) à travers et à l'issue de six décennies d'abus et d'excès qu'aucun n'aurait surmontés sans y perdre son corps ou son âme. Son foie ou sa rate.
Le fait d'avoir bien involontairement fait l'impasse sur ton dernier show cet été à la Rockhal ne donne que plus de plomb encore à cette incommensurable tristesse. Nous voilà désormais condamnés à nous contenter dorénavant de tribute bands qui jamais – ô grand jamais – n'arriveront à ta cheville. Raison pour laquelle nous continuerons à les éviter. Tu as tâté (tété ?) du psychédélisme au biberon de Jimi HENDRIX, dont tu étais roadie-dealer en l'alimentant de ces substances illicites mais ô combien créatives. Tu as ensuite approfondi les tréfonds de ces matières et sujets aux commandes du vaisseau spatio-(in)temporel HAWKWIND avant de t'en faire jeter comme le bastard que tu étais. Mais tu resteras surtout fondateur et pierre angulaire de la NWOBHM, à laquelle tu as toujours réfuté appartenir – jusqu'il y a quelques jours encore. La véritable perle de métal que tu as enfantée, cette bombe atomique, tu lui as décerné le titre peu enviable mais aujourd'hui adulé de MOTORHEAD. Avec toi, avec MOTORHEAD et avec ton complice Philty Animal Taylor qui ne te devance que d'un mois en enfer juste le temps de mettre les bouteilles au frais, l'histoire de la musique moderne perd une de ces dernières légendes (im)mortelles.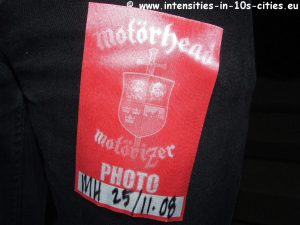 Tu n'étais pas de ces dinosaures retraités du r'n'r, ces papys gâteux qui végètent sous perfusion comme des plantes desséchées dans leur repaire doré ou qui, pour les plus vaillants, tous les cinq ans (pour raisons pécuniaires ou pour contrer l'ennui) se trainent comme des limaces reliftées sur scène en n'étant plus que le pâle et pathétique reflet de leur splendeur et de leur gloire passées. Non, toi au as continué à bouffer de la poussière et à tenter de nouer les deux bouts. Tu as surtout continué à brûler la chandelle par ces mêmes deux bouts et à nous offrir la quintessence brute et brutale du real rock'n'roll. Jusqu'à tes 70 berges. Tu as préféré continuer à brûler de manière inconsidérée plutôt que de te consumer à petit feu, nous donnant l'illusion du caractère éternel de ta mission ici-bas. Malheur et mépris aux larves que tu laisses ici-bas ou que tu vas retrouver en enfer, mais splendeur et gloire éternelle aux icônes et aux flamboyants dont tu resteras à jamais l'étendard dans l'inconscient collectif – et malheureusement chez les incultes aussi qui continueront d'arborer le t-shirt Motörhead à l'instar de celui du Che qu'ils croient toujours le Captain Igloo des tropiques.
Merci LEMMY, merci. Mais tu ne restes qu'un f*****g bastard en nous abandonnant de la sorte au rock'n'roll dont les Rickenbacker ne sonneront désormais plus jamais comme avant… R.I.P.
Morceaux choisis :
"I come from a broken home. I broke it."
"I like to be loud and shout and run around. Rock'n'roll should be Saturday night every night."
"I like girls. That's the only reason I'm in the music business – I discovered you could get women to take their clothes off if you had a guitar. And they come off a lot faster if you can play it."
"My ethic is: 'Eat, drink and be merry, for tomorrow we die.' You can be as careful as you want, but you're going to die anyway, so why not have fun?"
"I know, intellectually, there was a time when I wasn't in Motörhead. But I can't actually remember it."
"I get to travel all over the world, I get to sleep with women of all colours and religious persuasions and I get to play the music I like and make people happier than they were when I arrived. It's a good way to make a living. You find me a better one."
"I've got what's called a Low Tonal Register, which, loosely translated, means I sound like a gorilla on Valium."
"Motörhead are supposed to make people wonder what's the next bad thing that will happen to them. Life is about brief periods of bliss, followed by long periods of depression, angst and brutality."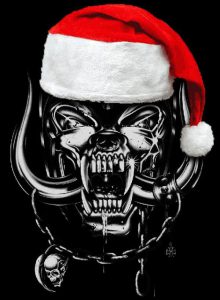 "It's not that I take pride in being unfashionable. It's just that I've gotten used to it. I do it rather well now. I've been practising for a long time."
"I don't get hangovers. You have to stop drinking to get a hangover. Why stop?"
"I was Jimi Hendrix's roadie. My rock'n'roll credentials are fucking impeccable."
"Integrity is everything to me. I will not die ashamed. I will live on my deathbed knowing that I gave it my best shot, and everything else is meaningless to me."
"If there is a God he hasn't been paying attention. He should retire and hand over to a younger man, because he's making a real bollocks of everything."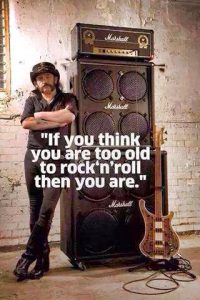 "I don't want to be a fucking legend. I want to be a competitor."
"I only care about my band. All the rest of you can go fuck yourselves."
"Most people get to clock out at the end of their day's work. I'm Lemmy twenty four hours a day, seven days a week."
"I am rock and roll, and rock and roll is me."