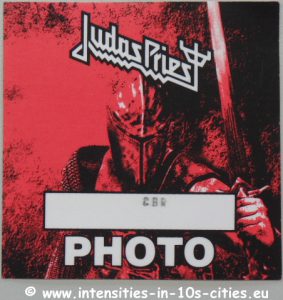 La NWOBHM peut elle encore porter le titre de "new" 35 ou 40 ans après avoir été baptisée de la sorte ?! Oh que oui: grosse claque dans la figure, magistrale gifle… The God of Metal n'a pas déçu et les nouveaux (?) saigneurs ne peuvent que dignement porter leur fière appellation qui ne nous avait pourtant pas explosé dans la face au printemps dernier à Luxembourg. Une scène bruxelloise aux dimensions imposantes dressée presqu'au milieu de la fosse de Forest National rend la cuvette d'autant plus propice à une effusion de décibels pour cette grand messe dont les prêtres de Judas sont définitivement passé au rang de dieux.
Une mise en scène et un light show impressionnants achèvent un tableau époustouflant servi par une sono proche de la perfection. JUDAS PRIEST nous sort le grand jeu et la recette – pourtant éculée avec les décennies – n'a pas pris une seule ride. Que du contraire : avec les années passant, le formule s'est encore tonifiée et le breuvage corsé davantage, à l'instar d'une soupe de grand-mère ou d'une choucroute dégageant un fumet plus puissant encore quand longuement réchauffée à feu doux.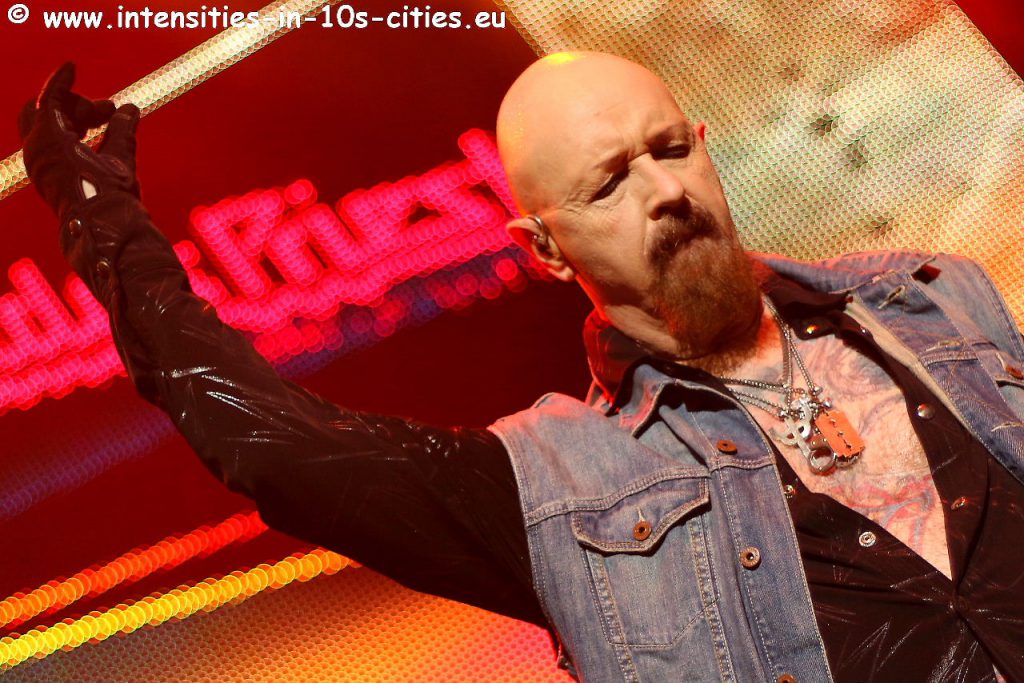 JUDAS PRIEST demeure synonyme de heavy metal grandiloquent dans toute sa pleine démesure musicale et scénique, mais néanmoins tout en finesse et en (relative) sobriété. Ou quand un ogre joue le fin gourmet. British steel & master class, ni plus ni moins.
Cuir, clous, cravache, chaînes et canne – le grand barnum du heavy metal est fidèle à ce qu'on attend de lui : une grand messe noire aux tempos lourds et méchants, mais sans esbroufe ni tape à l'œil, si ce ne sont peut-être les (trop?) nombreuses tenues d'Halford qui virilisent davantage encore la rétine. Rien que du pur et du naturel, sans fard ni faux semblant, ni anabolisant ni artifice. Le heavy metal dans toute sa splendeur, dans toute sa spontanéité, dans toute sa virilité mais en toute (relative) simplicité et sans show (sang chaud ?).
Pas besoin de faire mieux que nature lorsqu'on est l'alpha et l'oméga de la discipline. Nous ne sommes pourtant pas les premiers adeptes de la discipline, c'est donc dire l'impression dévastatrice que nous laisse cette soirée orgiaque mais cependant – et paradoxalement – toute en retenue. Voire même peut-être tout en retrait pour ce qui est d'Halford qui semble avoir laissé le leadership à Hill, le petit nouveau.
Cette prestation époustouflante de JUDAS PRIEST rend d'autant plus décevante le petite heure d'UFO officiant en open-act. Nous attendions pourtant avec énormément de plaisir ces retrouvailles, mais celles-ci sont gâchées par une sonorisation pourave et un show sans âme ni grande conviction malgré tout le respect que nous vouons à l'Ovni.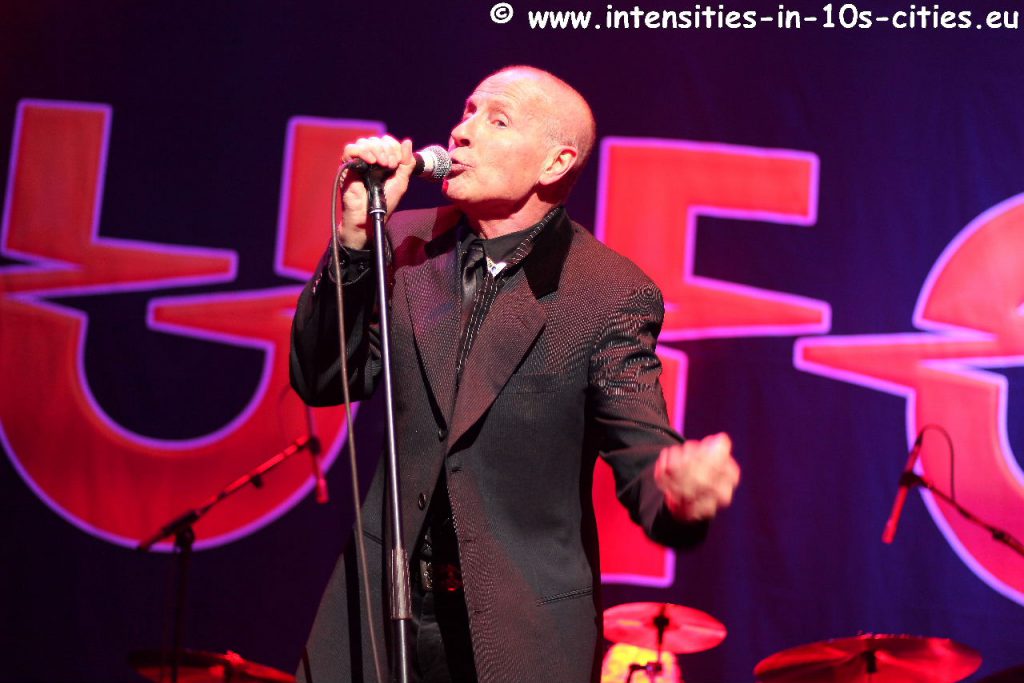 Assurément la moins bonne prestation d'UFO à laquelle il nous ait été donné d'assister, mais assurément pas au point de mériter ces désormais traditionnels sifflements de Flamoutches lorsque les artistes ont la courtoisie de s'essayer à quelques mots de français. C'en devient une minable et déplorable habitude, que l'on soit à Forest National ou à l'Ancienne Belgique.
Les quasi septantenaires d'outre-Manche étaient donc à la fête ce soir, et sur leur thirty one siouplait. Ce n'est pas la prestation très moyenne du très élégant Phil Mogg (plaisantant sur ses problèmes – bien visibles – de dentition) ou celle du peu sémillant Bob Halford (qui n'avait pas la tchatche) qui terniront un tableau final. De jeunes loups en auraient rajouté pour faire déborder le vase, mais pas JUDAS PRIEST qui connaît les effets néfastes du trop plein: plus on en renverse, moins on en boit…