(Autres photos et commentaires sur Intensities in Tens Cities – Chap 1: The Vintage Years 1978 – 2011)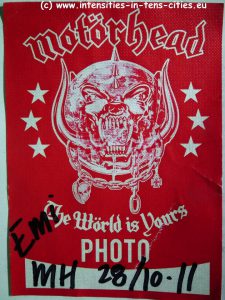 Une année sans un concert de la Bête est-elle une année digne d'être vécue? Un concert annuel de MOTORHEAD devrait être pris en charge par notre sécurité sociale, tant ce type de show fait oeuvre de salubrité publique. Lemmy, c'est mens sana in corpore sano – enfin, pas vraiment lui et ce serait même plutôt le contraire, mais je parle de son effet Impulse à lui. Un show de MOTORHEAD, ça vide l'esprit et ça reset le corps. On en ressort frais comme un gardon, à l'instar d'une paisible heure passée au sauna (mais les décibels en plus). La formule basique, primaire et primale de la bande à Lemmy continue inlassablement de faire ses preuves.
Un Forest National plein comme un oeuf est une nouvelle fois le signe de la vitalité sans pareille de cette formule qui traverse les décennies sans compromis ni compromission, sans jamais avoir changé son fusil d'épaule non plus dirons les détracteurs. La fidélité paie. C'est comme une bonne frite-andalouse : on sait à quoi s'attendre quand on en commande une, c'est lourd, c'est gras, ça colle mais qu'est-ce que ça fait du bien. Jusqu'à l'indigestion. Lemmy et sa bande, c'est notre marchand de frites à nous, et le public est chaud-boulette à l'instar du trio qui prend manifestement plaisir à retrouver Bruxelles (You're the greatest audience of the tour (sic)), même s'il n'est sans doute pas au goût de tous les néerlandophones de voir le band arborer en décor une immense bannière avec ces seules deux inscriptions "Motörhead – Belgique" en fond de scène lors de la seconde partie de concert.
Le show se termine – comme de tradition – par l'apocalyptique Overkill : après un coït interruptus d'une heure trente, survient l'orgasme parfait de la Bête qui vient jouir (un peu vite, il est vrai) et répandre toute sa semence sur autant de ses sujets. Vous n'avez pas reçu votre ration ? Dégustez et avalez sur YouTube même si ce n'est filmé en HD qu'avec les moyens du bord. Orgasmatron n'en était que les préliminaires, quelques morceaux auparavant… The Wörld is Yours : vous n'avez pas trouvé meilleur titre pour votre dernier album et pour cette tournée, les gars : le monde est vôtre, et vous êtes chez vous ici à Brussel, Belgie – pardon : Bruxelles, Belgique.