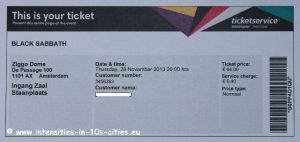 Uncle Acid and the Deadbeats est l'opening band parfait pour le sabbat: un véritable apéritif qui ouvre adéquatement l'appétit avec un son lourd et lent directement inspiré du SABBATH. Great job, guys ! Mais le véritable plat de résistance s'annonce quant à lui cinq minutes avant l'heure dite, à grand renfort de I can't fu****g hear you, fu**ers… et autres Let's go fu****g crazy ! Rien de bien neuf dans la bouche d'Ozzy somme toute, éructant depuis le backstage alors même que le rideau ne s'est pas encore levé et que le Ziggo Dome tout éclairé demeure dans l'attente de l'heure H.
Entrée en matière classique donc, mais qui fait toujours son petit (et moins petit) effet: on a beau le savoir et s'y attendre, le plaisir reste intact ! Et il en est de même pas moins de 120 minutes durant, pour ce qui doit être dans l'absolu – et de mémoire parfaitement subjective – notre meilleur SABBATH. Non pas qu'Ozzy soit particulièrement plus en verve que les précédentes fois: fidèle à lui même, à ses mixtures et à ses seaux d'eau (à usage exclusivement personnel cette fois-ci), il dodeline de gauche à droite en arpentant la scène et en se la jouant chaudement complice avec ses potes. Non pas que ce soit un véritable soulagement de retrouver un Tony IOMMI au meilleur de sa forme, comme si cette saloperie de cancer (qui avait eu pour conséquence d'annuler la précédente tournée – voir par ailleurs) n'était plus qu'un mauvais souvenir.
Non pas que Tommy CLUFETOS soit d'une redoutable efficacité, plus impressionnant que jamais et parvenant même à rendre réellement captivant l'exercice pourtant éculé du solo de batterie (ramené par Ozzy dans ses bagages, il est loin le temps où il officiait et faisait ses premières armes aux côtés de Nugent). Non pas que Geezer BUTLER demeure l'un des bassistes les plus efficaces qu'il nous ait été donné d'admirer en plein bucheronnage – ce ne sont plus des doigts qui terminent ses mains, ce sont des bielles au bout d'un vilebrequin à plein régime. Non pas que BLACK SABBATH nous délivre deux véritables heures de total massacre, comme dopé au space-cake amstellodamois, baigné dans un light-show époustouflant à l'image d'une sono irréprochable. Non: la prestation de ce soir est probablement la meilleure qu'il nous ait été donné de vivre car pimentée de trois véritables perles tout juste sorties de leur écrin, l'album come-back de cette année 2013.
Agissant comme un véritable détonateur, cet album est comme le déclencheur d'une nouvelle jeunesse du SABBATH sur scène qui retrouve sa pêche, sa complicité, son efficacité, son énergie et sa démesure d'antan, couplée à une bande son à la hauteur du casting de l'événement. Avançons un objectif bémol pour les sempiternels grincheux et autres pisse-vinaigre: la voix d'Ozzy demeure sujette à quelques passages disons… délicats (pour ne pas dire carrément douteux) après qu'il lui fallut déjà de longues minutes en début de show afin d'ajuster son organe !
Mais comment lui tenir rigueur de ces défaillances (de moins en moins) passagères, incapables de déteindre sur le tableau d'ensemble haut-de-gamme et tout simplement massacre ? Et puis, Ozzy reste Ozzy: demande-t-on à Van Gogh d'avoir ses deux oreilles ?! Parole du fiston, 18 ans, à l'issue de son premier SABBATH : "Tous comptes faits, il a une bonne bouille bien gentille et sympa, Ozzy. Il n'a pas l'air effrayant du tout finalement…". La vérité sort de la bouche des enfants, n'est-il pas? D'ailleurs, les trolls géants, c'est dans ce gigantesque Ziggo Dome qu'ils se trouvent ce soir, pas sur scène. Ce n'est malheureusement pas le grand absent de ce soir, Bill Ward, qui nous contredira.