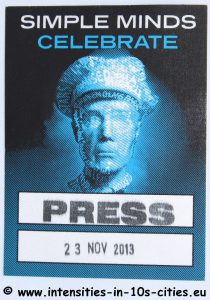 21h03′ : la Sécurité nous emmène, direction front-stage. L'agreement que chaque photographe a préalablement dû signer mentionne les contraintes et conditions habituelles de travail: nous disposons des trois premiers morceaux pour opérer, et bien sûr sans flash, etc., etc. – ritournelle habituelle. Nous ne sommes ce soir "que" sept privilégiés à avoir été accrédités par et pour SIMPLE MINDS. Emmenés donc par une paire de vigiles G4S à travers les sombres couloirs qui courent par-dessous les gradins de Forest, nous déboulons backstage puis enfin frontstage. Arrivés aux côtés puis au devant de la scène quelques instants seulement avant que les lumières de la salle ne fassent place à celles de la scène, la vue de la "cuvette" de Forest confirme le fait que cette salle demeure bien l'une des plus impressionnantes et des plus chaleureuses du circuit européen – opinion du reste strictement personnel.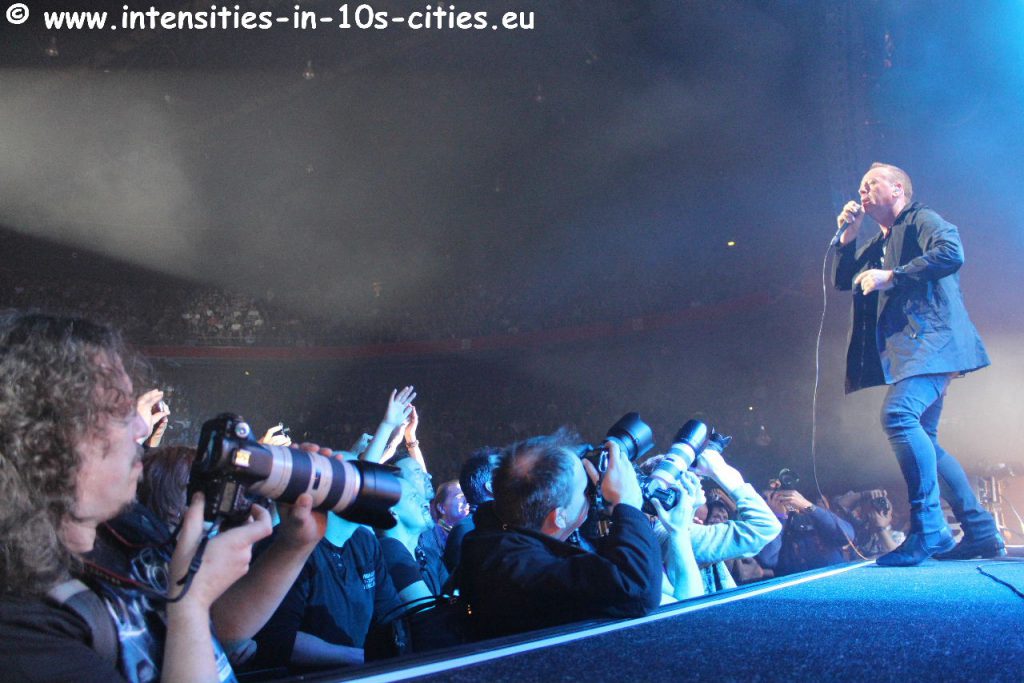 D'une taille restée relativement humaine, sans sombrer dans le gigantisme de bien d'autres arènes plus modernes, plus fonctionnelles et bien plus vastes, Forest National conserve cette (toute relative) intimité comme nulle autre pareille de par la configuration de ses gradins : tout en courbes, depuis le toit jusqu'au sol, ils emmitouflent littéralement la scène sans jamais l'étouffer ni en être trop éloignés non plus. Cette architecture confère à la salle bruxelloise l'ambiance presque feutrée d'un club mais à la puissance 1000 ! Combien de bands n'ont-ils d'ailleurs pas profité de leur passage par Bruxelles pour immortaliser cette vue et cette ambiance si particulières, a fortiori lorsque les plus de 8.000 places sont sold-out comme ce soir…?! SIMPLE MINDS a déjà affiché complet la veille à quelques kilomètres seulement, à la Lotto Arena d'Anvers : c'est dire si ce "Greatest Hits+ Live Tour" porte fichtrement bien son nom en fédérant par milliers quadras et quinquas à la recherche du temps passé, nostalgiques de leurs frissons et de leurs émois du début et de la première moitié de ces sacrées eighties…!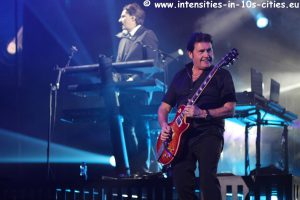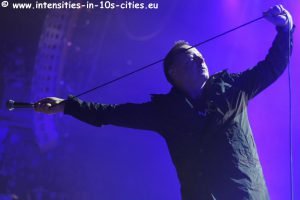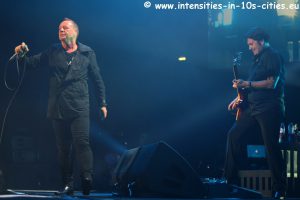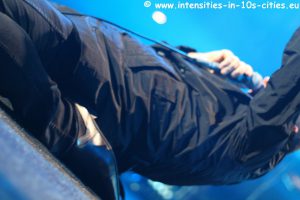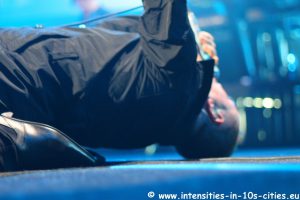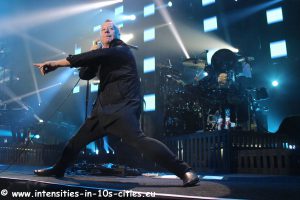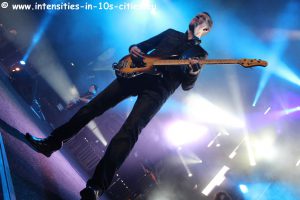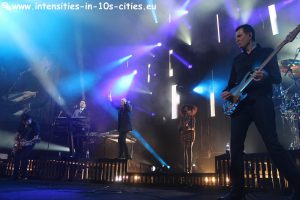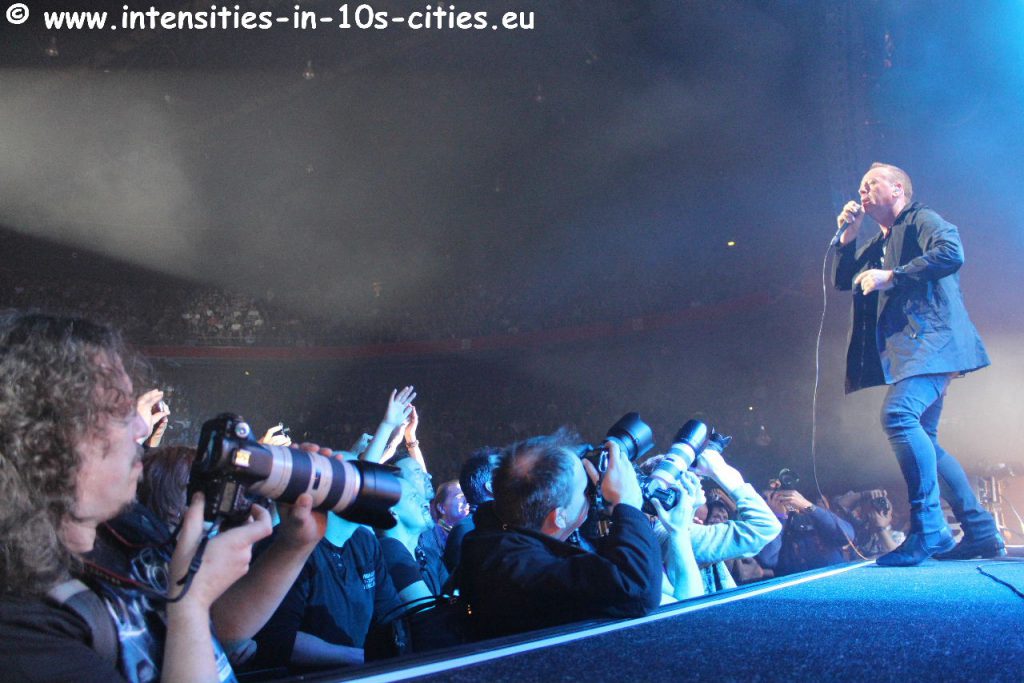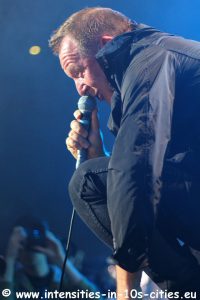 105 minutes durant, SIMPLE MINDS nous assène le best of the best de leurs greatest hits, réussissant bien des fois à faire lever, à faire frapper des mains, à faire chanter et danser tout Forest – oui: absolument tout Forest : impressionnant ! Certes, tout le monde a pris de l'âge et des kilos depuis ces glorieuse eighties, tant sur scène que dans le public, mais les fidèles comparses de Jim Kerr assurent, tout comme lui, à la perfection – sans parler d'une choriste black moulée dans un tailleur pour le moins seyant, et à l'organe tout aussi remarquable que la houppette du Jim. Une rythmique impeccable, des claviers typés eighties tout ce qu'il y a de plus british wave des années '80 (… presque kitch…), une set-list de tubes confectionnée pour charmer le plus grand nombre, sont ici réunis tous les ingrédients d'une soirée Scottish tout aussi réussie que festive et dansante, aux vertus raffermissantes et rajeunissantes.
C'est là un exercice néanmoins "facile" pour la machine à tubes qu'est resté l'élixir de jeunesse SIMPLE MINDS, en ne courant du reste pas le risque de s'aventurer hors de ces sentiers battus et rabattus. 8.000 fêtards ont d'ailleurs effectué expressément le déplacement, et sont repartis se coucher quasi rajeunis de 30 ans… C'est-y pas joli et gentil ça, de rendre les gens heureux et tout guillerets en un tournemain ?! Même la sortie de scène de SIMPLE MINDS sur un tonitruant "The Jean Genie" de Bowie lancé à plein volume dans la sono depuis la table de mixage contribue à prolonger cette douce volupté alors que les néons blanchâtres de Forest lentement reprennent le dessus. A (New) Gold Dream… (is over).
Simple Minds @ Brussels, 1985 @ www.intensities-in-tens-cities.eu (All the World is a Stage – Chap. 1: "The Vintage Years 1978-2011")