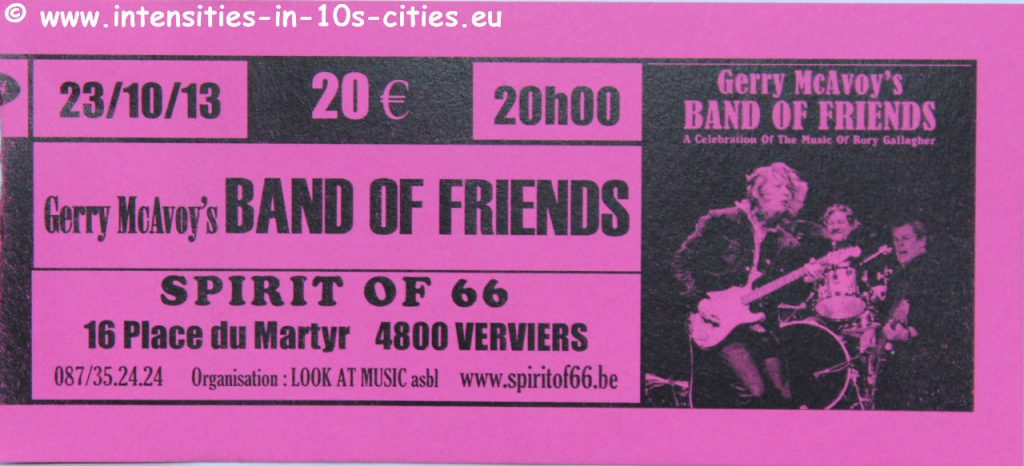 AC-DC qui joue désormais sans Bon Scott est-il un tribute à AC-DC ? Le dernier show de LED ZEPPELIN sans John Bonham était-il dès lors le fait d'un tribute band ? Quand BLACK SABBATH tourne sans Bill Ward, est-ce pour autant un ersatz du Sabbath ? Il en est de même pour le Rory GALLAGHER's Gerry McAVOY's Band of Friends : Rory GALLAGHER est de retour sur les planches ici-bas, point barre – et si ce n'est (quand même) pas le cas, c'est tout comme !
Ses comparses historiques le lui rendent bien durant près de 2 heures époustouflantes de bonne humeur, de complicité et de sueur en veux-tu en voilà. « Mon français est de la merde, my german is scheiße, my English is shit but my Irish is very good ! » : le ton est donné et il en sera de même toute la soirée avec un McAvoy plus excité que jamais. Pour leur part, les quelques Flamands ne doivent pas spécialement apprécier l'imitation gutturale et burlesque (satirique ?) de leur dialecte par McAvoy manifestement en verve et en très, très grande forme ce soir ! Ses clins d'yeux au Marcel pour qui il fait notamment entonner un « Happy Birthday » collectif se couple à d'autres souvenirs partagés d'anecdotes vécues aux côté de Rory. Quand on écoute McAVOY en narrer une remontant à 1973, un frisson nous parcourt l'échine en pensant qu'il y a 40 ans, le fidèle Gerry était déjà sur les planches aux côtés du Patron. Et avec la même Fender Precision Bass désormais vintage qui porte les stigmates de quatre décennies d'outrages et la patte (ou plutôt la griffe) de chacun des albums de Rory.
Si Ted McKenna à l'impressionnant pedigree est arrivé pour sa part sur le tard à leurs côtés, le sourire comme gravé de naissance que son faciès arbore en permanence amplifie naturellement les éclats de rires et autres signes extérieurs de très, très grand contentement complice qu'expriment McAvoy & Marcel « Rory » Scherpenzeel. Ces trois là nous en foutent plein la g… et il s'en faut de peu de recevoir un coup de manche dans les gencives alors qu'ils jouent au plus près du public comme pour mieux communier avec le Boss et ne faire qu'un en hommage au regretté Rory. "Il" est bel et bien présent parmi nous ce soir, au milieu, au-dessous, devant, derrière, partout… Rory n'aura jamais fait le disque de trop, que du contraire : sans doute le mythe réside-t-il dans cet état de fait. Des pointures pareilles celebrating the music of Rory GALLAGHER qui chaussent aussi large, ça ne se trouve pas chez le premier cordonnier venu : blood and guts, était-ce le concert de l'année au Spirit… ?