After cancelling twice an european tour a few months ago in 2013, this winter tour 2014 is cancelled again.
Sad but true. God bless Lemmy !
It is with great regret that Motörhead has to announce the cancellation of their European tour, scheduled to start February, 2014. Many concerted, diligent and focused efforts were made by founding member, and international icon, Lemmy Kilmister to deal with a range of health issues relating to diabetes. While there has been undoubted progress, Lemmy and the band were advised by doctors that it was still too soon to resume full touring activities, and so for the good of the future, the band and Lemmy reluctantly agreed to cancel. No-one is hurting more over this than Lemmy, and he feels the aggravation and inconvenience of every ticket, and every method of transportation, already paid for by loyal fans in anticipation of the tour. Being a road warrior of over 50 dedicated, non-stop years, it is equally distressing for him to be unable to occupy the top lounge of the trusty tour bus (his spiritual home) but Lemmy recognizes that his long-term health must win. It goes without saying that Lemmy profusely apologizes for inconveniences caused, but he does want everyone to know that he is continuing on the road to a full recovery, and that the prognosis long-term is very good. – January 24, 2014.
♠ MOTORHEAD / SAXON European Autumn Tour 2013 : cancelled ♠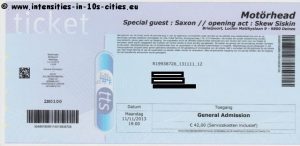 Après que MOTÖRHEAD ait déjà interrompu rapidement sa tournée d'été, nouvelle annulation de la tournée automne/hiver due aux complications de l'état de santé de notre Lemmy…
From the tour management & record cie – for immediate release:
« I have to sadly let you know that Motörhead has had to postpone the forthcoming European tour until early next year, 2014. We have made the decision because I am not quite ready to hit the road yet, and am working my way back to full fitness and rude health. Don't worry – I'm not about to start promoting veganism and alcohol-free beverages, but it is fair to say that I personally have been reconfiguring areas of my life to make sure I can come back fitter and stronger than ever.
It disappointed me tremendously to have to say I wasn't quite ready to hit the road yet, but not nearly as much as it would've disappointed me to go out, play some average shows and watch my health give way long before the tour was over! When people come to see a Motörhead tour, they expect a Motörhead show, and that is exactly what you will get as soon as I am fit and ready to rumble.
Your patience and understanding is appreciated…and know that I'm getting stronger and stronger every day, so watch out next spring Europe and we will see you then.
Thank you all,
Lemmy – Oct.30th, 2013 »