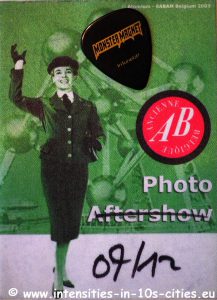 MY SLEEPING KARMAA débute son set à 19h25′ dans une Ancienne Belgique comprenant exactement 23 personnes, votre serviteur compris. Cet impressionnant vide est bien vite comblé par un son lourd et lent qui remplit la salle au fur et à mesure que le public fait de même. Ces quarante minutes d'instrumental pesant et qui colle aux amygdales préparent à merveille l'arrivée du stone rock / space rock de MONSTER MAGNET, et croiser dans l'assistance son bassiste en est d'ailleurs un signe qui ne trompe pas…
Cette entrée en matière bien panzer germanique laisse augurer d'un plat de résistance pour lequel on sait d'entrée de jeu qu'on n'est pas trompé ni de marchandise ni de salle. Dès la première note, l'immense scène de l'AB s'emplit d'un son hallucinogène qui se déverse de manière hypnotique sur une salle qui maintenant dégorge. La bande à David "Dave" Albert Wyndorf commence fort, très fort même, et une corde cassée d'emblée à sa guitare rythmique est un signe des dieux qui ne trompe pas ! Il est en forme, le Dave, en très grande forme : au premier coup d'oeil, on devine que la rage boulimique du noyau fondateur du band est au programme de la soirée, admirablement bien servi par une Rickenbacker ronflante et graisseuse au son inimitable et par deux lead guitars – qui, si elles sont en carton, je me fais pape (obédience doryphore).
A de nombreuses et longues reprises, ces trois frontmen assureront une présence en devant de scène, assommant l'assemblée en moulinant d'hypnotiques loops tandis que le Dave en retrait, dos au public, se poste face à ses amplis et à toute sa machinerie. S'offre-t-il quelques larsens personnels avec sa rythm guitar ? Se prend-il incognito quelque licite petit remontant ? Epluche-t-il des coccinelles… ? La pénombre et les fumigènes laisseront là-dessus planer le doute à tout jamais. Diantre, la Bête est toujours bien vivante, des kilos en moins qui jouent les vases communicants avec une sacrée pêche en plus. Si c'est toujours une surprise de le savoir, c'est encore plus un plaisir de le constater et d'en jouir…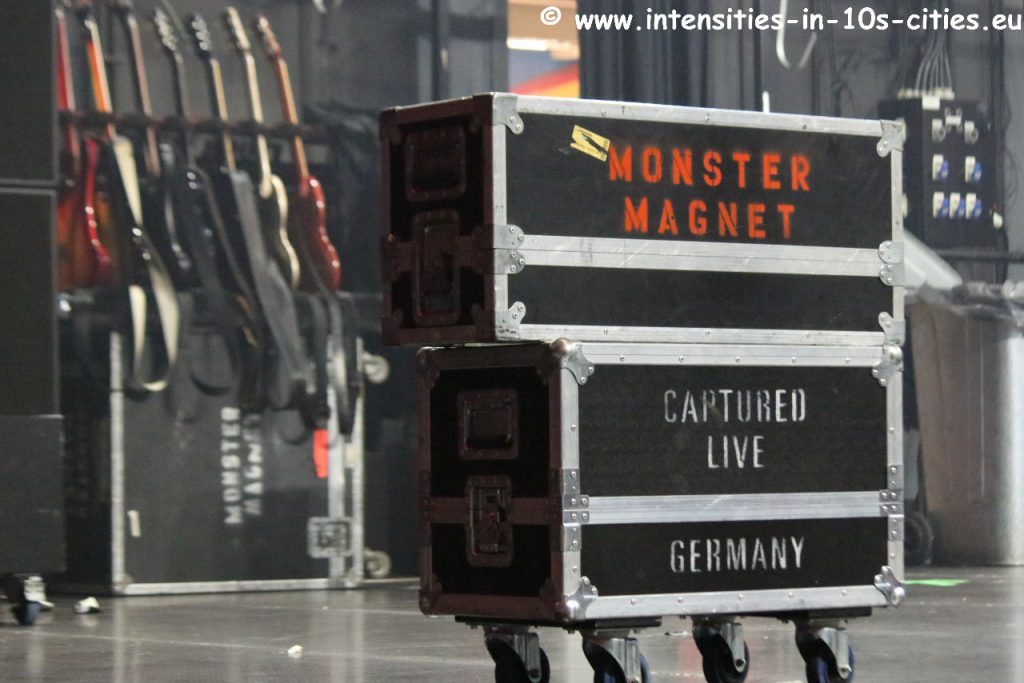 "Spine of God" est joué dans son intégralité comme annoncé, avant que le band n'enchaîne ensuite une set-list pour le moins surprenante. En évitant malicieusement tous les classiques de son répertoire, MONSTER MAGNET a décidément le don de nous prendre à contre-pied et la rage de nous surprendre en sortant des sentiers battus. Après autant d'années de scène, et avant la dernière, beaucoup feraient bien d'en prendre de la poudre, une ligne complète de bonne poudre, même. Pardon : de la graine. Il est des groupes qui portent à merveille leur nom, et MONSTER MAGNET en fait partie : classe olympique pour le magnétisme dégagé et pour la monstruosité hypnotique du son enfanté dans une douleur toute jouissive . What kind of monster have we made ? , that's the question.
Autres pix & review de précédents concerts de Monster Magnet au Chap. 1 "The Vintage Years 1998-2011" @