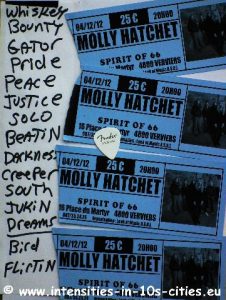 Monstre, adj. : énorme, colossal. Monstre, n. masc. : animal, personne ou objet de très grande taille ou effrayant; personne effrayante, inhumaine (…).
Enorme, colossal, effrayant : comment qualifier autrement les six monstres de MOLLY HATCHET qui mettent à sac le Spirit of 66 ce mardi soir ?!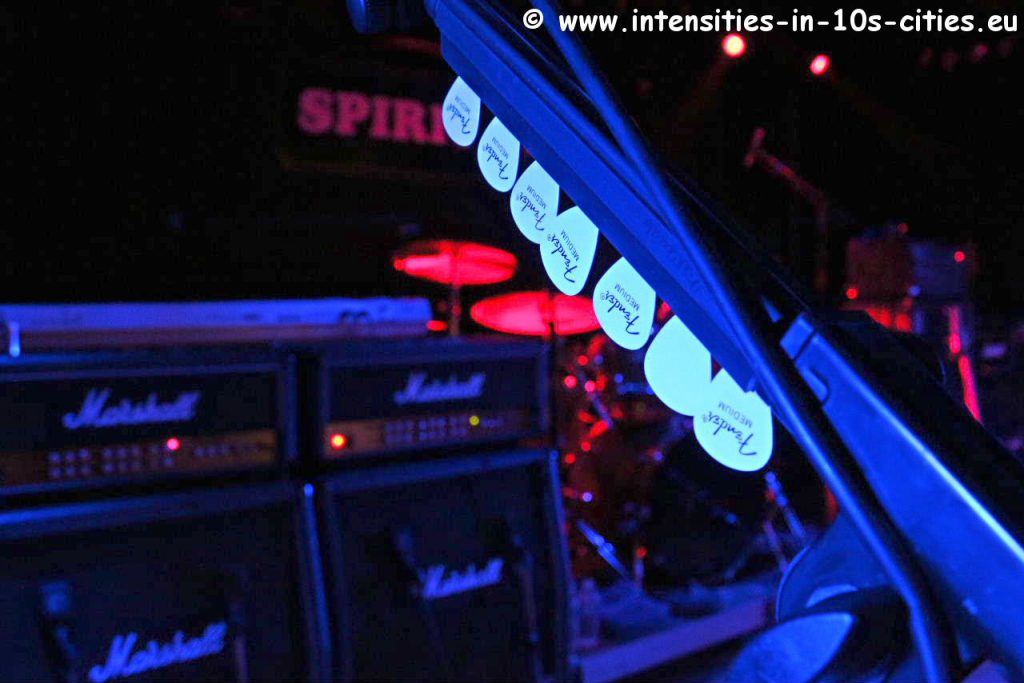 Une sono monstre pour un groupe de titans : le deep south a encore de beaux restes devant lui, et ce n'est pas peu dire – comprendront les quelques dizaines seulement de candidats à la surdité présents ce soir dans le sein des seins.
Mais peut-être ces six monstres feraient-ils mieux de ne venir finalement qu'un an sur deux à Verviers, manière de ne pas souhaiter chaque année en décembre de bonnes fêtes aux quelques braves seulement qui ont à nouveau fait le déplacement ?! Une set list griffonnée à la va-vite sur une bandelette de papier collée sur un retour, des Marshall en veux-tu en voilà pour sonoriser un stade de 100.000 personnes, des boots et des chapeaux – ne manque que le drapeau sudiste, qui ne tardera d'ailleurs pas à arriver en cours de concert. Classique. Classique mais toujours aussi classe.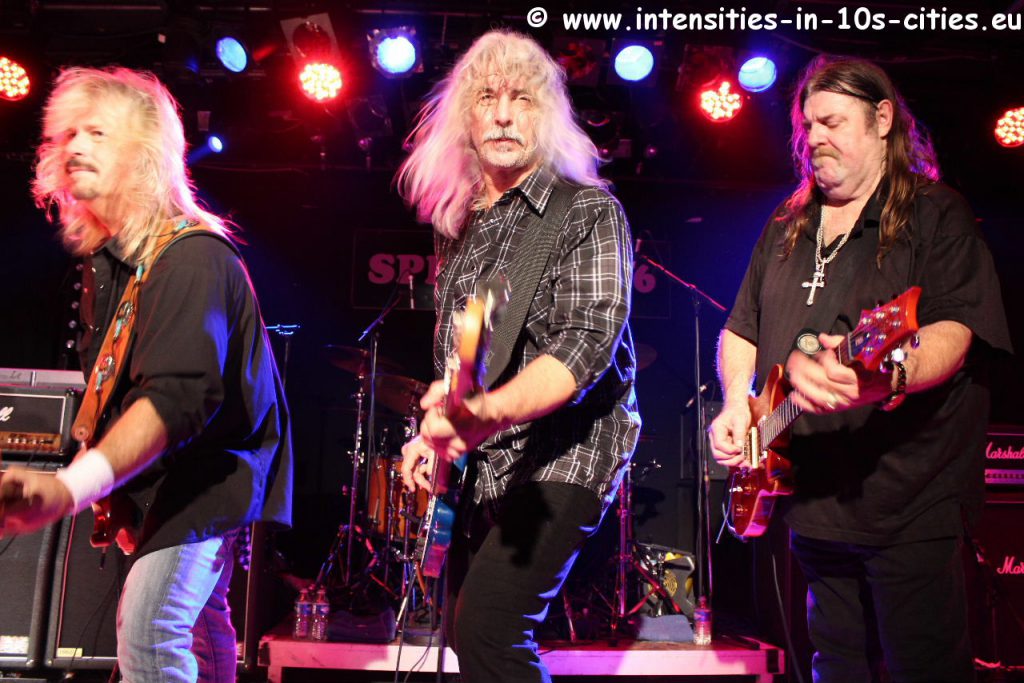 A peu de chose près, nous assistons – de mémoire – à un copier-coller quasi du concert de fin 2011 si ce n'est un changement aux drums avec le retour d'une vieille charogne. Pour le reste, quatre frontmen sur la scène du Spirit et deux backmen, cela fait quand même six gaillards dans un mouchoir de poche qui ne se privent pas de tortiller des santiags. Sans parler des quintaux affichés au compteur de la balance (…avant ou après la tarte au riz…). Quant on parle de monstres, on parle bien de monstres !
Et quel final magistral avec l'inévitable "Free Bird" suivi de "Flirting with Disaster" (comme le mentionne en très résumé la set list), à l'issue duquel les six bonshommes quittent la scène non pas par le backstage mais bien en descendant frontstage, fendant un public clairsemé pour aller aussi sec se poster au fond du club. Séquence dédicace de t-shirts et autres albums et surtout – surtout – tailler une bavette et boire un pot avec l'un ou l'autre.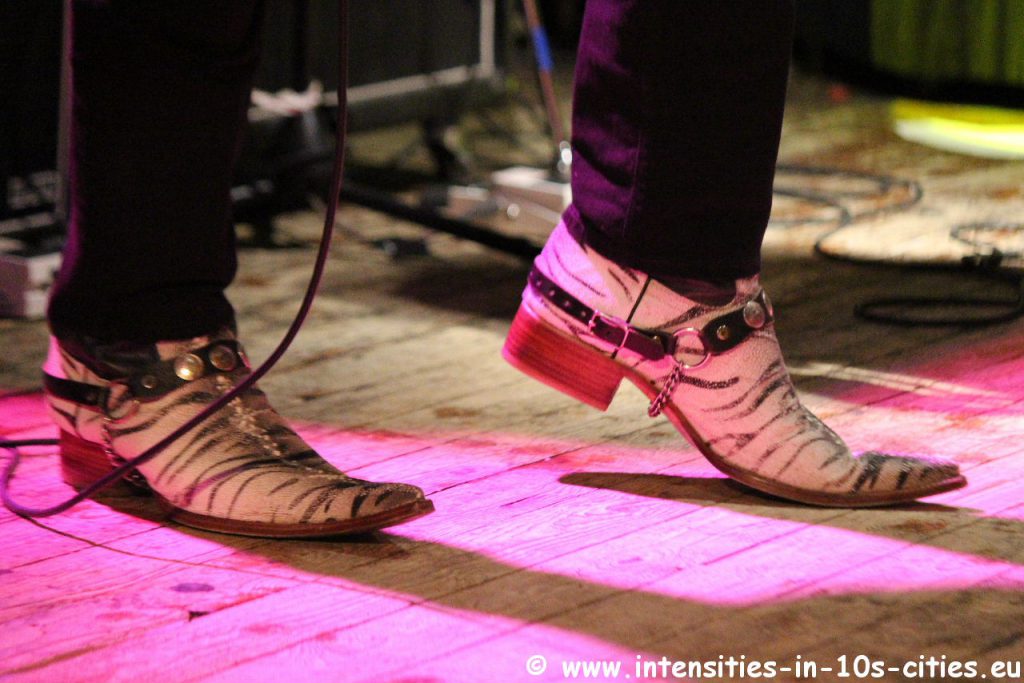 C'est bien la marque de fabrique du Spirit, ça, et la trade mark de bands intègres comme MOLLY HATCHET qui, restés proches de ceux qui les font vivre, viennent serrer la pince à qui mieux-mieux dans le public, passer du bon temps en posant de-ci de-là pour les traditionnelles photos, et avec un mot sympa pour les clients qui sont peinards en train d'en siroter une dernière au bar avant la route et qui n'ont même rien demandé !
Des monstres, ces mecs-là, en pantoufles ou en crocs pour d'aucuns, voire en sur-vêtement (ou même en pyjama ?) une bonne demi-heure plus tard alors que le club s'est vidé de la majeure partie de ses clients : ça ne se passe que chez le Francis, ça. Ce dernier avoue cependant avoir perdu ses culottes ce soir au vu du peu d'affluence, mais c'est là un fait qui ne perturbe cependant en rien nos Sudistes qui me confient en me gratifiant d'une grosse claque dans le dos qu'ils trouvent tout à fait normal qu'un mardi soir, les gens qui bossent ont autre chose à faire que de passer leur soirée dans un club (sic) ! Comme quoi tout n'est pas perdu pour tout le monde, et MOLLY HATCHET reste en tout état de cause un band phénoménal avec des personnalités qui le sont tout autant.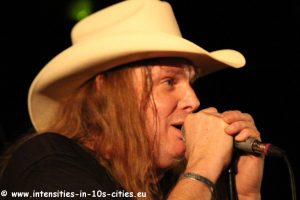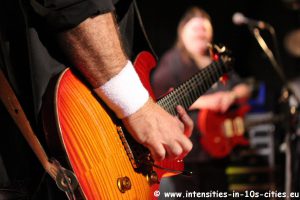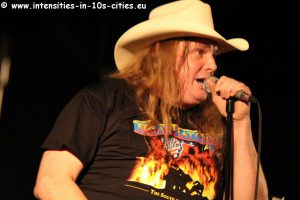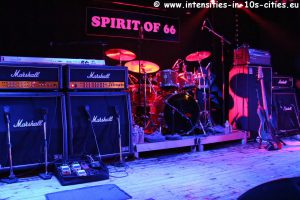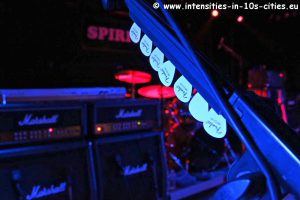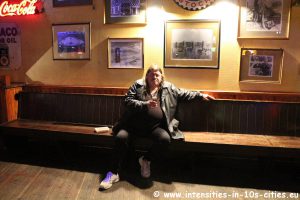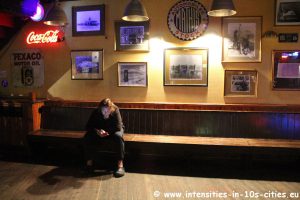 Reste à nous sortir un nouvel album, les gars, manière d'avoir de la matière première et de la chaire fraîche à nous mettre sous la dent en décembre 2013 – comme quasi chaque hiver où le drapeau sudiste flotte sur le Spirit. Et comme vous le dites si bien : "Happy holidays to you" too, guys !