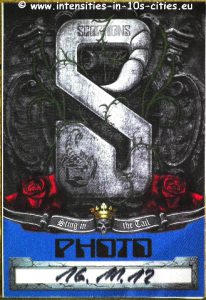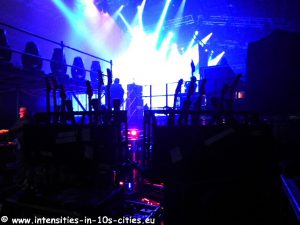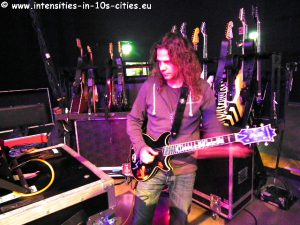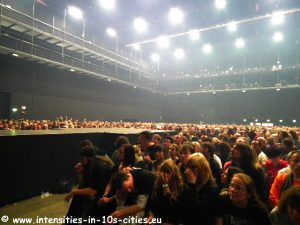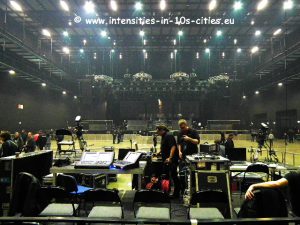 Les guitaristes volent à nouveau très bas, ce soir ! Bien que je sois pourtant bien engoncé dans l'encoignure de l'avancée de scène, par deux fois le frôlement de la tornade Schenker bondissant au-dessus de moi se conjugue au claquement sec de sa battue à quelques centimètres de mes oreilles. Craignant que le troisième survol me soit fatal, il est décidément plus prudent de changer de position de prise de vue…!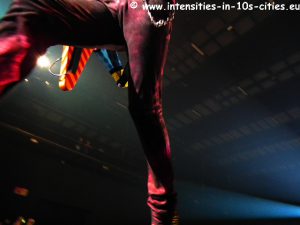 "On a du mal de trouver la porte de sortie ! " – traduction en bon belge de ce qui ressemble à une excuse qu'avance Klaus Meine pour justifier la longueur de cette tournée d'adieu qui dure depuis plus de deux ans et demi ! Mais, promet-il, en décembre tout sera bel bien bien fini. On attend de voir, car la question se pose sérieusement de savoir ce que les gaillards vont faire de leur pension.
Le plaisir pris et partagé sur scène par SCORPIONS est trop intense, intègre et sincère que pour imaginer mettre de la sorte un terme à une histoire vieille de plusieurs décennies. Les deux vétérans de service sont fringants malgré le poids des années et la chape des tournées. A cet égard la palme revient sans conteste à Rudolp Schenker – athlète indestructible et toujours plus agile qu'un singe, arpentant de gauche à droite la scène au pas de course.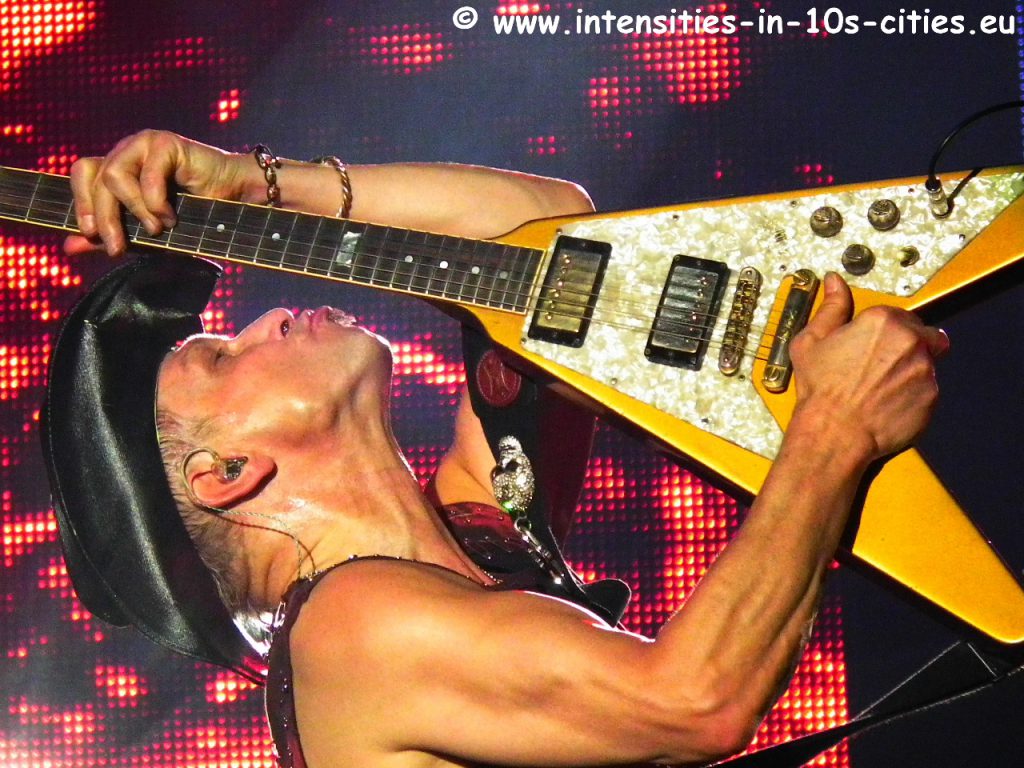 Pour sa part, Meine a conservé sa voix totalement intacte depuis le début des seventies – même s'il n'a certainement pas le plus remarquable organe de l'histoire du r'n'r. Jabbs, le sourire permanent aux lèvres, est à la hauteur des deux vétérans à peine plus vieux que lui, avec une seconde lead guitar toute en finesse mais sans l'esbroufe et le charisme du Rudolp : une parfaite complémentarité entre les deux, et une symbiose aboutie depuis qu'il a remplacé un certain Uli Jon Roth fin des seventies… La présence exceptionnelle de ce dernier en "guest star" lors du concert de Nancy en juin dernier avait donné un lustre et un cachet exceptionnel à ce show, que ne peut concurrencer le concert de ce soir. Quelques perles du répertoires seventies de SCORPIONS avaient été pour l'occasion dépoussiérées, et avaient de la sorte ensorcelé une set list qui s'en trouve quelque peu orpheline ce soir.
Mais ne boudons pas nos 105 minutes de plaisir, exception notoirement faite des 10 minutes non plus simplement déplorables mais maintenant tout bonnement pitoyables et affligeantes du solo-exhibition (?) de la verrue de service qui officie aux drums. Une Ferrari tunée n'aurait pas pire allure au final. Le constat du concert de Nancy en juin dernier ferait passer une croûte pour un Van Gogh tant la situation s'est empirée depuis. Comment est-il Dieu possible de plomber un tel concert par une "prestation" de cet acabit ? Si au moins le niveau de jeu était à la hauteur, on pourrait pardonner, fermer les yeux, faire preuve de mansuétude et de compassion, mais tel n'est même pas le cas. Rendez-nous Herman The German ou, mieux encore, notre Rudy Lenners national !!

Hormis également quelques inévitables moments "karaoké" sur les sempiternels hard slows, ce qui s'avère sans doute être ma dernière piqûre de les The SCORPIONS reste un de ces bons concerts qui ont ce petit quelque-chose-qui-fait-que. Avec sans doute en bouche l'amertume de vivre une page qui se tourne, ou plutôt un livre qu'on referme tous ensemble, lecteurs et auteur(s) conjointement. Bonne pension, les gars, bonne retraite et, j'en suis certain, à bientôt pour de nouvelles aventures rock'n'rollesques. On ne peut pas en rester là, for sure, et comme vous le chantez si bien : The best is yet to come !
Ouch ! on en oublierait presque TRUE CALLING qui officiait en première partie, espérant sans doute devenir le nouvel étendard du rock teuton dès que nos 3×20 seront retirés du circuit ?! Good luck, boys : it's a long way to the top if you wanna rock'n'roll…