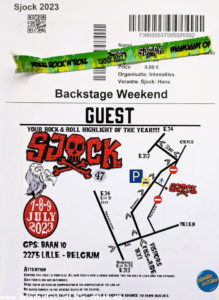 Comme on l'apprécie, notre annuel et sans pareil R'n'R Highlight of the Year! Le thermomètre affiche 34° à l'ombre et, une fois n'est pas coutume, la soirée campinoise sera d'une anormale douceur. Et quand on parle de douceur, on ne fait référence qu'à la température – pas à l'affiche de cette 47ème édition qui, ne nous y détrompons pas, oscille toujours entre garage-rock, punk et punk-rock quand pas bluesy ou tout simplement boogie et vintage. Seule ombre au tableau de ce samedi 08 juillet 2023, un mièvre, mou et tout bonnement soporifique EAGLES OF DEATH METAL qui officie pourtant en tête d'affiche de cette seconde journée.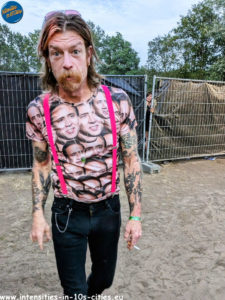 Erreur de casting de la part de la programmation ? On ne le saura jamais, même si le public réserve néanmoins un accueil chaleureux aux rescapés du Bataclan, pourtant si éloignés de l'ADN du Sjok. D'ailleurs sans doute vivent-ils aujourd'hui davantage sur leur « acquis », sur leur macabre et lugubre renommée que sur leur production pour le moins inégale et leurs mièvres prestations (comme nous l'avions déjà tristement constaté lors de l'édition 2019 du Hellfest).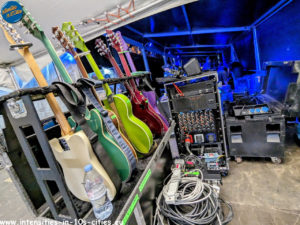 Un show affligeant tant sur le fond que sur la forme – le cheveu dans la soupe de cette programmation qui affiche pourtant traditionnellement un sans faute. Depuis le drame du Bataclan, on savait Jesse Hughes parano ou mytho – quand pas tout simplement gros con (oui, gros con, après ses lamentables prises de position limite complotistes post–événements): ce soir, c'est escorté de deux gardes du corps qu'il quitte son tour-bus pour monter sur scène alors qu'il s'est baladé tout l'aprèm backstage comme si de rien n'était. Soit. Soit.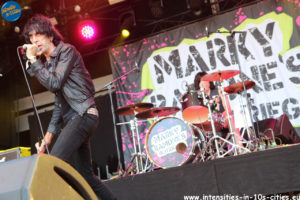 Hormis ce faux pas, le samedi 08 juillet 2023 affiche néanmoins un tableau de chasse pour le moins relevé. A tous seigneurs, tous honneurs – au pluriel car deux formations briguent incontestablement la palme de l'auteur de la claque de la journée: FU MANCHU ou Marky RAMONE ? Marky RAMONE ou FU MANCHU ?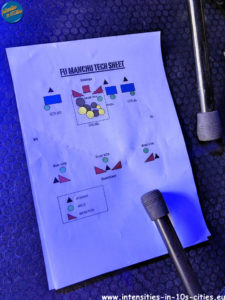 Longtemps encore nous souviendrons-nous de ce premier face-à-face avec le quatuor californien qui met littéralement le feu aux planches du SJOCK. Les maîtres du stoner (parmi certes quelques autres pointures de classe mondiale de leur acabit) nous assènent une trempée de derrière les fagots en délivrant le set parfait – ou quasi.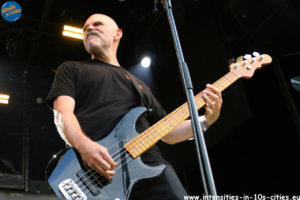 Une puissance de feu redoutable, un mur du son impénétrable et une rythmique métronomique pour une prestation ébouriffante sans chichi sans manière qui balaye une bonne partie de leur discographie. Ce dernier concert clôture de main de maître un European Tour rikiki mais totalement maousse costaud. FU MANCHU décape. FU MANCHU dépote. FU MANCHU règne. Ô my Godness.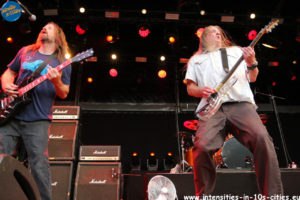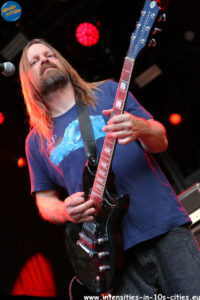 Autre règne, autres temps, autres lieux, autres moeurs : sur la côte Est cette fois, règnent à New York de manière impériale dès les mid-seventies les frères RAMONE'S. Le dernier des survivants de cette glorieuse épique époque (et tic et toc) se prénomme Marky. My name is RAMONE, Marky RAMONE. Après quelques pompes devant la porte de sa dressing room pour se chauffer les muscles, notre fringuant septuagénaire moulé dans un short legging noir se dirige alertement vers la scène. On ne perd pas une miette de ces moments sans pareils et collons (discrètement) aux basques d'une de ces dernières légendes vivantes de la grande époque du punk-rock US.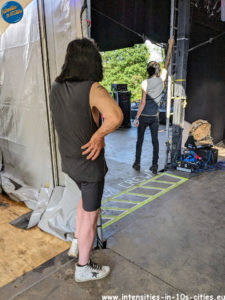 La tignasse plus qu'abondante, noire de jais comme c'est Dieu pas possible, le lascar (extravagamment perruqué, faut pas pousser) n'a rien perdu de sa superbe ni surtout de sa forme jouvencelle. Efficacement entouré de trois acolytes du meilleur ton, bien à l'image, en symbiose et dans le moule parfait de leurs illustres prédécesseurs qui tiraient plus vite que leur ombre, le Marky RAMONE's Blitskrieg nous déroule le plus que parfait best-of de la discographie RAMONES.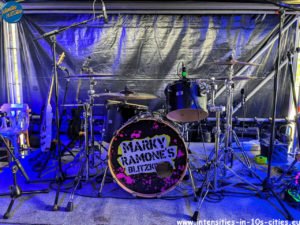 Comme un moment d'intemporalité… Flash back et madeleine de Proust, plongée en profondeur presqu'en apnée dans nos plus tendres années R'n'R High School non sans une encombrante boule au ventre en repensant à toutes ces années écoulées depuis. Coup d'oeil sur la set-list scotchée sur les planches avant que le set ne commence: le rappel mentionné avec un point d'interrogation restera sur papier, et uniquement sur papier: ce n'est pourtant pas faute d'avoir été réclamé à corps et à cri par un public chaud comme une baraque à frites…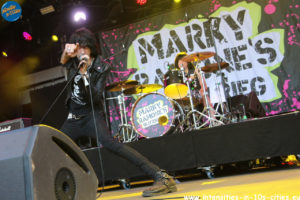 Les Amerloches sont décidément à la fête ce samedi, et d'une côte à l'os – pardon: d'une côte à l'autre. Retour sur la West Coast: c'est de Seattle qu'arrive un autre quatuor dans la plus pure veine des 4 frères New-Yorkais : ZEKE. Comment dire, comment dire…? ZEKE doit être l'enfant caché de MC5 et des Stooges concu lors d'une partouse avec les Ramones – quant à connaître l'identité de la mère porteuse présente à cette partie de jambes en l'air….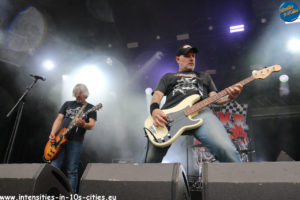 Un set d'un seul tenant empêchant le plus affûté des néophytes de comptabiliser le nombre de morceaux joués tant ils s'enchaînent à la ramasse. Ca vous situe le niveau, ça te situe le style, ça situe l'intensité de la rafale? de quoi ramener la plus performante des sulfateuses au niveau de la cadence de tir d'un lance-pierre…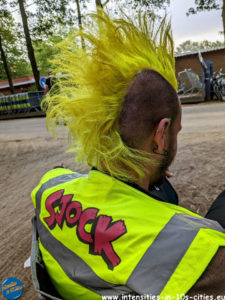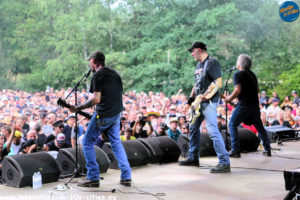 De quoi faire passer The BOOGIE BEASTS qui prestent dans le chapiteau pour des enfants de choeur à qui l'on donnerait le Bon Dieu sans confession. Le trio qu'on avait vu la dernière fois sous cette formule à trois est maintenant quatuor devenu, et la formule est 200% gagnante. Si passer de 100 à 200% est toutefois une vue de l'esprit, la formation n'en manque pas non plus, et ce n'est pas peu dire sous un chapiteau que The BOOGIE BEASTS transforment en fournaise. 100° ne brûle pas moins que 200° quand on met le doigt dedans la flamme…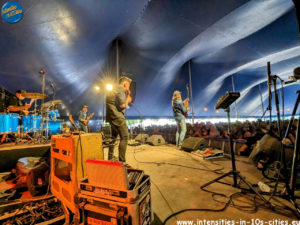 From Kalamazoo, Michigan, (avant de migrer à Seattle, eux aussi) encore des Ricains qui ont traversé l'Atlantique rien que pour nous: en ouverture d'après-midi, tâche souvent ingrate, The SPITS lacent les hostilités de cette seconde journée de Sjock. Basique voire élémentaire, sans trop de relief non plus, leur leur folk-garage-punk est à l'instar du titre de leurs six premiers albums très savamment prénommés I, II, III, IV, V et VI. Du petit lait pour commencer la journée, quoi. Qu'on terminera le lendemain même heure quasi avec HOLY GHOST qui nous revient du Danemark, sur la mainstage cette année contre le marquee lors d'une précédente édition.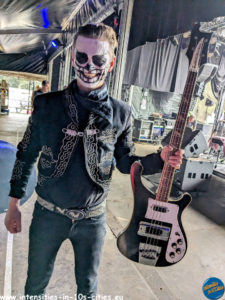 Your Rock'n'Roll Highlight Of The Year a une fois de plus tenu toutes ses promesses et n'a pas démenti sa réputation. Comme le bon vin, il bonifie avec l'âge en se dirigeant à petit pas vers sa 50ème édition en pulvérisant même son record d'affluence le dimanche en accueillant pas moins de 11.000 festivaliers. Ou comment rester convivial et familial, Petit Poucet dans la cour des Ardentes et autres Baudet'stival qui, le même weekend, ne jouaient manifestement pas dans la même catégorie: on parle ici de Your R'n'R Highlight Of The Year, pas de guimauve, de soupe ni d'insipide variété électronique pour adolescent(s) pas encore secs derrière les oreilles …