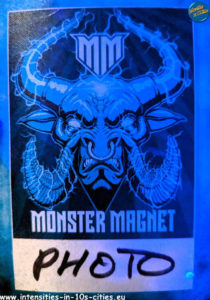 Le t-shirt estampillé Hawkwind que porte Windorf en montant sur scène donne immédiatement le ton, à l'instar de son froc sans forme ni allure qui tombe en accordéon sur ses imposantes pompes de chantier. Il n'est pas ici pour prendre part à un défilé de mode ni pour faire de la simple figuration, le Dave, il est en configuration usine, genre haut-fourneau, mode coulée continue et métallurgie lourde. Windorf n'a jamais fait dans la dentelle mais sa broderie finement ciselée pèse pourtant bien, bien lourd…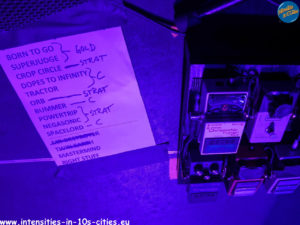 On n'est jamais déçu d'un MONSTER MAGNET. Jamais. Et ce soir ne fait pas exception dans un Garage qui n'a étrangement pas fait carton plein. MONSTER MAGNET ne déçoit donc jamais, et sa puissance de feu n'a d'égale que sa rémanence au fil des ans, entre deux tournées : un set de même pas une heure et demi mais qui a été mené comme à l'accoutumée tambour battant, sans temps morts aucun, tout juste de quoi reprendre son souffle entre deux rafales. Et encore, à peine le temps prennent les lascars de nous laisser recouvrer nos esprits que le train fou est déjà reparti à l'assaut d'un nouveau col : puissance collective pour un impact maximal.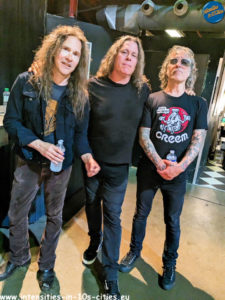 L'impétueux et tempétueux Windorf semble traverser les âges sans en prendre, tout comme d'ailleurs ses fidèles acolytes qui l'entourent depuis bien longtemps maintenant. Plus soudé et plus compact que jamais, d'une cohésion sans faille, MONSTER MAGNET nous offre une set-list qui s'apparente davantage à un very-very-best-of qu'à autre chose. Un concert-sauna comme on n'en fait plus beaucoup, du moins avec des pointures qui n'ont plus rien à prouver.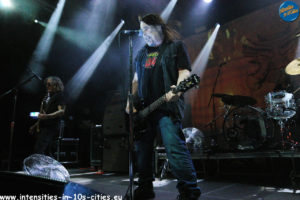 Quand on n'a rien plus à gagner, lorsqu'on n'a même rien à perdre, on se lâche. Et quand on se lâche, quoi de plus paroxysmique que le lâcher-prise made in MONSTER MAGNET ? Surviennent alors les moments les plus improbables, les plus spontanés, les plus puissants et les plus musclés, tels l'impact d'un mur du son qui s'adjoint les services d'un tsunami.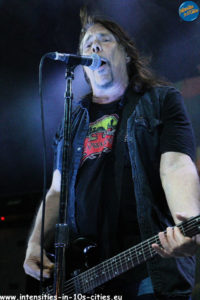 A force de ne pas (trop) se renouveler, certains plongent et disparaissent. Au contraire de MONSTER MAGNET qui ne fait que repousser toujours plus loin, toujours plus haut son stoner sismique dont ils demeurent aujourd'hui plus encore qu'hier l'étendard, la référence, le porte-drapeau d'un genre dont les acteurs ne manquent pas mais qui ne font qu'attendre leur heure (de gloire). Gloire aux Pères Fondateurs dont les élèves ne sont pas près de dépasser les Maîtres. Amen.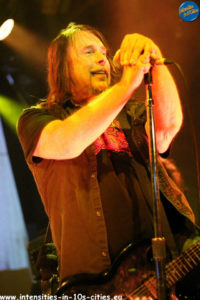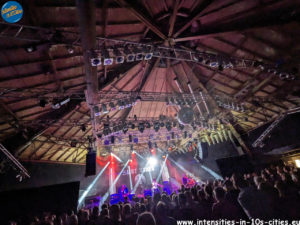 SAINT AGNES, the band for those who dare to be different – annonce la réclame. Comme quoi la publicité n'est pas toujours mensongère. Les quatre Londoniens emmenés par leur tigresse transforment cet opening-act en un joyeux bordel aussi bruyant que finalement festif entre post-punk et vintage rock'n'roll délavé à l'acide. Un court set à l'image des gambettes de sa chanteuse: émoustillant et affriolant.