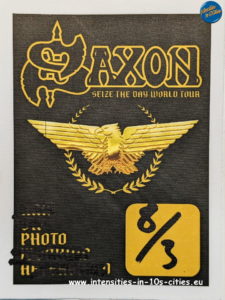 Qui eut pu croire que le lendemain même de ce show – le tout 1er du Seize the Day World Tour 2023 et date désormais historique – Paul Quinn annoncerait mettre fin à sa carrière après avoir fondé SAXON il y a près de 50 ans maintenant ? Les quelques dates restantes de mars seront honorées par le groupe qui annule par contre celles d'avril en Amérique du Sud, en attendant probablement de se retourner pour la suite. Si suite il y a: une page se tourne, à moins que ce ne soit le livre qui se referme – l'avenir nous le dira…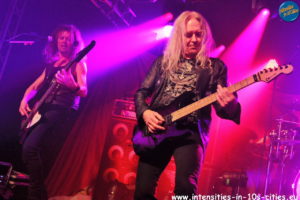 Ceci dit, le bon peuple ne s'est pas pressé en masse et même si le rez-de-chaussée est bien densément rempli, Den Atelier a fermé l'accès au balcon pour sans doute concentrer l'assistance sans la diluer. Face à la minuscule scène, le son est d'une puissante perfection et d'une parfaite puissance pour bien vite tourner en bouillie sonore lorsqu'on s'éloigne de cet axe central. Au point de peiner à distinguer le titre que SAXON à inséré entre The Eagle has Landed et Black is the Night qui ne figure étrangement pas sur la set-list dont nous avons volé le cliché depuis le (bien trop) étroit pit-photo en début de set.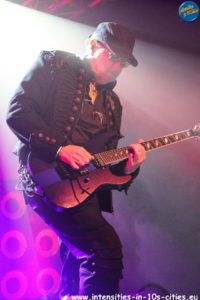 Il faut d'ailleurs être bien svelte – ce que nous ne sommes plus – pour se glisser entre les caissons de basse et la barrière délimitant ce pit–photo, et il est tout aussi illusoire d'espérer bouger une fois sa position occupée: les 6 ou 7 photographes que nous sommes occupent absolument tout le minuscule rikiki espace disponible. Comme d'habitude…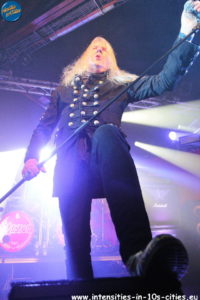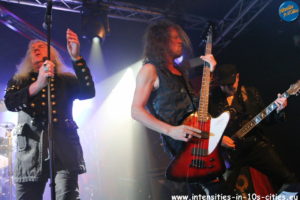 Notre dix-douzième concert de SAXON (ou plus peut-être ?) sera donc le dernier avec un Paul Quinn dont rien ne nous laissait présager le départ. S'il avait probablement déjà pris sa décision ce soir, l'avait-il déjà communiquée à ses band-mates ? Jouaient-ils tous en connaissance cause, sachant l'annonce qu'ils allaient faire le lendemain ? Nous ne le saurons jamais. Fidèle à lui-même, ne se mettant jamais en avant, demeurant toujours aussi discret que bougrement efficace, Quinn abat comme d'hab' un boulot de titan en faisant mine de ne pas y toucher.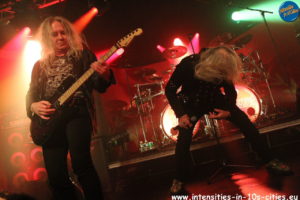 Les standards défilent comme sur double best-of de SAXON saupoudré de quelques extraits de leur dernier Seize the Day. Mieux encore qu'un best-of: une very-best-of d'une heure trois-quarts qui balaye plus de quatre décennies et demi, en faisant la part belle aux pépites qui ont assis la réputation de SAXON au firmament de la NWOBHM qu'ils n'ont jamais quitté. C'est dans les veilles casseroles qu'on fait les meilleurs soupes, et pas forcément avec de jeunes carottes: si la preuve en est donnée une fois encore ce soir, SAXON sans Quinn ne sera plus jamais ce SAXON-ci. Ne sera plus jamais SAXON tout court, et ça fait d'autant plus mal en considérant ce very-best-of qui rappelle combien tous ces monuments ne sont pas éternels. La disparition de Gary Rossington pas plus tard qu'il y a quelques jours encore ne cesse de nous le rappeler…