ACCEPT sans Udo, c'est un peu comme AC-DC sans Bon Scott dirons certains – dont nous sommes, ou plutôt étions. Mais combien de bands peuvent-ils se prévaloir d'avoir conservé le même line-up quatre ou cinq décennies durant – voire davantage encore ? Jusqu'il y a peu, nous tirions bien bas notre chapeau à ZZ TOP jusqu'au moment du pire, lorsque les Texans poursuivirent leur tournée 2021 alors que Dusty Hill pas encore rigide et même pas encore six pieds sous terre, fut remplacé au pied levé – du jour au lendemain – pour ne pas hypothéquer la bonne continuation du business on the road. The show must go on, and money too. A gerber – et pourtant, combien appréciions-nous le trio…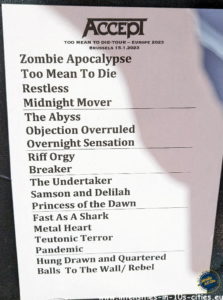 Mais ACCEPT sans Udo reste bel et bien ACCEPT. La longue attente faisant suite à nos précédents rendez-vous manqués avec les Teutons trouve aujourd'hui son aboutissement. Le premier de ces rendez-vous manqués remonte au millénaire dernier il y a presque… 40 ans déjà (horreur !), en ouverture des Monsters Of Rock de 1984. Le retard encouru par notre autocar blindé de jeunes headbangers avait eu pour conséquence de nous faire pénétrer dans le stade de Karlsruhe une fois la prestation d'ACCEPT tout juste terminée. Les Allemands jouaient à l'époque à domicile, ouvrant pour AC-DC, Van Halen, Mötley Crüe, Dio, Ozzy et Gary Moore – excusez du peu. Beaucoup plus récemment, ce fut la pandémie qui en 2021 et 2022 reporta à ce soir de janvier 2023 notre véritable premier rendez-vous enfin réussi avec ACCEPT.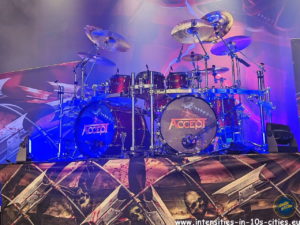 Il y a un peu de Bruce Willis dans l'allure de Wolf Hoffmann, même si certains diront que tous les chauves se ressemblent. Il y a surtout un peu et même beaucoup de Rudolp Schenker dans les gimmicks et dans le jeu de ce fringuant sexagénaire. De quoi rendre en définitive cet ACCEPT de très, très haute facture, pour le plus grand bonheur du bon peuple d'âge tout aussi respectable venu en masse dans cette ô combien chaleureuse Madeleine bruxelloise. Bon sang ne saurait d'ailleurs mentir quand on s'appelle ACCEPT, isn't it Chicken Shack ?!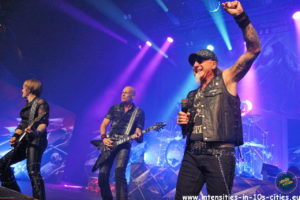 Au gré des splits et des reformations successives qui ont égrené l'histoire et le line-up du groupe, Wolf Hoffmann demeure assurément le dernier des Mohicans, toujours à la signature de la plupart des compos. De quoi sauvegarder intactes l'âme, le son, la ligne et le cachet ACCEPT. Secondé par une deuxième lead guitar – et même pas une troisième gratte cantonnée davantage dans le rôle de rythm guitar – Hoffmann fédère et rassemble, galvanise même, avec doigté et respectabilité.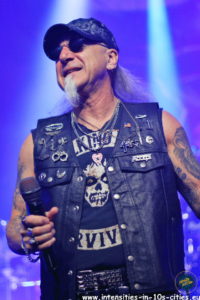 Les deux lead guitars se relaient sur le podium ou plutôt le marche-pied posé au devant des planches, tantôt côte à côte, épaule contre épaule, tantôt monopolisant l'avant-scène à tour de rôle. La set-list est longue comme un jour sans pain et nous promène au gré des décennies: ACCEPT n'entend pas nous laisser sur notre faim, même si les habituels ronchons de service (des boomers grincheux et des has-been ringards drapés dans les fringues usés et défraichis de leur adolescence) estiment que la présence d'Udo aurait quand même eu son petit effet. « C'était bien mieux avant, mon bon monsieur…« .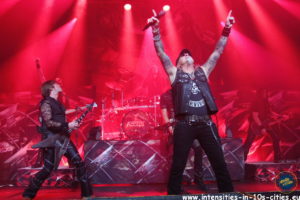 Pas d'esbroufe, pas de frime, pas de tape à l'oeil : tout est ici au service d'une redoutable efficacité d'un sextet qui n'a définitivement pas besoin ni de flonflons ni de show ni de chichi – sans parler des manières. Quand on a des choses à dire, superflu d'enrober le discours par d'inutiles circonvolutions. Droit au but. Plus de quatre décennies qu'ACCEPT connait et l'air et la chanson: long live rock'n'roll ! Raison de plus pour passer sous silence le plus que dispensable open-act, « The Iron Maidens » – qui ne mérite même pas le caractère gras – alors même que Phil CAMPBELL était initialement prévu en compagnie de ses bien-nommés Bastards…