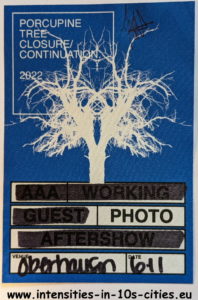 « Since 1984 we create together – Be yourself, everybody else is taken« . La mention maladroitement ou plutôt naïvement manuscrite qu'arbore la chemise délicatement repassée d'un Steven WILSON propret et bien loquace – telle l'aurait griffonnée un adolescent sur sa veste de jeans – cette mention n'est probablement visible que par le premier rang de cette remarquable Rudolph Weber Arena d'Oberhausen. Et encore, avec de bons yeux ! Julilatoire : sans doute cette définition sied-elle le mieux à cet Evening with Porcupine Tree qui n'en porte pas le nom mais néanmoins présenté comme tel par WILSON. Rien ne laissait en effet supposer que ce set en deux parties allait nous emmener trois heures durant dans un survol sans pareil de la carrière de PORCUPINE TREE (soit 2h40 de show, entracte de 20′ déduit).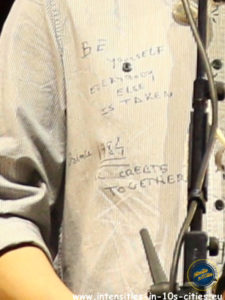 Après douze ans de silence interrompus par la seule prolifique production solo d'un Wilson toujours aussi musicalement boulimique, le nouvel opus de PORCUPINE TREE a pris tout le monde à contre-pieds en juin dernier, convaincue qu'était la Planète Rock que jamais le band ne renaîtrait de ses cendres. S'il n'est selon nous pas l'album le plus abouti de l'Arbre à Porc-Epic, Steven WILSON réussit néanmoins l'exploit de nous le performer dans son intégralité ce soir sans tomber dans le travers habituel de tous ses pairs: celui de le jouer d'une seule traite, avant de passer (ou après être passé) à autre chose.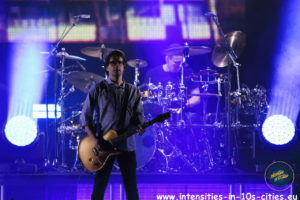 Avec un percutant Blackest Eyes qui ouvre le set, le tempo est donné. Even Less, dans une version longue de 7 minutes, suivra un tir groupé de 3 morceaux tirés du dernier né qui s'enchainent sans qu'on n'ait le temps de réaliser la fourberie. Wilson en maître de cérémonie sans pareil nous distille ainsi de-ci de-là son dernier chef d'oeuvre, mine de rien, entre 2 classiques ou pépites ressorties de son catalogue et en nous évitant l'indigestion d'une démonstration d'un seul tenant, d'un seul jet.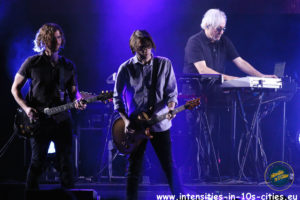 Entouré de son fidèle Richard Barbieri aux claviers et de l'extraordinaire (le mot est faible) Gavin Harrison aux drums qui ont tous deux participé à la conception et à la genèse de cet album-surprise, Wilson explore sans cesse un monde sonore décalé que d'aucuns, à court d'imagination ou de vocabulaire, définiront de manière réductrice comme du rock progressif alors que la production de PORCUPINE TREE ne peut pas être corsetée dans un genre particulier. Wilson a tout expérimenté, du rock psychédélique aux paysages sonores électroniques de la pop expérimentale en passant par de classiques influences et de métallique détours. Dans le plus grand secret, les trois lascars travaillaient sur le projet depuis 2010, à travers un fichier dénommé PT2012 sur le PC de Wilson (rebaptisé ensuite PT2015, puis PT2018, etc.).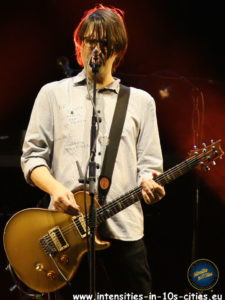 Une poignée seulement de photographes sont accrédités, et c'est heureux dès lors que nous sommes relégués sur l'étroit podium du FOH pour officier lors des deux premiers morceaux du… second set, dont malheureusement un Bying New Soul joué dans une pénombre voulue et presque totale. Les 2 guests à la rythm guitar et à la basse (Nate et Randy) sont ironiquement présentés comme venant de New-York UK et du Texas, UK, avant que le show ne plonge dans la spirale d'une nouvelle dimension, d'un nouvel espace-temps avec un Anesthetize qui assène le coup de grâce à une arena qui n'en espérait pas tant. Sleep Together clôturera le second set, annonciateur d'un rappel de 3 morceaux dont Train en finale – « Puisque nous n'avons jamais fait de hit en tant que tel, nous n'avons pas la pression de le jouer ni vous l'impatience de l'attendre ! Toujours est-il que nous allons clôturer cette soirée avec ce qui pourrait s'y apparenter sans que ce n'en soit pourtant le cas…!« . Sacré Wilson, va.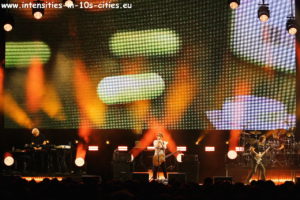 Steven WILSON demeure un extra-terrestre, et remplir exceptionnellement d'imposantes arenas telles que celles de toute cette tournée n'est pas pour lui anodin. Il se remémore d'ailleurs un show donné non loin d'ici à Stuttgart il y a bien des années où la salle ne comptait que 40 (ou 14 ?) spectateurs. Nous sommes plus de 10.000 ce soir, arborant des t-shirts de rock progressif, de métal et de rock mainstream comme le souligne très justement Steven WILSON lui-même en observant ironiquement l'assemblée. Sans doute ici se situe tout son génie conceptuel, celui de rassembler tous les genres, de transcender tous les styles et d'en réunir toutes les générations. Sauf erreur blasphématoire de notre part, God is Back… (ou alors ça en a tout l'air).