Que de premières sur la scène de l'Entrepôt ce soir ! L'Albert ne monte pas à cru ce soir, réussissant la gageure de s'entourer d'une kyrielle de chaudes et fines gâchettes. Il n'est en effet pas certain que 12 musicos (gaumais de surcroit, personne n'est parfait même pas à Châtillon…) aient déjà occupé simultanément les quelques mètres carrés de la scène de l'Entrepôt, promiscuité plus torride encore en y adjoignant la cornemuse inhérente au It's a Long Way to the Top ou la flûte enchanteresse de Locomotiv Breath. Pas certain non plus que les murs de l'endroit aient déjà résonné d'un Nugent du meilleur tonneau avec un Stranglehold à la ligne de basse tout simplement cataclysmique à mettre à l'actif du Coco.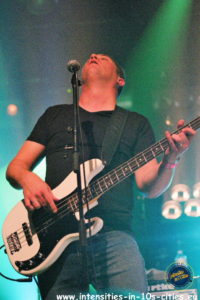 Car c'est ça les 25 ans de l'ALBERT BLUES BAND: le meilleur de leur propre production mâtiné de classic-rock hors des sentiers battus et aux antipodes des standards dont les radios mainstream nous rabâchent les oreilles. Et des relents band of friends quand ce n'est pas carrément band of sons & daugthers pour donner plus encore de consistance et de corps (et de coeur) à cette set-list de choix en l'enrichissant de cuivres qui s'imposent par-ci, de backgrounds en choeur par-là, et de quelques lignes bien senties d'Hammond juste comme il faut quand il faut et là où il faut.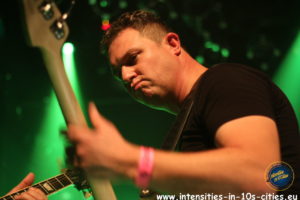 La bande à ALBERT BLUES BAND nous régale ainsi d'un set en deux parties bien charpentées et ô combien couillues pour célébrer de manière festive le patron Al' aux manettes de l'orchestre (sic !) depuis un quart de siècle. Entouré sur scène de ses fidèles amis et comparses mais néanmoins band mates devant l'Eternel, sans compter les fils de et les filles de (comme en politique), face à un public de fidèles amis et proches, ne manquaient finalement que le gâteau et les bougies à souffler d'un bon coup de larsen bien senti. Ce sera pour les 30 berges de l'Albert et son orchestre dans 5 ans, mildje ! « Olé ! » hein Denis ! Parole d'Ardennais.