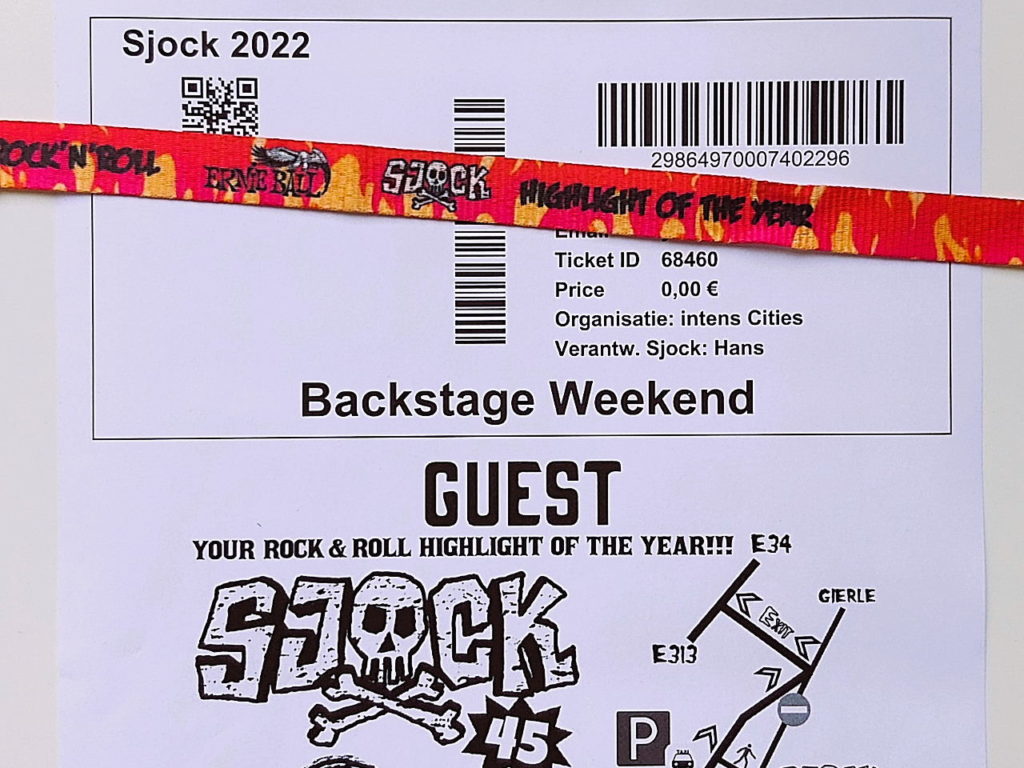 Small is Beautiful. SJOCK Festival, 45ème du nom – malgré deux années off pour les raisons qu'on ne nomme plus. Your Rock'n'Roll Highlight of the Year, et encore une fois bon sang ne saurait mentir avec une édition 2022 à la programmation toujours aussi éclectique dans une niche cependant toujours aussi étroite: du rock'n'roll au punk-rock et au rockabily en passant par le garage-rock et… le ska avec la présence cette année de Madness. Que de stars mondiales ont foulé les modestes planches de ce festival intimiste et familial malgré la qualité de l'affiche – 15.000 personnes seulement ont foulé le terrain de Gierlé alors que l'affiche annonce trois jours durant des pointures telles que PHIL CAMPBELL & His Bastard Sons (qui s'est produit bien des fois ces derniers jours devant des dizaines et des dizaines de milliers de spectateurs). Et que dire de l'Euro Incontinence Tour 2022 (?!) du trio australien COSMIC PSYCHOS qui a traversé la moitié du globle pour une tournée européenne de 4 dates seulement, ramenée finalement à 2 seuls shows et dès lors devenue l'Euro Drinking Tour 2022. Et ça ne s'invente pas – c'est ça le SJOCK Festival.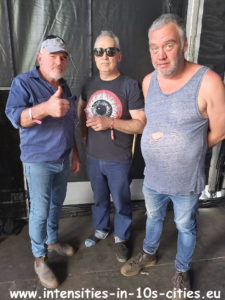 Perdus au cœur de l'Europe sur une modeste scène d'un tout aussi modeste festival, le trio assurera pourtant dans quelques jours pas moins que la première partie de GUNS & ROSES et de sa tournée 2022 des stades autraliens ! Tout ça et rien que ça au Sjock, Messieurs-Dames, illustre festival inconnu des médias mainstream et tout autant d'un public du même nom qui se complait au même moment aux Ardentes ou au Baudet'stival dans la variété, dans la musique urbaine, le rap et le hip-hop. Tandis que les connoisseurs attendent évidemment avec impatience le barnum des Rolling Stones au stade Roi Baudouin le lendemain – arme de distraction massive d'une affligeante vacuité.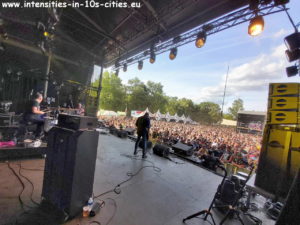 Mais revenons-en à l'essentiel, et à ce Sjock Festival 2022 et 45ème du nom qui nous gratifie à nouveau de valeurs sûres (George THOROGOOD, Madness, Social Distorsion, Agnostic Front, PETER PAN SPEEDROCK,…) mais également de rafraichissantes découvertes dont les Australiens de COSMIC PSYCHOS ne sont donc pas les moindres, que du contraire ! Le combo est de ceux qui, sur la platine, ne sont pas particulièrement d'un immense intérêt mais qui t'explosent à la gu… quand ils déboulent sur scène, quant ils tentent de contenir et de canaliser toute leur pleine démesure et toute leur démente boulimie scénique. Pas nés de la dernière pluie et de surcroit à l'autre bout de la planète, COSMIC PSYCHOS représente néanmoins une influence majeure de l'éclosion de la scène grunge de Seattle durant les eighties et une référence que Pearl Jam themselves revendiquent, oui Môsieur. Et tout ça au SJOCK, oui Mèdême.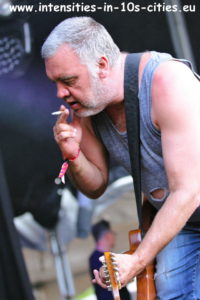 Leur Euro Incontinence Tour 2022 rebaptisé donc par la force des choses Euro Drinking Tour 2022, on comprend vite pourquoi. Dès la 1ère note crachée par l'Ampeg en soundcheck, le ton est donné: la basse en déliquescence et artisanalement enrubannée de scotch est à l'image de son propriétaire et affichent tous deux un nombre incalculable d'heures de vol marquées par les stigmates d'un punk-garage-rock sans compromission aucune. Si ce n'est pas peu dire, ce n'est encore que de la roupille de sansonnet à côté de la dégaine du préposé à la six cordes. Si Ross KNIGHT à la basse, en bleu de travail et la casquette vissée sur le crâne, a la dégaine d'un garagiste sorti par erreur du fin fond de son atelier enterré dans le MiddleWest, John Mc KEERING à la gratte affiche quant à lui le look d'un de ces bushmen descendant de son tracto-pelle au beau milieu de la fournaise du bush australien.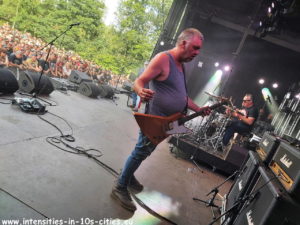 Avec sa tronche d'une authenticité toute rugueuse, la sèche roulée et à moitié éteinte collée au bec, le jeans poisseux laissant entrevoir une raie du c… du même acabit, son marcel taché, dégueux et troué sur le bide doit lui coller à la peau depuis avant la pandémie et peine à cacher une panse de beer-drinker invétéré – Euro Drinking Tour, et ce n'est pas les Maes qui manquent on stage. Ah! qu'ils sont hilares nos trois zigotos, comme s'ils se marraient à l'avance de la bonne blague qu'ils nous préparent. Hilares comme trois sales gosses qui préparent un mauvais coup tout en se remémorant le dernier en date. Hilares comme des bienheureux, nos trois lascars, comme trois innocents perdus on ne sait trop où et qui sont les premiers à en rire à gorge et panse déployées ! Mais ne jamais se fier aux apparences, jamais : nous avons affaire à de véritables tueurs, des killers sans nom et dont le troisième larron aux drums n'est pas non plus là pour faire de la figuration. Ils ont un contrat, et des tueurs dignes du nom remplissent toujours leur contrat.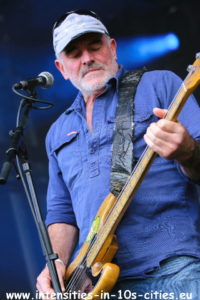 A coup sûr, ce power trio sans équivalent dans l'hémisphère nord va littéralement tuer et mettre en pièce GUNS & ROSES dans les stades de Melbourne, d'Adelaïde, de Sydney et d'ailleurs encore là-bas DownUnder. Ici dans le jardinet de Gierlé, c'est le Massacre de la Saint-Valentin : sans en avoir l'air, dans une décontraction qui frise l'indifférence et la nonchalance, ces trois invétérés bourrus beer-drinkers livrent le set de la mort qui tue, ce genre de set qu'on ne peut narrer mais qu'on ne peut que vivre, subir, survivre, encaisser, prendre en plein poire. Quel set, madre de dios ! Nous sommes stage right lorsqu'en guise d'au-revoir et d'ultime salut ou de pied-de-nez, ces indécrottable et imprésentables Aussies exhibent à la foule leur postérieur – assurément notre highlight of the year. Total respect, les gars : des comme vous, on n'en fait plus et l'on n'en croise plus que très, très rarement.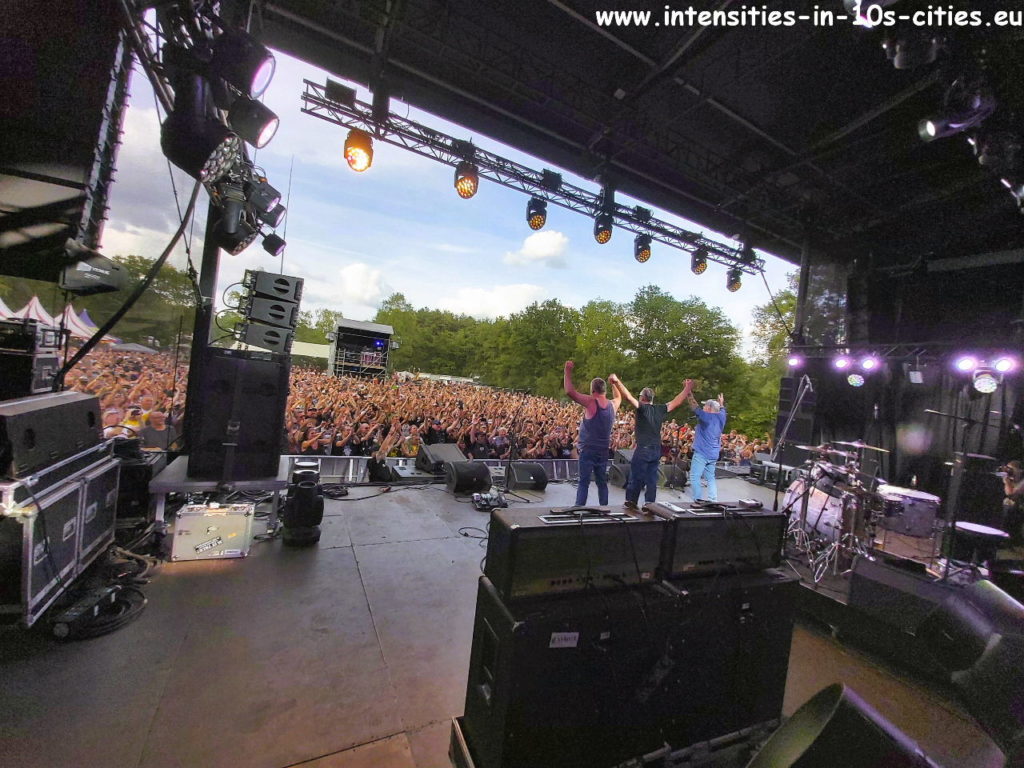 On te dit pouvoir revoir en 2023 un et un seul groupe déjà vu sur scène cette année, lequel choisis-tu ? COSMIC PSYCHOS pardi, quelle question !? Faut vraiment ne jamais les avoir vus pour poser de telles idioties. Et dire que les Stones se produisent après-demain au Stade Roi Baudouin – s'ils savaient au moins qu'ils ont encore tout à apprendre, ces pauvres Anglais vintage et aussi ringards qu'inoffensifs.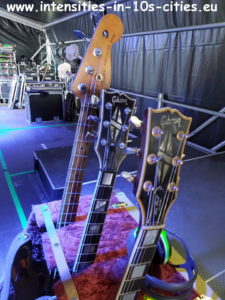 PETER PAN SPEEDROCK a entamé sa tournée d'adieu(x) en 2016. Nous sommes à l'été 2022 et la mention « Resurrection » est maintenant apparue sous la bannière du band en fond de scène. Resurrection ou prolongation, allez savoir. Cette mention ne change en définitive rien à rien et le power trio est plus speed que jamais, plus rock que jamais, plus killer que jamais. Et que penser de ce guest qui fait son apparition ponctuellement aux lead-vocals et dont la panse, démesurée et tatouée, ramènerait les COSMIC PSYCHOS à de simples apprentis beer-drinkers à qui on donnerait le Bon Dieu sans confession.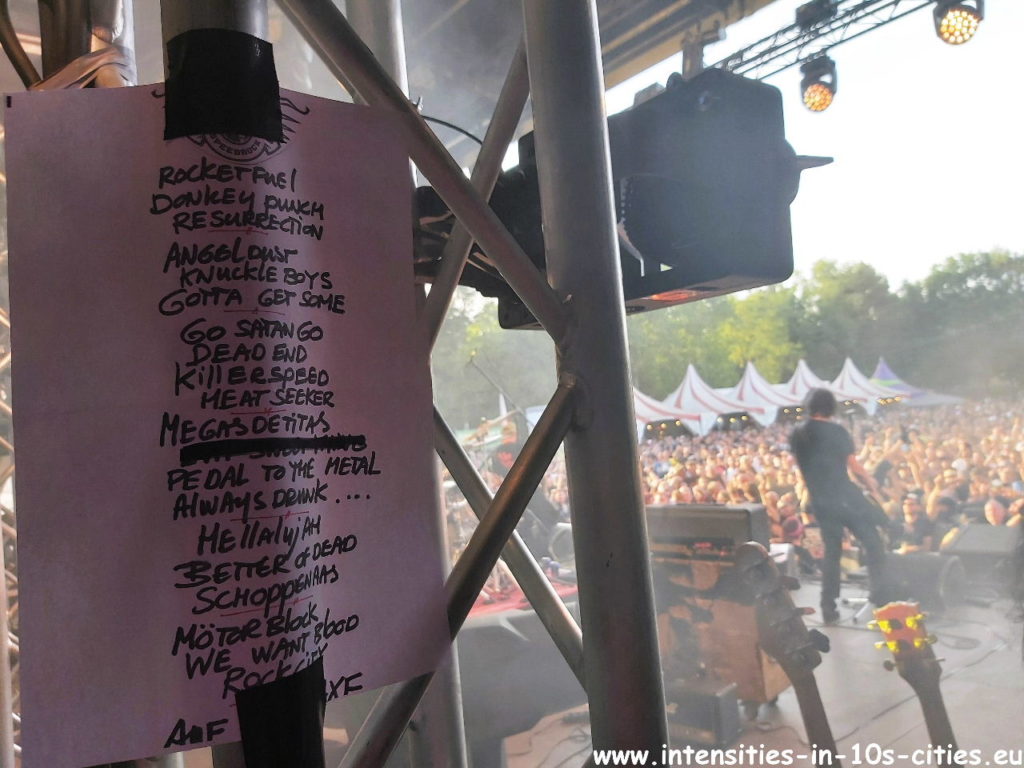 Les Australiens s'étaient contenté d'exhiber leur postérieur en guise d'au-revoir ; notre quatrième larron batave nous gratifiera quant à lui d'un nude intégral on stage et se voit décerner sans nulle doute aucun le titre de 8ème horreur du monde. Sjock Festival – your rock'n'roll highlight of the year qu'ils disaient : comme quoi la publicité n'est pas toujours mensongère…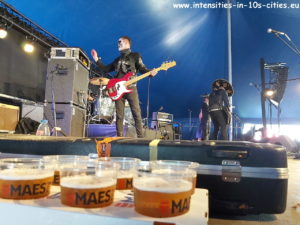 Les petits jeunes de GRADE 2 remplacent bien mièvrement au pied-levé PHIL CAMPBELL & His Bastard Sons ayant déclaré forfait à J-1 pour cause de covid au sein du band : la déception de cette 45ème édition, assurément et sans conteste. La prestation des Anglais nous avaient particulièrement séduit il y a quelques jours sur la mainstage du Hellfest devant 65.000 personnes, et l'exceptionnelle chance de les revoir dans ce backyard intimiste aurait probablement été notre r'n'r highlight of the year. Soit, puisqu'il en est ainsi.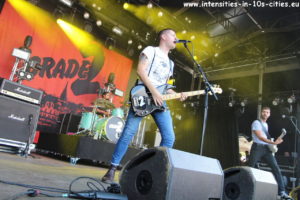 Les TEENAGE BOTTLENECK ne cassent pas non plus trois pattes à un canard avec leur punk-rock au cachet bien new-yorkais mais dont le manque de variété, de consistance et de rugosité lasse bien vite après quelques accords. Ne sont pas The RAMONES qui veut, et l'habit ne fait pas plus le moine que la mousse ne fait la trappiste.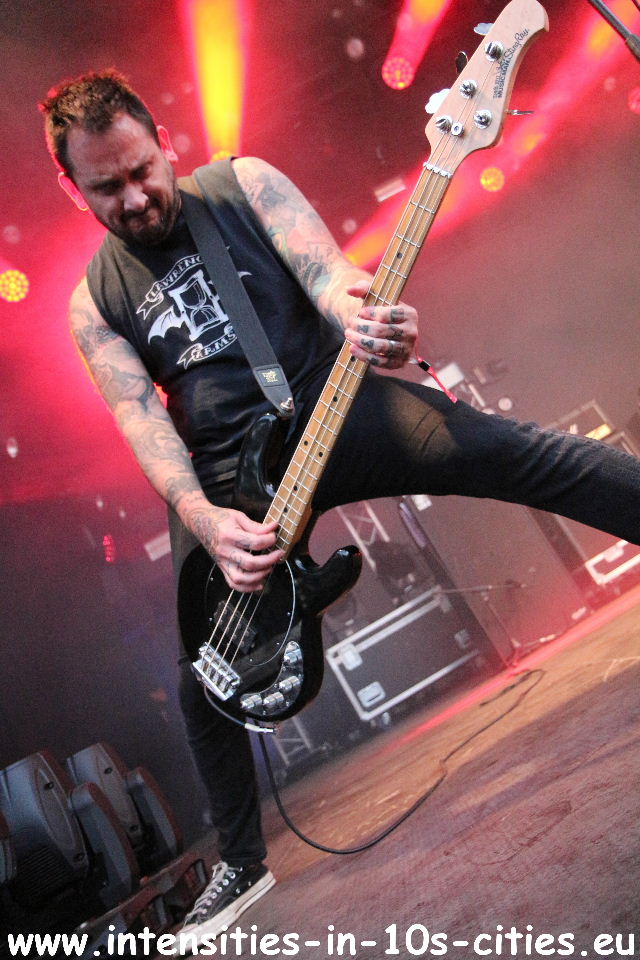 George THOROGOOD & his Destroyers met tout le monde d'accord fin de soirée dans le jardin de Gierlé – hormis peut-être le stage-manager ainsi que son crew local prié tout comme nous de faire place nette dès la fin du sound-check et de laisser le champ libre dans tout le backstage au crew US dont est entouré le George. THOROGOOD débute ici-même sa tournée européenne, et l'on peut supposer que son set au Sjock consiste probablement en un échauffement grandeur nature devant une audience somme toute modeste. La générale, quoi.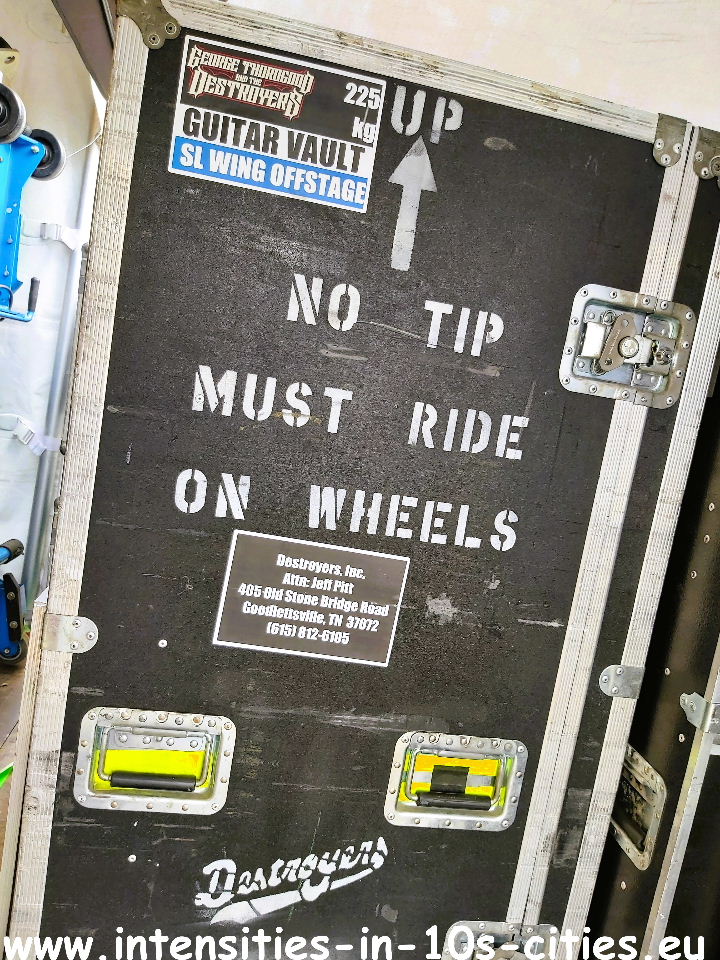 Tout juste arrivé des States via Gatwick puis par la route dans trois monstrueux bus hors-normes après 24 heures de voyage, THOROGOOD et sa clique nous réserve un set parfait même si sans grande surprise: que du classique, que des standards servis par une sono tout aussi optimale et entouré d'un band qui assure sagement à ses côtés. Le George n'a rien perdu de son sens du show, de sa prestance et de sa présence on stage : du haut de ses 72 berges, on ne la lui fait plus – y compris le retour sur scène en peignoir pour saluer une dernière fois ce qu'il reste de la foule en train de se disperser alors même que les dernières notes de son set se sont depuis longtemps évaporées dans la nuit noire et fraîche de la sablonneuse Campine.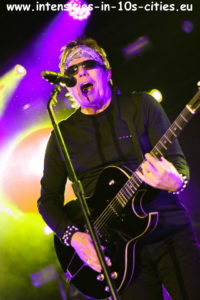 It's Saturday, Belgium, Sjock Festival ! avaient été ses premières paroles en arrivant sur scène. Il a encore une bonne vue, le George, en lisant ainsi la feuille scotchée on stage au pied de son micro sur laquelle figuraient les 4 seuls mots suivants: Saturday – Belgium – Shock (sic) Festival. Sait-on jamais que THOROGOOD s'imaginait être dimanche, en France, au festival de chants marins à Douarnenez. Et sans doute la mention « Shock Festival » devait-elle prêter à moins à erreur de prononciation que Sjock Festival, dira-t-on…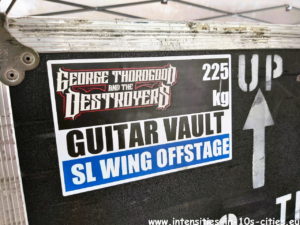 Peu auparavant, NINE POUND HAMMER joue les habitués sur la mainstage du Sjock, avec cette fois Ruyter Suys (pronounced « Rider Sighs ») qui accompagne son cher et tendre. Elle restera planquée derrière son Marshall tout le concert durant à lui tirer le portrait (ou plutôt le postérieur), jusqu'au moment où l'imprévu et l'improbable se produisent.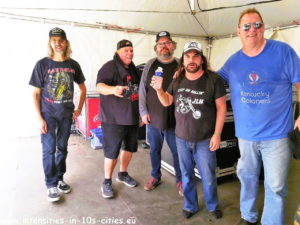 Le Blaine Cartwright s'écroule lourdement sur scène en toute fin de set alors qu'il avait délaissé sa gratte pour les lead vocals sur un morceau particulièrement… euh… comment dire donc… ? Coup de chaleur, coup de bambou, le corps avait-il trop donné, l'organisme avait-il puisé dans ses dernières réserves (et on peut l'attester, Docteur) ? Toujours est-il que le bruit de son corps qui s'effondre sur les planches tout juste à côté de nous couvre les décibels que crache la sono, et l'onde de choc de son crâne heurtant la scène surpasse ceux que crache son Marshall.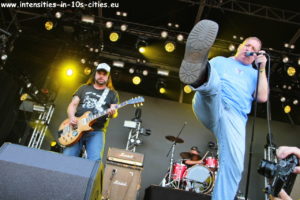 Sa tendre Ruyter bondit en une fraction de seconde pour porter secours à s'n homme: ce final n'était manifestement pas prévu, mais tout est bien qui finit bien – et Cartwright récupèrera même sa paire de pompes balancées quelques instant plus tôt dans le public. NINE POUND HAMMER, le Kentucky sans doute dans tout ce qu'il a de plus rural, de plus authentique et de plus profond, hormis peut-être une partie du matos estampillée NASHVILLE PUSSY – mais c'est finalement du pareil au même.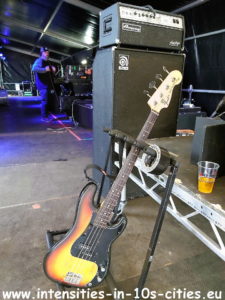 Et à toi, n te dirait que tu n'as droit l'année prochaine qu'à un seul festival, lequel choisirais-tu hein ? Faut vraiment ne jamais avoir été au Sjock pour poser des questions aussi stupides…