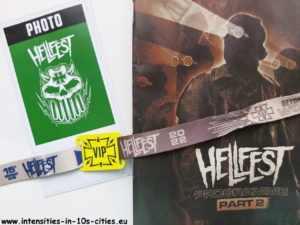 Le contraste est saisissant avec The SCORPIONS, littéralement impériaux, qui font passer les GUNS pour de la roupille de sansonnet. Si cela fait 53 ans que Rudolph SCHENKER arpente les scènes, il est aujourd'hui plus flamboyant que jamais et à l'image d'un groupe plus soudé qu'il ne l'a jamais été, plus efficace et plus magistral qu'on ne pouvait l'imaginer. The SCORPIONS demeurent non seulement une valeur sûre mais surtout un mythe et une légende d'une efficacité hallucinante, d'une force de frappe inouïe et d'une puissance de feu tout bonnement redoutable.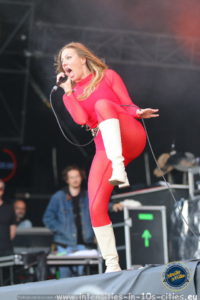 Pas un temps mort, pas une pause, juste un rythme simplement endiablé pour enchaîner un florilège de 50 ans de carrière jusqu'à leur toute dernière galette loin, très loin d'être négligée avec 4 morceaux au menu, excusez du peu. The SCORPIONS, c'est un mystère, une exception, une anomalie – ou alors une référence, un mythe bientôt, voire le Graal pour qui est à la recherche d'une référence ? Qu'on aime ou qu'on n'aime pas The SCORPIONS (car effectivement tout ce qu'ils ont produit n'est pas d'égale qualité, que tu contraire), l'objectivité des faits impose le respect quand le band déboule sur scène: nous sommes dans le factuel, pas dans la subjectivité, à l'opposé de pitoyables momies ou de has-been dont on n'égrènera pas ici les noms (… suivez notre regard).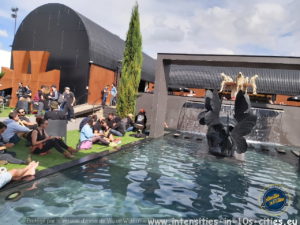 WHITESNAKE, pour rester dans les oldies, n'est guère en reste comparativement aux Allemands mais néanmoins un ton légèrement en-dessous. Comme à son habitude, le beau David COVERDALE va (bien trop) régulièrement se repoudrer le nez backtage ou se ménager (se soulager?) l'organe à l'occasion de soli toujours aussi nombreux qu'horripilants : tout y passe, guitare, synthé et batterie – ah, cet intemporel Tommy ALDRIDGE néanmoins toujours derrière les fûts !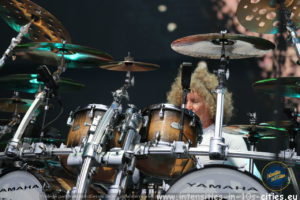 Une set-list sans surprise et un feeling bluesy fiévreux sex'n'roll replonge les quinquas et sexas dans leurs plus belles années avec un charismatique COVERDALE dont la voix chaude, quasi intacte, demeure un des mystères les plus absolus. Cerise sur le gâteau, Steve VAI (dont le set a été précédemment particulièrement… euh… pompant) rejoint le beau David pour nous délivrer un bouquet final d'anthologie, un Still of the Night tout simplement magistral. Et personne ne sait encore à cette heure que le Serpent Blanc mettra ensuite un terme définitif à son Farewell Tour 2022 pour raisons de santé. Remonteront-ils dès lors un jour sur scène… ?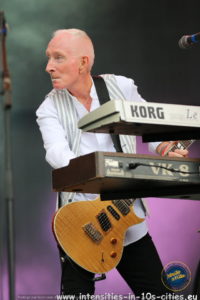 Il n'y a pas que WHITESNAKE a être très bien entouré : la charmante et tout aussi efficace bassiste de Coverdale n'a pas échappé aux yeux les plus avertis ni à notre objectif, à l'instar d'une guitariste au charme inversement proportionnel à celui de son boss : celle d'ALICE COOPER. Mais nul ne sait non plus à cette heure qu'il s'agit là d'un des tous derniers concerts que Nita STRAUSS passe aux côtés d'Alice. A l'heure de coucher ces lignes, Kane ROBERTS aka le Rambo de la 6 cordes, l'aura avantageusement remplacée d'un point de vue gonflette, même si on préfère de très très loin les courbes de Nita à celles de Musclor. Direct from Detroit, Vincent FURNIER nous concocte donc une set-list néanmoins bof-bof pour les habitués : trop classique, trop conventionnelle et pas assez audacieuse, elle a cependant l'avantage de proposer un magistral best-of pour qui n'aurait jamais eu la chance de déguster ALICE live on stage.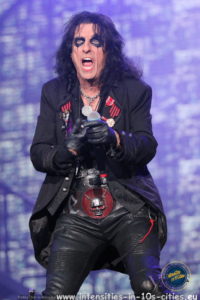 Sa dernière pépite sortie en 2021 recèle pourtant quantité de chefs d'œuvre qui auraient pleinement trouvé leur place sur scène : erreur de vieux baroudeur qui a préféré ne courir aucun risque en ne proposant strictement aucun extrait de son dernier album encore tout chaud ? La meilleure chose qu'il ait sans conteste produite depuis le millénaire dernier – c'est dire. Son band est soudé et compact, rodé et peut-être… blasé ? ALICE reste ALICE, incomparablement fidèle à lui même. Et même mauvais – ce qu'il n'est nullement ce soir – ALICE est bon. Sans surprise aucune ni éclat particulier, simplement fidèle à lui même, à son image, à sa légende et à son décorum, COOPER nous balance un classique grand-guignolesque dont on aurait pu se délecter à l'identique il y a 15, 25, 35 ans. Soit – mais n'est-ce pas là ce qu'on appelle un classique et une valeur sûre ?