40 ans que nous l'attendions, Russ BALLARD….
40 ans que nous l'attendions, puis patatra: coronavirus et covid-19 passent par là.
A j – 4, le bonhomme (clairvoyant… ou à risque?) annule sa tournée européenne la plus touffue depuis 1976 (!) avec pas moins de 18 (!!) dates prévues à l'affiche. Dont au moins 2 à notre agenda.
… même si à J-2, ce sont toutes les activités culturelles, sociales, festives, sportives qui sont annulées, et tout un pays presqu'à l'arrêt pour un petit bout de temps.
Une tournée de 18 dates, rendez-vous compte ?! 18 dates prévues en ce printemps 2020 alors même que la biographie officielle de BALLARD ne recense que… 42 concerts en tout et pour tout depuis l'année 1977.
42 concerts au palmarès de BALLARD depuis 1977, après tout bonnement 21 dates qui avaient déjà égayé cette faste et glorieuse année 1976… A 74 ans aujourd'hui, le pedigree de Russ BALLARD est donc riche de 63 dates, 63 concerts en tout et pour tout qui ont égrainé toute sa longue carrière et qui le rapprochent d'autant plus des étoiles. 63 dates, hormis sans doute quelques rares apparitions en guest. Tout est dit. Et tout ce qui est rare et précieux. Priceless.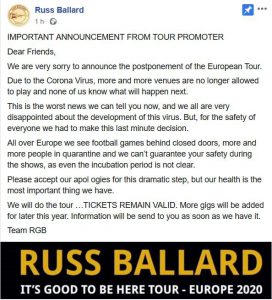 Reste maintenant à espérer que son compteur ne soit pas définitivement arrêté à 63, cette tournée printanière 2020 étant d'ores et déjà annoncée reportée à décembre. Pour autant, évidemment, que le Russ passe à travers les mailles de la pandémie Covid-19. God save the Queen. And Russ BALLARD too, plize.