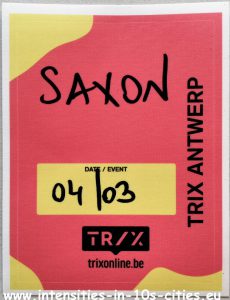 La légende veut qu'un beau jour Angus YOUNG est monté sur scène en tenue d'écolier, n'ayant pas eu le temps de se changer entre le sortir de l'école et sa montée sur les planches. Culottes courtes et uniforme ne l'ont depuis jamais quitté. Nous, c'est un peu la même chose, mais la légende en moins vu que l'Histoire ne retiendra rien du tout de ce qui ne sera simplement jamais une légende. A nouveau, nous voilà donc seul col-blanc dans le pit photo, noyé d'ailleurs dans une salle dont le dress-code foncé ou noir est comme souvent (et étrangement) de stricte rigueur. The white collar in the black & dark photo-pit, nième épisode…
Ceci dit, sans nul doute assistons-nous ce soir à un concert d'anthologie, un prestation hors-normes, et probablement notre meilleur SAXON de tous ceux auxquels nous avons assisté. Après un arrêt-forcé de plusieurs mois suite à l'accident cardiaque et l'hospitalisation de Biff qui s'en est suivie, le band a prévu deux seuls petits concerts pour remettre progressivement la machine en marche et le groupe sur les rails. Ce warm-up à Anvers est le premier des deux seuls sets inscrits à leur agenda, manière de réamorcer ainsi la pompe, de tester les réflexes et de ré-enclencher les automatismes.
Le Trix, sans surprise sold out pour l'occasion, réserve un accueil tri-om-phal à SAXON, qui ne s'attendait manifestement pas à un telle réponse. Biff himself s'en étonnera plus d'une fois et remerciera d'autant l'assistance. Au point d'offrir à l'audience chaud-boulette un second rappel, tout à fait imprévu et parfaitement absent de la set-list, qui clôturera un set désormais légendaire osons-nous écrire.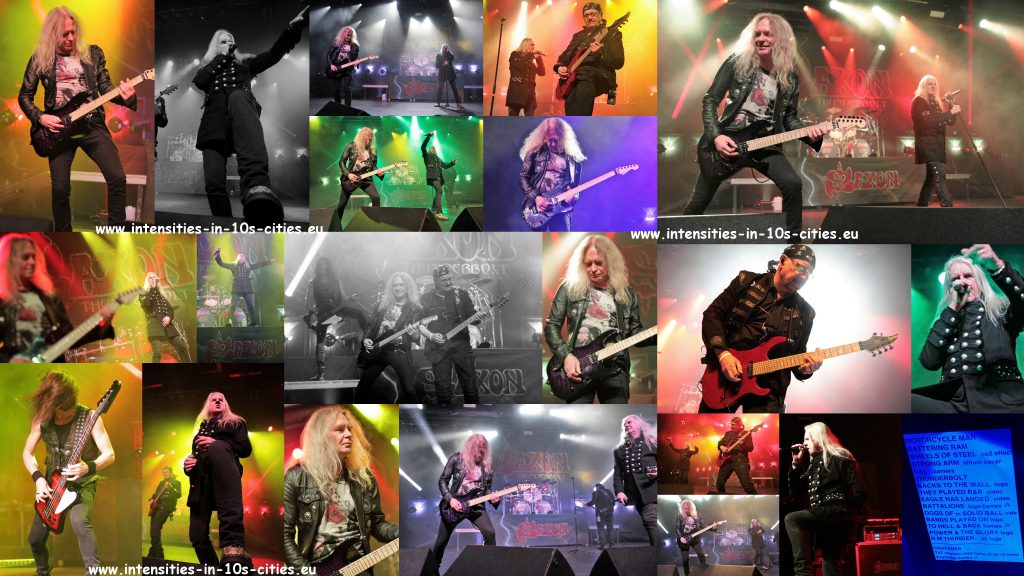 Pour cet échauffement sans réelle suite au calendrier avant l'été prochain et son concert de festivals, SAXON déroule ainsi une set-list digne d'un triple (époque vinyle) ou d'un double best-of (époque CD) qui balaye intégralement 4 décennies de discographie. Les effets dévastateurs de ce florilège sont aussi visibles dans l'assistance que perceptibles sur les planches, où les faciès rayonnants répondent aux gueules pétillantes dans la salle.
La prestation de SAXON ce soir au Trix fait partie des quelques rares concerts où "quelque chose" s'est véritablement passé. Le fluide échangé entre band et public n'est pas qu'imagé ou figuré, n'est pas trait de l'esprit ou figure de style. Ce fluide, c'est comme la sève – mais pas la sève élaborée: la sève brute, celle qui monte – et jusqu'à la tête.