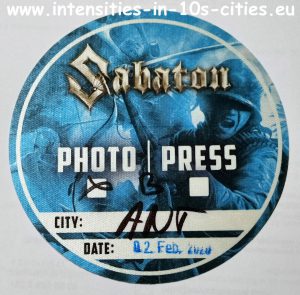 Nuclear Blast – le plus important label heavy sur la planète Terre s'il fallait le préciser – n'a pas fait les choses à moitié. Nous avions déjà eu l'honneur, le privilège mais surtout le plaisir au printemps dernier d'être deux jours durant les invités de SABATON à l'occasion de la "listening session" de leur dernier opus "The Great War". Cela se passait – on ne peut mieux le concevoir – à Verdun, sur les lieux mêmes mis en scène et en musique par leur dernier concept-album…
Rebelote ce soir, avec un service avant- et après-vente parfait.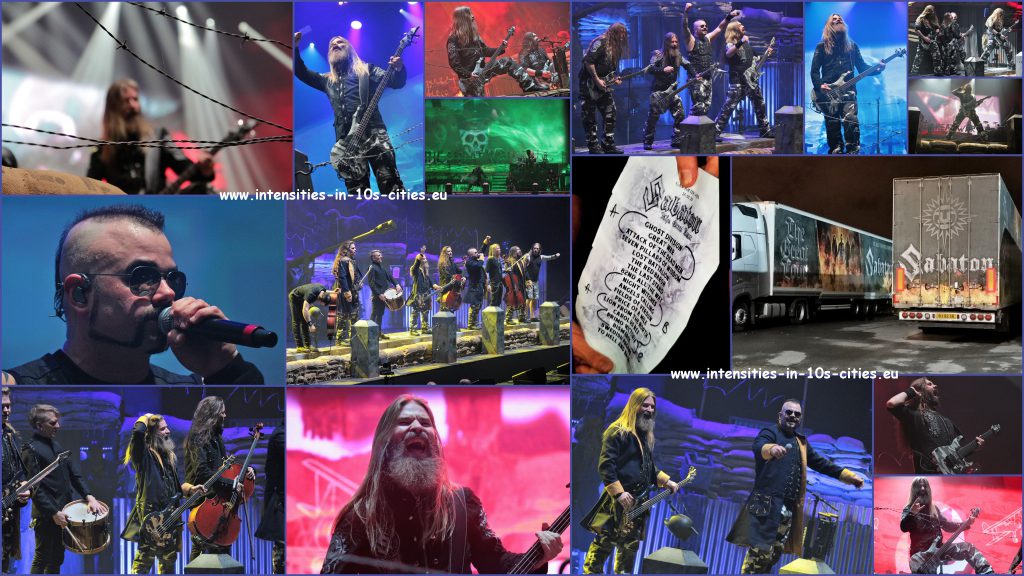 21h10 précises: briefing des photographes au sein du pit-photo – une première en la matière, et bien riche de conseils et de suggestions au vu du déroulé de la scénographie, de la pyrotechnie et des autres éléments constitutifs du set de SABATON. Le management ne veut absolument pas que les photographes passent à côté de la montre en or, et souhaitent une couverture maximum du show en suggérant même de tirer certains clichés pour tel ou tel morceau depuis le fond du Sportpaleis qui offre une vue panoramique sur le light show et la piro.
La vingtaine de photographes attitrés que nous sommes est scindée en deux groupes de 10, ainsi que précisé dans le mail reçu il y a quelques jours déjà. Et qui disait en substance :
Dear photographer,
On behalf of Sabaton I'm mailing you the instructions for photographing the band this Sunday February 2 in Antwerp. Please read them carefully, as they are different from what you are used to.
There's big pyro/fireworks all the way through the show, so do follow the instructions below closely for your own safety !:
– when you show your valid ID card at the press/guest reception desk of the venue, you will get an enveloppe with your name on it, including a photopass and a letter with instructions
Sabaton's crew member(s) will meet you/all photographers before the Sabaton set at 21H10 in the pit on the right of the stage, in order to answer any questions you may have. Please DO NOT miss this meeting !
– from the photo pit in front of the stage, you will get to shoot five songs
– Sabaton's crew members will separate the photographers into two groups, so that the pit is not busy. Your group is marked on your photo-pass.
Group A: Songs #1, #2, #3 – EXIT PIT – #13, #14 – EXIT PIT –
Group B: Songs #9, #10, #11 -EXIT PIT – #15, #16 – EXIT PIT –
– when you are not in the photo-pit, feel free to continue shooting the show from the front of house
– your pass will give you access to the floor and stalls of the arena
– support bands' rules: Three first songs
– other rules: No flash, no video
Please mail the link of your (photo) report as soon as it's online.
Many thanks.
Enjoy the show, have a blast !" (… tu parles !)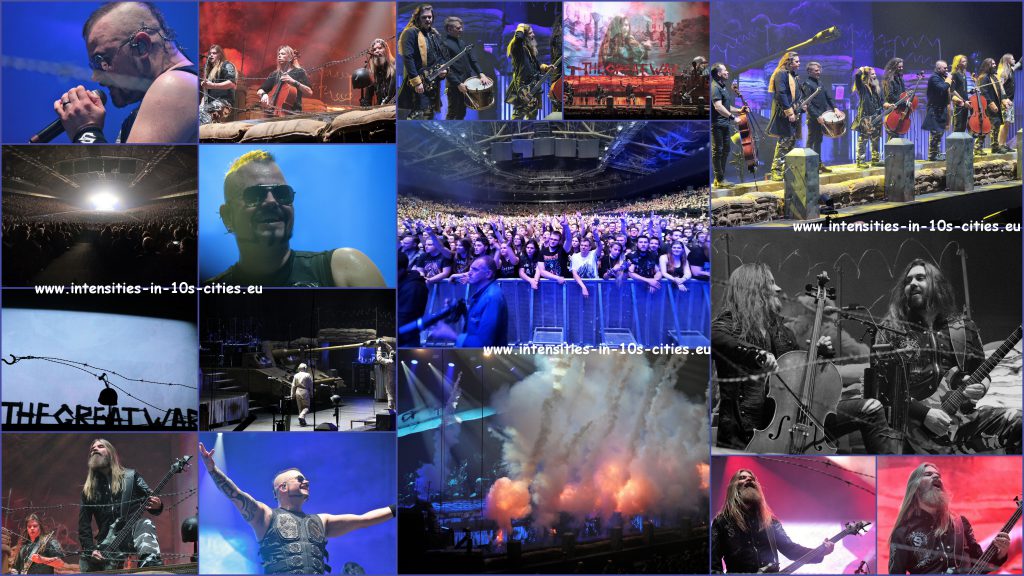 SABATON est devenu une machine de guerre… Le concert sold out du Lotto Arena déplacé vers le Sportpaleis voisin vu l'affolement des ventes est un signe qui ne trompe pas: SABATON est définitivement entré dans la cour des grands. Et l'on ne parle pas uniquement des 10 semi-remorques que nous avons dénombrés aux portes du Sportpaleis. A l'éffigie du band, ils font ma foi bien belle figure…
L'attente fut néanmoins longuette avec, dès 19h00, un AMARANTHE qui part à l'assaut des planches. Trois lead vocals qui complètent un trio guitare-basse-batterie n'est pas – et de loin – notre configuration préférée. Pas plus que celle d'APOCALYPTICA nous le confessons, et son trio de violoncelles qui vient identiquement garnir la même la doublette guitare-batterie. Entre les deux, notre coeur balance, mais ne bat pas particulièrement la chamade.
Le neuvième album studio de SABATON, The Great War, est un album conceptuel musicalement riche qui capture l'atmosphère sinistre de la Première Guerre mondiale. Il perpétue la marque de fabrique typique du groupe en mettant en scène des histoires de champs de bataille impitoyables à travers le monde. The Great War baptise la tournée mondiale 2020 de SABATON: The Great Tour….

C'est sur scène – bien plus qu'en studio – que se déploie tout le génie guerrier de SABATON, où la scénographie – au lieu de distraire le spectateur – renforce ici la puissance et la texture des compositions. En évitant de sombrer dans le grand-guignolesque d'un RAMMSTEIN ou de virer au barnum ridicule d'un KISS, la pyrotechnie et le decorum de SABATON sont ici au service du band, au lieu de le déservir. Ce n'est que plaisir pour l'oreille et pour les yeux, mais un peu moins pour l'objectif avec une scène ce soir bien (trop) haute, garnie de surcroit de sacs de sables et autres barbelés de circonstances mais entravant le champ des prises de vue.
La gentillesse et la simplicité des cinq gars de SABATON nous avaient littéralement séduit l'année passée à Verdun. Leur show au Hellfest 2019 quelques mois plus tard nous avait agréablement surpris. Mais c'est véritablement le set de ce soir au Sportpaleis d'Anvers qui achève avec brio et réussite ce méticuleux travail de séduction…
APOCALYPTICA n'y est d'ailleurs pas pour rien, ses trois violoncelles étant invités à partager la scène de SABATON une grande partie du concert pour rendre celui-ci d'autant plus grandiloquent.
Bienvenue dans la cour des grands…