« S'il y a des morts obscures qui dévastent un petit cercle d'initiés et des disparus à la notoriété telle qu'elle met en émoi un pays, voire la planète entière, il existe des artistes adulés par leurs très nombreux fans mais totalement ignorés du reste de l'humanité. C'est dire si RUSH méritait amplement son titre de « plus gros groupe culte au monde. Un groupe dont les qualités valent mieux que le dédain ou l'ignorance dont il peut faire l'objet. » (Télérama, 17 janvier 2020).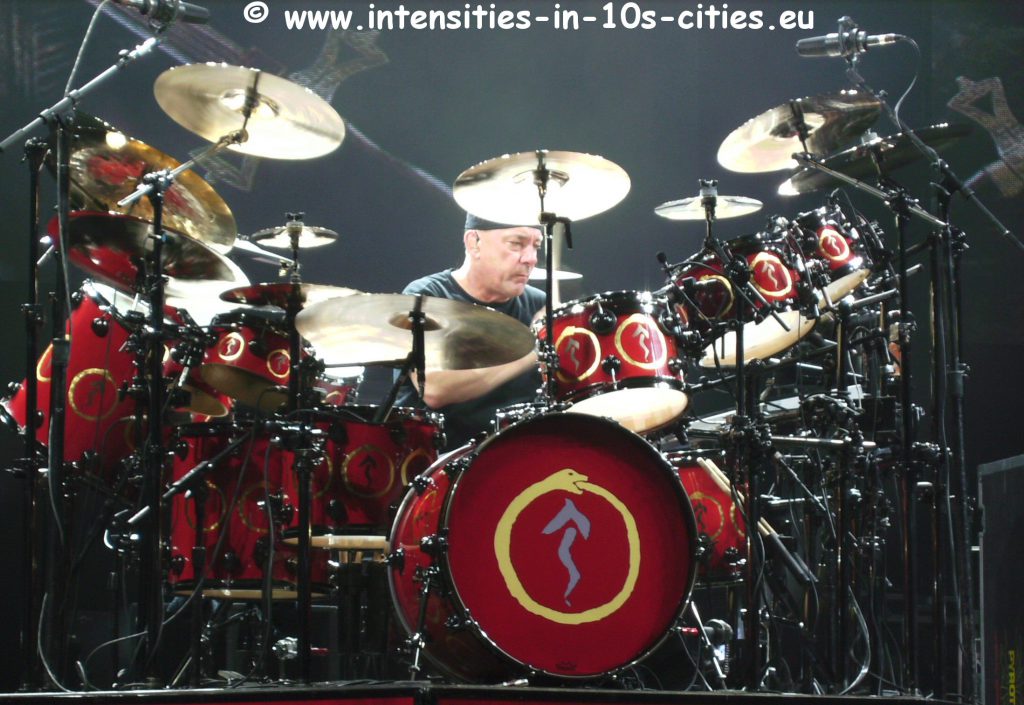 A-t-on perdu en ce funeste début d'année 2020 le batteur reconnu par ses pairs comme l'un des plus flamboyants, l'un des plus prolixes, l'un des plus talentueux, des plus virtuoses et surtout des plus créatifs que la profession ait jamais connue et reconnue ? – The Professor qui a influencé, inspiré et motivé des générations entières de batteurs avec ses arrangements complexes et ses désynchronisations totales…
Ou a-t-on perdu un des paroliers-écrivains-poètes-lyricists-philosophe comme le rock'n'roll n'en a jamais engendré d'autre et comme il n'en enfantera sans doute plus jamais d'un second avant bien longtemps…?
Neil PEART, désormais entré au Panthéon, est maintenant devenu définitivement et irrémédiablement le Ghost Rider qu'il a toujours été depuis les tragédies qui l'ont frappé.
Rest in Peace, Bro.
Rest in Beats, Sir.
Sans doute RUSH est-il le band – et Neil PEART le batteur – que nous avons le plus chéri depuis notre adolescence, et qui nous a le plus coûté : quasi une trentaine de shows à travers l'hémisphère Nord au cours de ces 40 dernières années. Mais au final, soit même pas un concert par an – ce qui est finalement insignifiant eu regard de la vie d'un homme…
Amie des moments joyeux, compagnon des moments tristes aussi, la poésie de RUSH était avant tout celle de PEART, conjuguée à des rythmes d'une complexité alambiquée qui venaient enrichir et porter des mélodies à la construction si ésotérique parfois….
Lorsque RUSH met la clé sous le paillasson le 1er août 2015 à l'issue de la dernière date de la tournée R40 qui marque son 40ème anniversaire (41ème, en fait), nous savions que le livre se refermait – honneur aux combattants qui décident de remiser les armes au faîte de leur gloire. Ce n'était pas un "farewell tour," c'était un « goodbye trek » qui n'en portait pas le nom mais que tout le monde suspectait. Neil PEART avouait être fatigué par le niveau d'exigence requise tant physiquement que mentalement par ses inégalables performances, et ne voulait plus de cette vie sur la route qui l'éloignait – pourtant pas si souvent – des siens. Il voulait profiter pleinement de ses proches sans plus aucune contrainte, sachant le prix de leur présence et surtout le coût de leur absence. We will pay the price but we will not count the cost…
RUSH – the timeline of our live, the soundtrack of our times…
A l'issue de 40 ans de vie commune avec cette bande-son qui nous a laissé tant de stigmates indélébiles. à l'issue de ces 4 décennies de poésie et de rythmes syncopés en arrière-fond sonore qui impriment le décor de notre vie, que conservons-nous de cet homme ? Nous garderons de Neil PEART deux souvenirs particuliers parmi d'autres. Celui tout d'abord d'un homme que nous avons rencontré, affable, courtois, distingué, élégant, délicat, cultivé, charmant et irradiant – un gentleman comme pas deux et aux antipodes de certains spécimens du r'n'r circus qu'il fuyait tant.
Neil PEART a toujours fuit les médias et le show business, pouvant rester des mois – voire des années – hors des signaux radar et sans la moindre apparition publique. Dans son troisième ouvrage, à la fois biographie et road-book intitulé Traveling Music: The Soundtrack of My Life and Times, PEART confie parmi moultes anecdotes qu'il n'a accordé que deux interviews lors de la tournée européenne de RUSH Roll The Bones Tour 1992. Il raconte que c'était l'après-midi de la dernière date, en Hollande, la veille de reprendre le « Queen Mary 2 » en compagnie de sa femme pour traverser l'Atlantique et rentrer chez lui. Faut-il qu'il s'en souvienne ! Et nous donc: des deux seuls interviews qu'il a accordés cette année-là, nous étions le premier…
Priceless. Totaly priceless.
03 mai 1992, Hôtel Pullitzer, Amsterdam. Sous le prénom d'emprunt de Mick, nous avons rendez-vous avec The Professor pour une rencontre-interview sous le couvert du nom de ce journaliste qui a négocié pour son magazine – mais surtout pour nous – ce rendez-vous. Jusqu'au matin même de ce 03 mai 1992, jour béni des dieux, nous ne savions pas lequel des trois membres de RUSH nous allions rencontrer: Alex, Geddy ou – pour qui connaît le personnage – l'improbable Neil PEART.
Connaissant l'aversion de Neil PEART pour ces exercices médiatiques qu'il fuit particulièrement, jamais n'imaginions-nous que ses deux compères allaient lui laisser accomplir la besogne en ce dernier jour de tournée européenne. Savoir quelques heures avant notre rendez-vous que nous allions avoir l'honneur mais surtout le privilège d'une demi-heure de face-à-face avec The Professor ne rendait l'approche de l »heure du rendez-vous que plus excitante et… stressante.
Arrivé bien à l'avance en ce palace d'Amsterdam, nous nous installons confortablement dans les luxueux salons qui garnissent le hall de l'hôtel. Au milieu des allées-venues feutrées des clients, nous attendons discrètement l'heure de nous manifester à la réception, annoncer notre présence et solliciter notre rendez-vous. Quelques instants plus tard, un grand et mince gaillard vêtu d'un jeans foncé et d'un t-shirt estampillé « Pearl Jam » traverse au loin, nonchalamment, le lobby de l'hôtel – Neil PEART himself.
Jetant fortuitement un oeil en notre direction, le plus grand misanthrope (ou le plus grand timide ?) que le r'n'r ait jamais connu change tout à coup de trajectoire et se dirige soudainement dans notre direction. Sans doute a-t-il aperçu quelqu'un ou quelque chose à proximité…? Au fur et à mesure que ses pas le rapprochent du confortable fauteuil dans lequel nous sommes installé incognito, son regard se fait de plus en plus précis. Jusqu'au chaleureux « Hi ! » qu'il nous adresse de sa voix grave à notre plus grande surprise en nous tendant la main…
La micro-seconde de surprise et d'émotion – surtout – évacuée, salutations respectives, en lui précisant presqu'en nous excusant que nous sommes un peu à l'avance et qu'il n'est pas encore l'heure de notre rendez-vous. Ce qu'il confirme avec un large sourire en tournant les talons après nous avoir derechef gratifié d'une virile poignée de main, et nous fixant rendez-vous comme prévu dans une demi-heure. Cette séquence aussi improbable que surréaliste restera à jamais gravée en notre mémoire, et demeure encore un mystère.
Comment ce gars, aussi agoraphobe que timide, pudique à l'extrême et qui fuit le monde des humains quand il est configuration « boulot », a-t-il tout à coup eu l'idée ou la pulsion contre-nature de venir saluer l'illustre inconnu que nous sommes, au milieu de tant d'autres insignifiants quidams dans le hall d'entrée d'un palace hollandais ?!
Le mystère demeure total et incompréhensible à ce jour encore, et nous n'avons même pas souhaité l'éclaircir durant la demi-heure de discussion avec l'intéressé qui s'en est suivie dans une alcôve calfeutrée d'un salon. Une discussion – non: un échange – riche, intense, direct et interactif en tête-à-tête avec – pour lui – la présence d'un pseudo journaliste qui devait sans doute dénoter parmi ceux qu'il avait pour rare habitude de rencontrer: rencontrant quelques difficultés à enclencher en début de conversation le dictaphone emprunté pour l'occasion à une amie, Neil PEART de se proposer pour prendre les choses en main et de résoudre lui-même ce petit problème technique- et de fait. Tout un symbole…
Quelques heures plus tard, muni du précieux sésame-photo mais pas du tout aguerri à l'exercice, nous tirerons en amateur depuis le pit-photo du Ahoy quelques clichés argentiques sans grande qualité du show de ce 03 mai 1992 à Rotterdam. Time flies…
Notre seconde anecdote relative à Neil PEART s'incrit 10 ans plus tard dans notre ligne du temps, et est quelque peu moins glorieuse…
Octobre 2002 – Tournée nord-américaine Vapor Trails de RUSH. Avec un peu de chance mais aussi beaucoup d'opiniâtreté, nous profitons du jour off entre le concert de Montréal et celui de Québec pour débusquer le célébrissime « Le Studio ». Lové dans les montagnes des Laurentides à Morin Heights, planté en bord d'un lac au milieu des forêts québécoises, ce célèbre studio d'enregistrement fait partie intégrande de l'histoire de RUSH et est indissociable de sa discographie. La chance ne souriant qu'aux audacieux, c'est à notre plus grande surprise que le propriétaire des lieux (qui se présente: Stacy Le Galllée) nous ouvre la porte et – plus improbable encore – nous invite à visiter les lieux quand il apprend d'où nous venons et comme pour nous récompenser d'avoir réussi à débusquer le repaire.
La chance ne sourit qu'aux audacieux..
A l'issue de cette rencontre-visite guidée pour le moins surréaliste et encore plus irréelle qu'inimaginable, notre hôte nous confirme que la résidence d'été (ou d'hiver, c'est selon) de Neil PEART se situe bien – comme nous l'avions investigué préalablement à notre voyage – à quelques miles d'ici: une bâtisse tout aussi perdue dans la forêt des Laurentides, en bordure d'un lac dénommé St-Victor. Pour qui connait la topographie de la région, cette seule indication n'est que de peu d'utilité pratique – autant chercher une aiguille dans une botte de foin…
Quelques bières plus tard dans le seul bistrot du coin, et par le plus grand des hasards à nouveau (la chance ne souriant qu'aux audacieux…) la tenancière nous dessine au coin du bar, sur un carton de bière, une esquisse de tracé pour rejoindre les abords du repaire de Neil PEART. Elle nous confie cependant que les chemins et pistes de terre battue pour l'atteindre ensuite forment un véritable labyrinthe forestier. Qu'importe, la direction nous est maintenant connue. « Si vous entendez Robert Charlebois qui joue quelques notes de piano, c'est qu'il a ouvert la baie vitrée de son living et que vous n'êtes pas loin…! » nous confie-t-elle..
Quelques heures et dizaines de kilomètres d'essais-erreurs plus tard, nous arrivons devant l'enceinte de la supposée propriété – lovée au milieu de la forêt, en bord d'un lac que nous supposons être le bien nommé Lac St-Victor. La barrière nous sépare de la bâtisse de quelques dizaines de mètres seulement, et l'on devine les contours du repaire. Sans doute son hôte s'y repait-il, entre le show de la veille à Montréal et celui du lendemain à Québec ? Près d'un rocher où est arrimée la barrière, est plantée l'inscription: « Les Roches » – a la fois spirituel jeu de mot et, pour les novices, allusion aux seuls deux rochers entourant la grille d'accès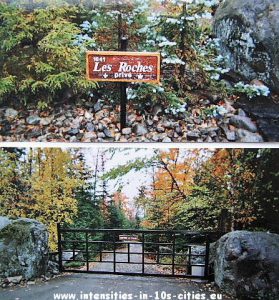 A notre retour en Europe quelques jours plus tard, contact est pris par mail avec le maire de la commune afin de disposer de l'adresse postale précise de « Les Roches ». Ce n'est pas moins qu'un mail incendiaire d'un certain Neil PEART qui arrive cependant rapidement en guise de réponse dans notre boite de réception. Outré et scandalisé par notre démarche intrusive dont le maire l'avait donc informé, l'homme nous renvoie aussi sec à nous-mêmes.
Mais quoi de plus normal et de plus compréhensible de la part d'une célébrité qui place sa privacy et la protection de sa vie privée au-dessus de toute autre valeur et de toute autre considération, alors même qu'il est venu chercher ici au coeur perdu des Laurentides l'isolement et le salutaire repaire pour lui et les siens…?!
Dans le secret le plus absolu de la maladie qui le rongeait depuis trois ans et demi (apprend-on aujourd'hui seulement), Le Professeur s'est éteint après avoir fermé à clé la porte de la classe derrière lui il y a 4 ans. Sa disparition, mardi 07 janvier 2020, n'a été annoncée que ce vendredi 10. Sans doute a-t-il déjà été inhumé dans la plus stricte intimité entouré de ses band mates et des siens, et dans la solitude des grands espaces qu'il a toujours recherchée – mais que de petits cons de notre trempe ont toujours tenté de percer…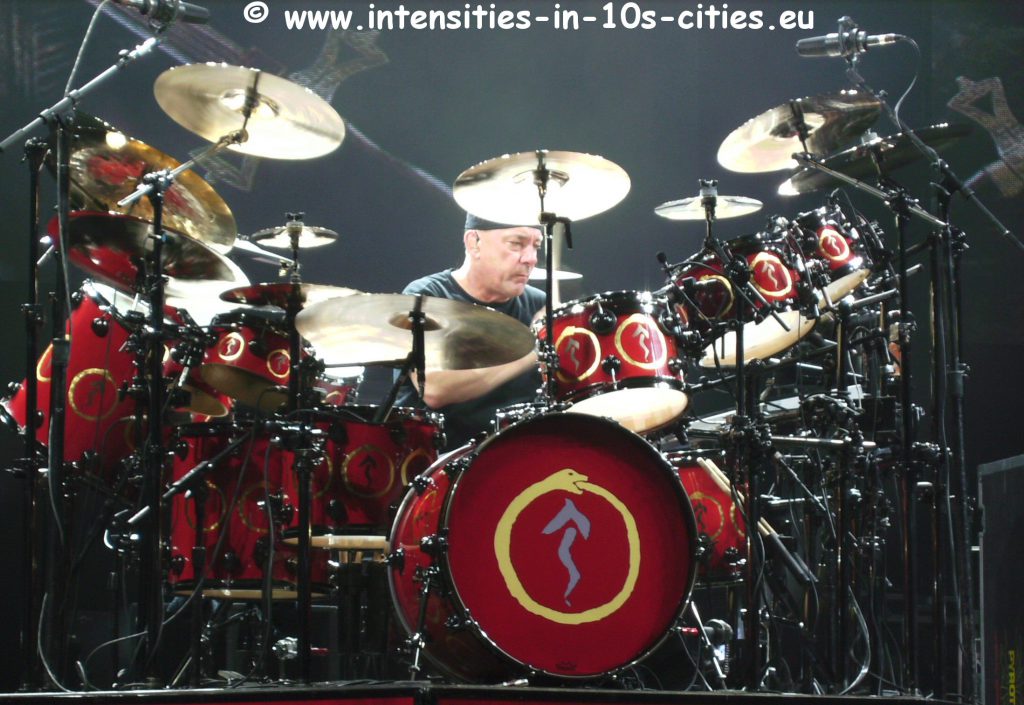 Quel plaisir, quel bonheur mais surtout quelle satisfaction, en ce triste jour de la disparition d'un Géant (comme tous les médias le titrent aujourd'hui), de savoir que nous ne nous étions pas trompé il y a 40 ans lorsque nous avons jeté notre dévolu sur ce power-trio hors du commun.
Quelle plaisir, quelle chance voire quel honneur avons-nous eu de nous choisir une telle bande-son pour la timeline de notre vie.
L'onglet de votre navigateur affiche « All the World is a Stage », que Neil PEART avait emprunté à Shakespeare. Aujourd'hui, All the World was a Stage.
RIP, Bro – We are only immortal for a limited time…