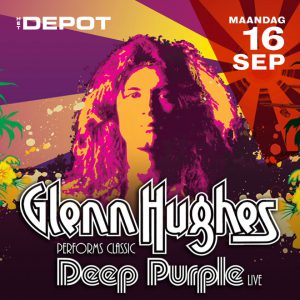 Il y a quelque chose d'interpellant dans l'iconographie mise en scène par Glenn HUGHES, déjà présente sur les affiches de cette tournée: son portrait enjolivé datant des seventies, enluminé d'un lay-out peace & love certes du meilleur goût. Ne peut-on glorifier et célébrer les (ses) golden years sans devoir obligatoirement forcer sur un pathos qui prêterait presqu'à sourire…?
Hormis ces considérations, Glenn HUGHES demeure du haut de ses 71 balais un tout grand Monsieur, un personnage charismatique qui n'a en rien besoin de ces artifices visuels pour nous rappeler combien sa patte a marqué des générations entières de bassistes et au moins autant de hordes de chanteurs. Sa seule présence scénique, son jeu de basse et – naturellement – sa voix lui suffisent amplement pour inscrire son légendaire patronyme dans le guest-book du Het Depot.
Il n'en demeure pas moins que son insistance à vocaliser à outrance nous donne définitivement des boutons et nous pompe plus qu'un tantinet le dard (… nous nous étions pourtant déjà juré par le passé de ne plus subir ce qui devient par moment une véritable corvée). L'excès nuit en tout, et notre bon vieux Glenn (à la dentition trop parfaite pour un septuagénaire) n'a définitivement plus besoin de ces démonstrations totalement inutiles et parfaitement superflues pour conserver son statut de The Voice.
My name is Glenn, and I love you. I love you, I love music and music saved me, and my music loves you. Oui, la musique a certainement sauvé le bonhomme des affres et excès qu'il a partagés avec bon nombre d'icônes des sixties et des seventies, mais point trop s'en faut non plus. A force d'insister, Glenn HUGHES provoque chez nous l'effet inverse de celui attendu. Joue, fieu, ne la ramène pas trop, arrête tes vocalises et balance-nous toute ta sauce. C'est pour ça qu'on est venu… Bedankt.
MOTORHEAD a beau figurer ad vitam aeternam sur une branche de notre Sainte-Trinité rock'n'rollesque, Phil CAMPBELL et ses salopards de fistons ne nous ont pas marqué de manière indélébile. Le guitariste emblématique de l'ex-power trio tout aussi emblématique manque de consistance et même de présence scénique en l'absence de son leader – de notre leader, feu Lemmy.
Les compositions, pourtant bien torchées et bien construites en studio, manquent manifestement de relief en live, manquent de chien, et c'est tout le band qui en pâtit semble-t-il: pas uniquement Phil mais également ces trois fistons ainsi que le lead vocal qui s'est immiscé dans la famille de Phil CAMPBELL et de ses Bastard Sons.
Une prestation de CAMPBELL tout simplement moyenne et en demi-teinte qui ne nous laissera donc pas un souvenir impérissable, malgré quelques beaux et bons moments tels que l'incontournable Ace of Spade qui ne sont toutefois pas tous à mettre au crédit originel du seul CAMPBELL – voire pas du tout, si l'on vise un excellentissime Silver Machine. Déçus, nous… ?