Masterpiece… Intemporel… Ni plus, ni mois.
Le parrain du grunge est un des derniers monstres sacrés du r'n'r circus – et on ne parle pas ici des momies vivantes du folk (aka Bob Dylan) ou autres clowns (Garfunkel & Cie) dans le domaine de la variété grand public…
Du haut de ses presque 74 ans, Neil YOUNG demeure toujours aussi irradiant et charismatique sur scène. Neil YOUNG était à Woodstock il y a 50 ans, et nous balance encore un demi-siècle plus tard un best of de 2h30 (oui: 2h30 !) qui balaye un florilège de sa longue carrière. Choisir, c'est renoncer, et papy YOUNG a dû sacrifier quelques pièces d'anthologie pour faire rentrer le tout dans ce set d'une pourtant remarquable durée. Un Forest National plein à craquer aurait néanmoins été préférable à un Sportpaleis au dernier balcon vide et à l'acoustique perfectible. Mais peu importe: cette courte tournée 2019 d'une quinzaine de dates seulement, américaines et européennes confondues, a le remarquable privilège de pointer la Belgique sur la carte du monde estampillée Neil YOUNG. Cadeau à la Belgique: YOUNG n'avait plus joué sur scène "On The Beach" de 1974 depuis 16 ans, et ce morceau n'avait plus été interprété depuis les années 1970 avec un groupe complet.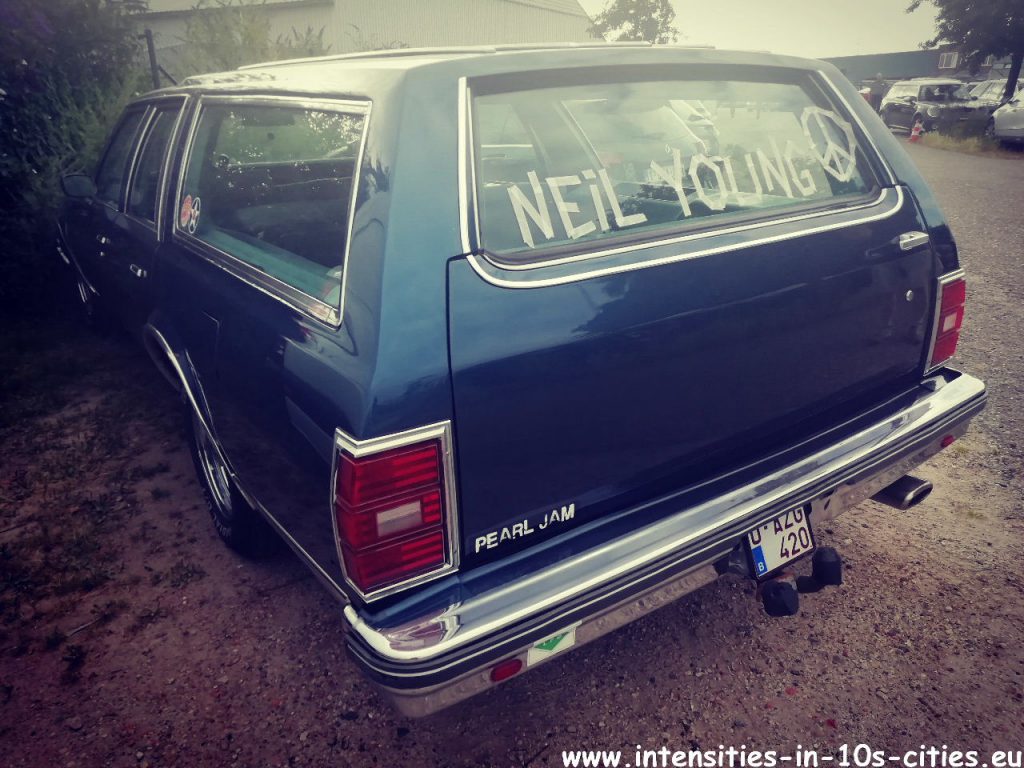 Qui d'autre mieux que Dominique Simonet pour témoigner de ce concert, comme il le fait dans La Libre Belgique de ce 10 juillet ? (article © LLB sous le titre "Neil YOUNG sauvage et impérial à Anvers: le Canadien a livré une prestation sublime, au Sportpaleis, ce mardi soir"). Jouissons de sa prose :
"A 73 balais, avec son parcours phénoménal et son répertoire colossal, Neil YOUNG n'a évidemment plus rien à prouver, sauf qu'il est toujours là et bien là. Il l'est. Une fois encore, le Canadien en a fait une brillante démonstration au Sportpaleis d'Anvers, mardi soir. Hey hey ? Rock'n roll is here to stay !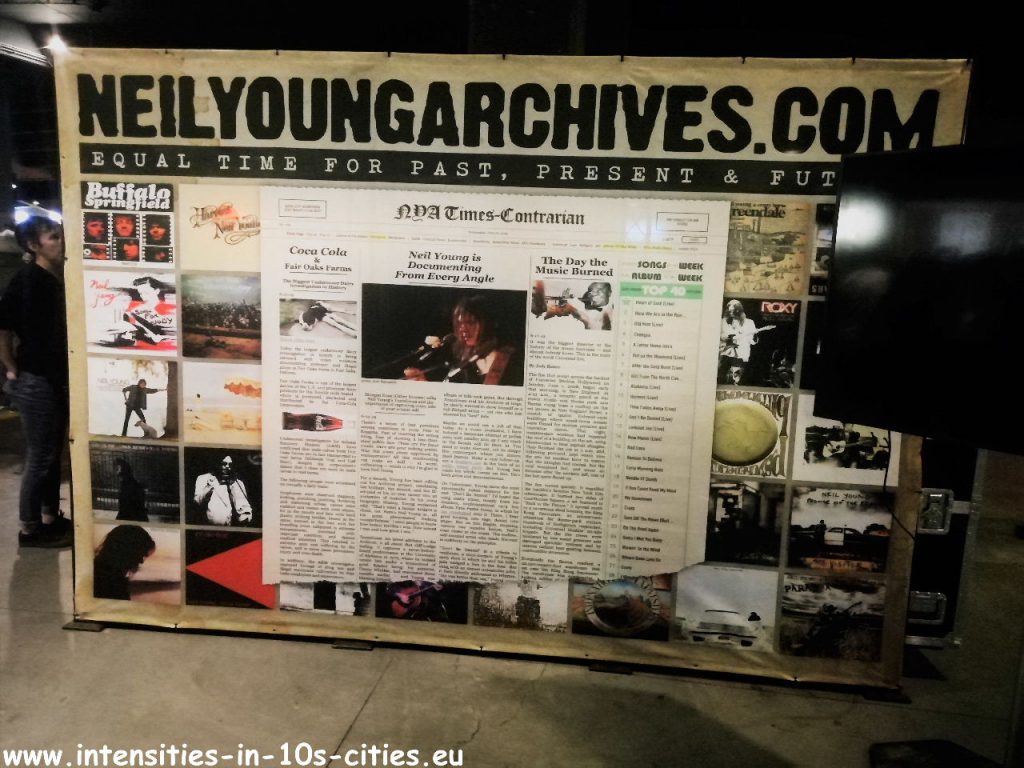 "Après quelques dates comme pour s'échauffer aux States, Neil Young a abordé l'Europe fin juin avec son groupe favori du moment, Promise of the Real (…). C'est le groupe formé par Lukas Nelson qui préside à cette tournée. Lukas, né à la Noël 1988, ainsi que son frère cadet Micah, guitariste et fils de Willie Nelson comme lui, font figure de jeunots à côté de pépère, mais ils ont déjà bien intégré le code vestimentaire : chemise a carreaux ou T-shirt fripé.
"Liquette quadrillée et T-shirt noir maison en coton bio vendu 35 euros au stand merchandising à l'entrée du Sportpaleis, le Loner est fidèle à lui-même. Sous son chapeau informe émerge un buisson de rouflaquettes. Le tout tient sur des chaussures de sport-rando improbables, qui assurent une réelle stabilité à ses vieilles quilles. Il en faut bien, avec l'éruption musicale qui se prépare.
"Dans un Sportpaleis aux tribunes pas pleines mais au parterre bien garni de fans en fusion, Neil Young a déployé un concert à la structure somme toute traditionnelle : une première partie électrique, une passe de quelques titres acoustiques et puis on remet la prise pour un final endiablé (…). Manche au clair, la Old Black hurle, mugit, gémit, chuite, beugle, se tord de douleur et de plaisir à la fois. C'est là qu'on voit que les Promise of the Real sont peut être des gamins, mais pas de la bleusaille. Pas de coup de Trafalgar pour les enfants Nelson, qui ont du répondant et font un fameux boulot après de Young. On le verra encore souvent pendant ces 2h30 de musique, notamment sur « Cinnamon Girl », un chanson, comme bien d'autres, d'un temps où ils n'étaient pas nés (…).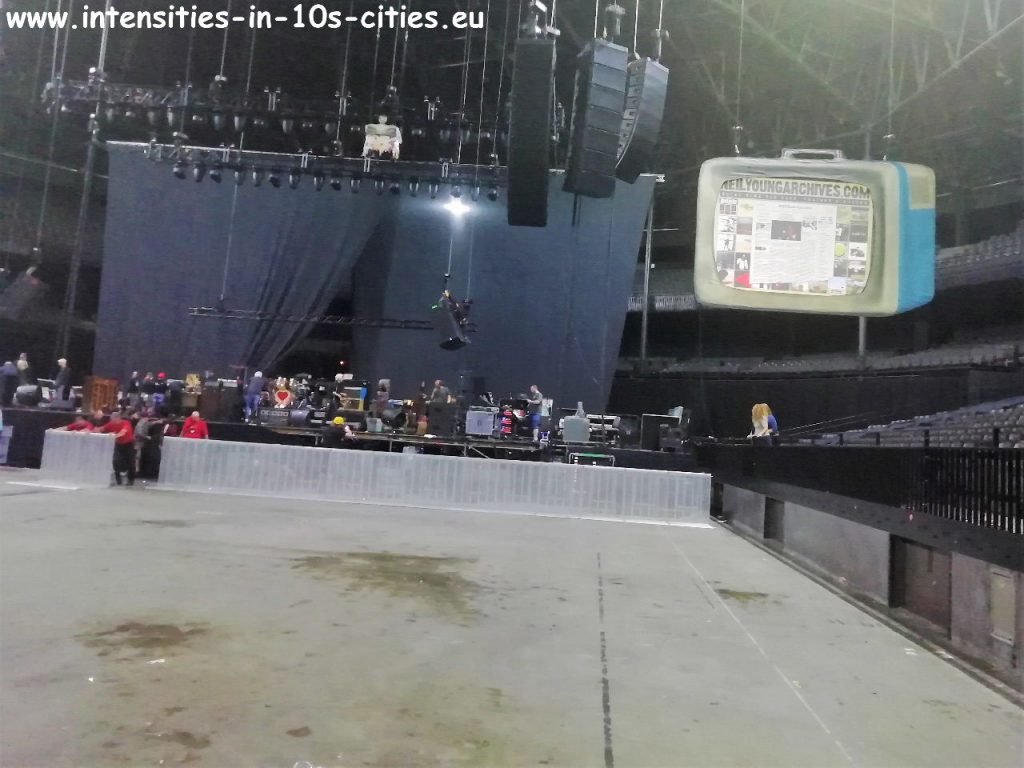 "Quatre accords ascendants, autant en descendant, et le tour est joué. Ces chansons à la Young ont tout pour devenir des hymnes et ouvrir à de longs développements de guitare, l'essence même de l'art youngien. Sur des tempos mi-lents (ou mi-rapides selon le point de vue), cela prend vite une allure entêtante confinant à fascination hypnotique (…).
"Mardi soit à Anvers, 20 titres ont été joués sur deux heures trente, ce qui fait sept minutes et demie par chanson. En moyenne… A part les écrans latéraux, maquillés en vieilles téloches à tube cathodique, le décor est réduit à sa plus simple expression : un buste de chef indien que Neil trimballe toujours avec lui en tournée, comme un fétiche. Pour lui, l'essentiel, sa raison d'être là, c'est la musique, point barre. Il y en a qui aiment que le chanteur raconte des histoires, sa vie, des blagues, fasse son show. Neil Young, son show, c'est lui. On l'entendra juste demander au public, comme à chaque concert, « How are you doin' ? » (…).

"Et puis c'est parti pour un final de folie, lancé par le très parlant « Fuckin'Up », suivi de l'accusateur « Cortez the Killer ». Les hymnes rock « Hey Hey, My My (Into the Black) » et « Rockin' in the Free World » emportent la salle au comble de l'excitation (…). Neil Young reste le musicien absolu, l'un des derniers porte-drapeaux d'une contre-culture qui s'étiole. Même pas fatigué après plus de deux heures. Et quelle belle façon de dire au revoir que « Roll Another Number » (for the Road) », très inspiré, avant une petite danse du groupe, sautillant en rond comme des sportifs après un bon match. Un match brillant en l'occurrence (fin de citation ©).