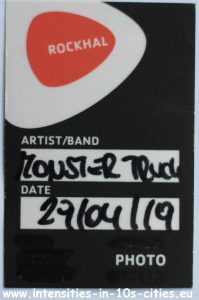 MONSTER TRUCK, c'est tout l'inverse de Greta Van Fleet et ce n'est donc que pur bonheur, pur jus et pur rock'n'roll. Car c'est au prix de leur sueur et de leurs nuits sur la route que les Canadiens se sont fait un nom, qu'ils se sont forgé un caractère, qu'ils se sont modelé un style, qu'ils se sont construit une réputation, qu'ils ont imposé leur talent – et quel talent !
Greta Van Fleet, on n'a rien contre: on a tout contre, a fortiori quand on est face à des gars de la trempe de MONSTER TRUCK. Alors que les frangins Van Fleet ne sont guère moins secs derrière les oreilles, les voilà commercialement propulsés au firmament de la gloire – aussi éphémère que fragile quand elle ne repose sur rien – par la magie d'une campagne marketing digne du meilleur produit de lessive: un véritable panneau dans lequel sont tombés les ménagères du rock'n'roll adeptes des medias mainstream.
Le succès de Greta Van Fleet est celui des mouches agglutinées sur un ruban adhésif. La force de MONSTER TRUCK, c'est la puissance de l'expérience, la solidité des compositions, la force scénique et plus simplement encore la simplicité, l'efficacité, l'authenticité et la robustesse du concept, depuis les hommes jusqu'à leur production. MONSTER TRUCK, ce n'est pas avec un attrape-mouche qu'on les encadrera. 10 ans on the road, 10 ans d'innombrables et interminables tournées, 10 ans de travail mis et remis sur l'ouvrage, 10 ans à ouvrir pour les plus grands de la scène mondiale, ca forge un tempérament. Ca donne de la consistance. Ca fait de vous quelqu'un, autre chose qu'un pantin médiatique à la solde des majors. Autre chose qu'une façade qui peine à cacher la vacuité d'un logis sans intérêt. Don't fuck with the Truck !
Après donc nombre de tournées européennes en tant qu'opening act, MONSTER TRUCK est de retour pour enfin – enfin ! – briller en tête d'affiche. Et ce n'est là que juste récompense amplement méritée qui a le goût de toute la sueur qu'ils ont laissée sur les scènes et sur les routes européennes toutes ces dernières années. Ce n'est là que juste salaire d'un travail de forçats effectué soir après soir en première partie, job souvent ingrat mais ô combien fondateur et rémunérateur en termes d'expérience et de bouteille.
Cette expérience et cette bouteille paient ce soir sur la scène de la Rockhal, sans devoir cette fois expédier leur set en vue de faire rapidement place nette pour la tête d'affiche. Devenus headliners, les quatre de MONSTER TRUCK ont embarqué dans leurs bagages des gars d'Edmonton tout aussi remarquables, de la même veine et qui partagent le même bon sens des gens terre-à-terre, la tête sur les épaules, et qui ne se la pètent pas: ROYAL TUSK. En définitive, deux remarquables prestations de gars de là-bas, au fin fond du Canada, qu'aura chaudement apprécié un public qui n'a cependant pas répondu en masse à l'appel. Les absents ont toujours tort et n'en ont qu'à s'en mordre les onglets.