Il y a des groupes qui se donnent une image, et il y en a qui sont cette image. SABATON fait indéniablement partie de la seconde catégorie…
SABATON, c'est cinq gars passionnants et passionnés, cinq gars intègres et entiers. Cinq gars d'une extraordinaire simplicité, d'une incroyable gentillesse et d'une sympathie hors du commun. Cinq gars tout ce qu'il y a de plus normal mais qui mènent a contrario une vie qui n'a rien d'anodin ni de banal. Pause. Retour sur deux journées passées en leur si chaleureuse et agréable compagnie.
Entrés symboliquement en studio le 11 novembre 2018, très exactement le jour du 100ème anniversaire de l'Armistice, SABATON verra son 9ème et dernier album "The Great War" sortir cet été, le 19 juillet 2019. C'est cependant en cette mi-avril déjà que les Suédois décident de frapper fort en présentant à la presse internationale en avant-première leur dernier né. Et pas n'importe où: sur les champs de bataille de Verdun, au cœur même de cette sanglante boucherie, fil conducteur de leur album-concept "The Great War".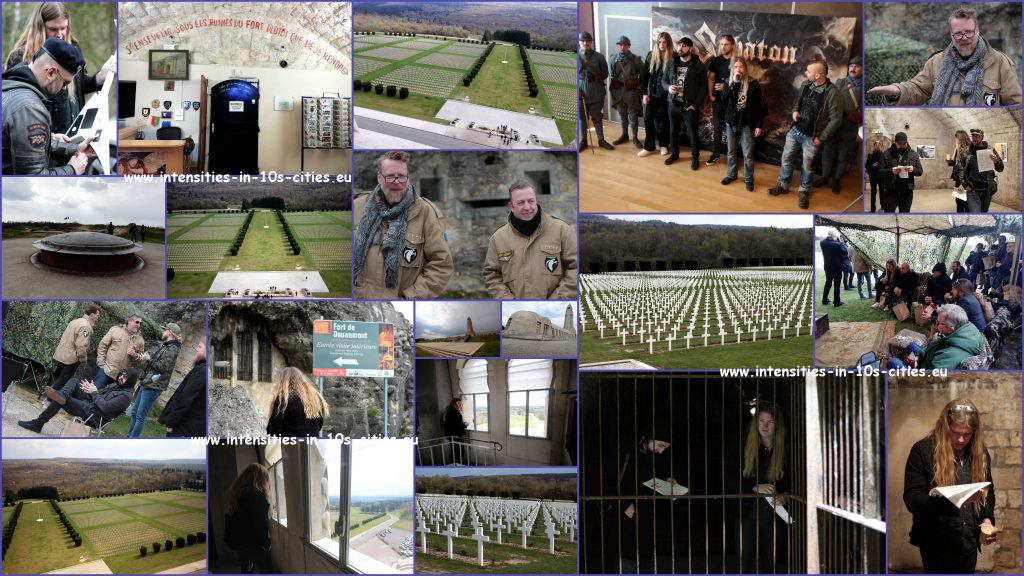 Alternant devoir de mémoire sur les lieux mêmes, listening-sessions de leur nouvel album, visites de hauts-lieux commémoratifs mais aussi autres moments foncièrement plus festifs, SABATON emmène la quarantaine de journalistes que nous sommes autour et aux alentours de Verdun.
Les quelques historiens chevronnés qui orchestrent leur chaine YouTube « Sabaton History Channel » sont nos guides de 1er choix, pour mieux encore contextualiser et décrire les faits tragiques ou héroïques qui charpentent les 11 morceaux de ce nouvel album. De quoi conférer à ces deux journées et deux soirées passées en compagnie de SABATON le cachet de l'authenticité historique combiné à une expérience conviviale, émotionnelle et musicale sans pareille.
La passion historique de SABATON pour les hauts-faits d'armes qui ont égrené les différents conflits de l'Histoire n'est pas plus nouvelle que feinte. Pas plus les événements contés dans leurs précédents albums que la scénographie de leurs shows ne sont une démarche marketing camouflant une coquille plus ou moins vide, un corps creux. Non : SABATON, ce sont cinq gars passionnés d'histoire et de conflits, passion qu'ils traduisent en une discographie qui a (aussi) vocation pédagogique – pas uniquement visuelle ni faussement sincère ou hypocritement intéressée.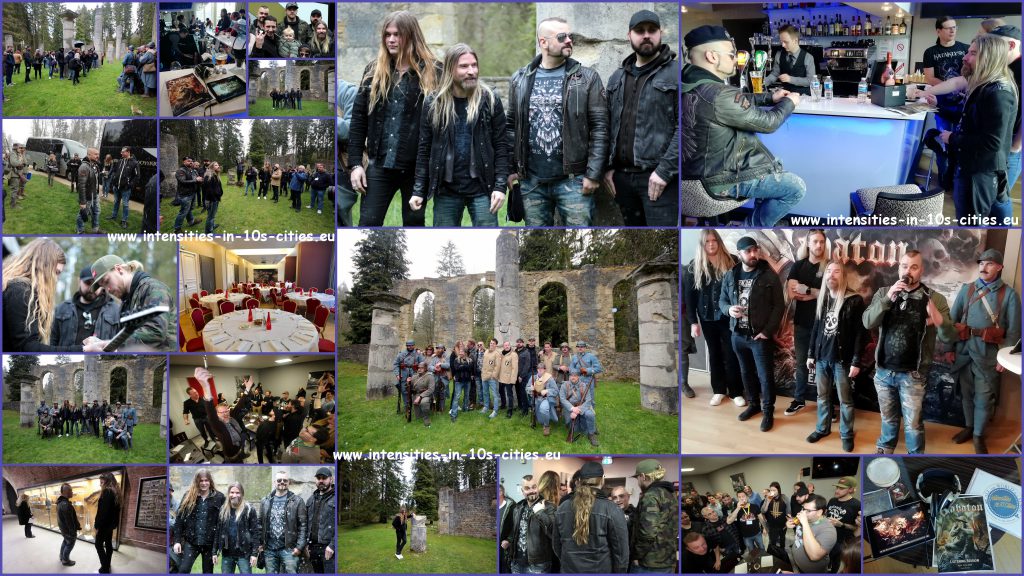 Ainsi, deux jours durant, nous avons arpenté en compagnie de SABATON les lieux mêmes qui charpentent leur dernier « The Great War » – dont le morceau « Verdun » n'est pas le moindre – comme si nous déambulions au sein même des coursives de leur album. Faisant œuvre historique en témoignant de l'ignominie et de la folie humaine, les gars de SABATON ont mis en musique les 300 jours de la bataille qui s'est tenue ici-même à Verdun, à raison de 1.000 morts par jour dans les deux camps.
Parcourir ces sites historiques empreints de tant de souffrance et de drames ne laisse personne de marbre. Recueillement, silences et émotions ponctuent la visite de l'ossuaire de Douaumont, de la Citadelle de Verdun, du Memorial Museum également.
Puis du village détruit de Ornes, où les flocons de neige s'invitent pour le shooting-photo du samedi fin de journée, mais également quelques fans alertés via réseaux sociaux de la présence de SABATON. Un weekend tout en contraste(s) donc entre pélerinage, visites historiques, listening-session et caractère joyeusement festif d'autres moments passés avec le band.
Joakim nous confiera qu'en tournée, ils ne manquent jamais de vérifier si leur itinéraire entre deux shows ne passe pas à proximité d'un haut-lieu historique. C'est ainsi qu'ils ont précédemment visité Bastogne – dont Screaming Eagle est un vibrant hommage à tous ceux tombés lors de cette Batte of the Bulge – l'Offensive des Ardennes. Quant au frigo qui trône dans la cuisine de Pär, il commence à devenir sérieusement trop petit pour accueillir tous les magnets qu'il achète au fur et à mesure de ses visites de par le monde – nous confie-t-il un brin amusé en achetant à la Citadelle de Verdun un aimant des lieux qui va venir agrandir sa collection et compliquer son problème…
Chris joint quant à lui l'utile à l'agréable, nous confiant que parcourir le monde en alternant de la sorte moments graves mais aussi séquences foncièrement festives et rock'n'roll est une vie rêvée, même si éprouvante et probablement pas éternelle… Hannes, amateur passionné de bonnes bières, n'est pas le dernier à troquer la Carslberg du bar de l'hôtel contre une Grimbergen blonde qu'on partage ensemble, nous avouant apprécier particulièrement la belgian beer connection. Tommy, enfin, nous livre qu'il attend avec impatience de fouler un jour les planches du Sweden Rock Festival – ce qui sera la moindre des choses.
Ceci dit, "The Great War" est bien né, très bien né et maintenant dans la boîte – ne (vous) reste plus qu'à attendre le 19 juillet pour le découvrir, ou les premiers concerts de la tournée (f)estivale de SABATON.
Total respect au label Nuclear Blast (Markus Wosgien) et chapeau bas à Replica Promotion (Olivier Garnier, Roger Wessier & Pascale Lacquehay) pour la parfaite et excellentissime organisation d'un remarquable weekend axé autour d'une action promotionnelle comme on n'en fait plus guère en ces temps numériques et dématérialisés…