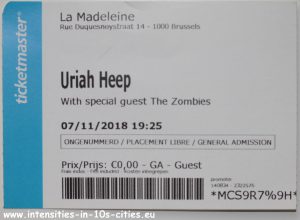 Kiss, ZZ Top, Foreigner ou Rush pour n'en citer que quelques uns ont officié in illo tempore en première partie d'URIAH HEEP: ça éclabousse pour qui ne saurait pas où il mes les pieds (et les oreilles) ce soir, et ce tableau de chasse n'est à nouveau pas sans signification.
Après 49 ans d'existence (selon la police) ou 51 ans (selon les manifestants), Mick Box est toujours aux commandes, sans que les (très) hauts et les (plus rares) bas n'aient entamé sa dextérité et sa prolifique production. À l'instar de Led Zeppelin, de Black Sabbath et de Deep Purple, URIAH HEEP a contribué au développement d'une forme typiquement britannique de heavy metal. Son rôle considérable dans la création d'un style musical qui allait dominer les années 70 et encore plus les années 80 perdure, et la prestation de ce soir est la plus flamboyante démonstration encore de sa pleine santé, OMG !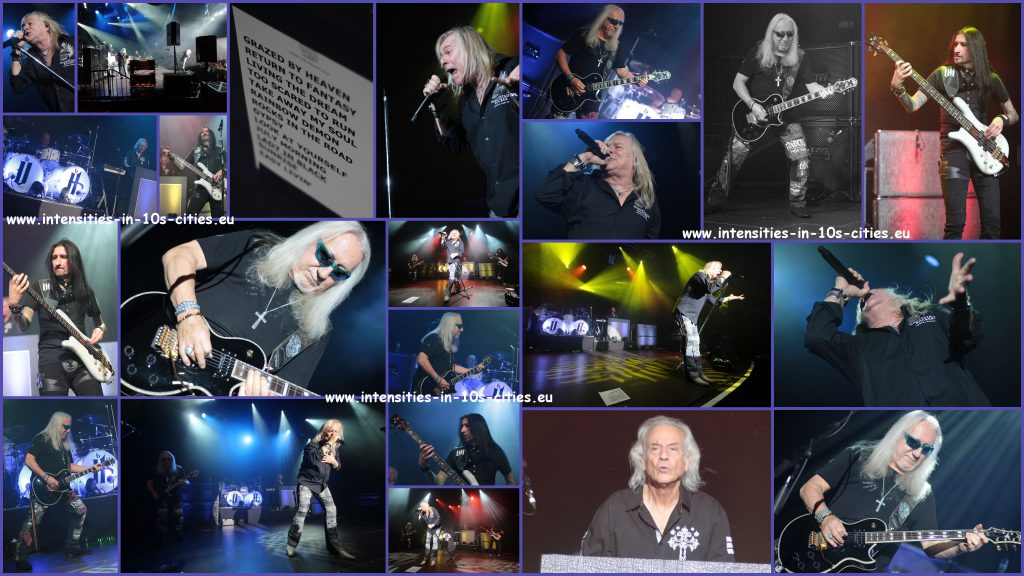 Précurseur de l'utilisation de l'Hammond et de la pédale wah-wah – la signature de Mick Box – URIAH HEEP a réussi avec une admirable maestro à terminer le 20ème siècle, à passer le cap du 21ème et mieux encore celui de cette année 2018. Avec un dernier album qui se révèle être une vé-ri-ta-ble tuerie sur scène, URIAH HEEP est plus deep purplelien que jamais.
Rarement l'adage "C'est dans les vieilles casseroles qu'on fait les meilleures soupes" s'est révélé être d'une aussi pertinente actualité, au point que même les jeunes carottes peuvent aller se rhabiller – et fissa. Le son est énorme, et les envolées d'Hammond sont quant à elles d'une redoutable efficacité et d'une sonorité érangement actuelle qui rivalisent avec une lead guitar qui part en vrille plus souvent que de raison, mais sans jamais tomber dans le travers du technico-soporiphique.
Rien, strictement rien à jeter: la production 2018 d'URIAH HEEP est tout simplement parfaite et le millésime scénique remarquable. Et à plus forte raison que ces éternels jeunots évitent l'écueil en réussissant l'incroyable pari de ne pas sombrer dans le travers de se répéter ou de réécrire l'histoire – leur histoire…
The ZOMBIES ouvrent le bal à 19h25 précises – comme annoncé. Le timing pour le moins original et est à l'image de l'audience grisonnante et bedonnante de cette (superbe) salle de la Madeleine. Si le public est de tendance gérontologique, il n'est que le reflet de The ZOMBIES formés en… 1961, et avec Rod Argent toujours à la manoeuvre ce soir !
Quand on pense que leur She's Not There fut n°1 aux USA l'année même qui nous a vu naitre il y a 54 ans, et que son génial compositeur est ce soir à quelques petits centimètres de notre objectif, on ne peut que se dire que la vie est belle. Et d'ajouter: total respect, mister Rod Argent (…mais où est donc Russ Ballard?!).