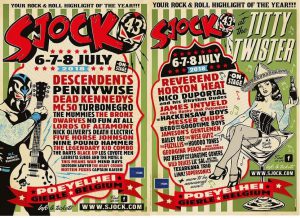 Les Californiens nous avaient déjà laissé une p… de bonne impression au Cabaret Vert il y a deux ans. Dans notre chef, une première impression est souvent confirmée – ou en tous cas rarement démentie – qu'elle soit bonne, excellente ou exécrable.
Le SJOCK Festival ne fait pas mentir l'adage en permettant à The BRONX d'offrir une prestation qui détourne de leur stress footballistique les plus férus de l'écran géant où est projeté depuis la Russie le quart de finale Belgique – Brésil.
The BRONX, c'est simple, c'est carré, c'est efficace et hop! emballé c'est pesé. Et quand on assiste à un set d'une telle intensité en pouvant échanger quelques banalités backstage avec Wayne KRAMER qui s'en délecte tout autant que nous (avant de prendre la relève sur les planches avec son MC5 / MC50), mais nom de Dieu que demander de plus ici-bas?!
Leur set terminé, deux des membres de The BRONX nous demandent de leur tirer le portrait en compagnie dudit KRAMER qu'ils encadrent avec dévotion, tout respectueusement, fiers comme des paons, excités comme des puces. Mais sans doute pas avec l'index aussi nerveux que le nôtre… Que souhaiter de plus encore? Priceless…