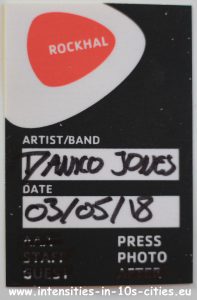 Qu'a-t-on fait de mieux ces dernières décennies pour ramoner les cheminées que les power-trios ? Une fois de plus, la formule démontre toute sa supériorité face aux autres configurations en matière de rendement horaire et d'efficacité énergétique – hormis peut-être l'empreinte-carbone. Avec chichement même pas une heure et demi de prestation, même pas de quoi en tenir rigueur à DANKO JONES tant l'intensité et la qualité étaient au rendez-vous. Une fois de plus, serait-on tenté de dire…
One of the most ridiculously entertaining and exciting live bands on the planet, annonce la Rockhal. L'humour de Danko JONES n'est plus à démontrer, ni son sens de l'improvisation et surtout de la répartie, et de fait jamais un showman ne nous a fait autant rire que ce soir – sacré Danko, va !
Mais ne nous y trompons pas: DANKO JONES n'est pas un spectacle d'humour. Simplement que le type – toujours aussi simplement pétillant que naturel – n'en manque pas une pour rebondir avec finesse sur des échanges improvisés avec l'audience, ou pour balancer ses vannes second degré à la cantonade (Lenny Kravitz et Billy Idol ont dû avoir des bourdonnements dans les oreilles).
Sacré Danko va, jamais avare d'une feinte et toujours prêt à la déconne entre deux morceaux. Et c'est vrai que l'intensité du show rend bien nécessaires ces brefs intermèdes, manière de reprendre son souffle entre un tsunami qu'il te balance mine de rien dans les gencives et une tornade qu'il t'envoie semblant de rien dans la tronche. La bonne humeur, l'humour et la déconne restent ainsi fondamentalement au coeur d'une prestation toutes voiles dehors.
DANKO JONES a capitalisé 13 mois de tournée mondiale après avoir débuté son Wild Cat World Tour ici-même l'année dernière, et nous restons ce soir comme en mars 2017 sur la même sensation de plaisir juvénile et simple à l'issue d'une prestation pétillante et rafraîchissante mais encore plus diablement et redoutablement efficace. Combien de pisse-vinaigres et autres coincés-du-cul sur scène devraient-ils s'inspirer d'un gars comme Danko JONES, on vous le demande ?!
Si musicalement parlant notre Canadien n'a pas fondamentalement inventé la poudre, il connaît parfaitement la formule pour la faire parler. Et réflexion faite, mieux vaut un mec qui sait s'en servir qu'un autre qui ne sait pas quoi en faire, non?! Et ce n'est pas non plus à ROMANO NERVOSO qui officie en première partie qu'il faut le dire, prestation déjantée d'autant plus méritante que nos braves Louviérois se sont défoncés devant une salle encore quasi vide…