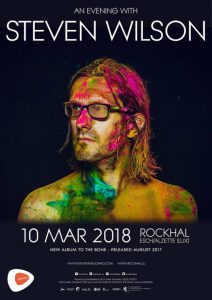 Backstage, ce sont dans leurs racks toujours estampillés PORCUPINE TREE que guitares et basses fourbissent leurs effets en attendant leurs maîtres. A la fois le signe que WILSON revendique toujours fièrement le glorieux passé de sa première vie, et pour qui en douterait encore la confirmation que sa set list fait toujours la part plus que très belle à ces pièces-maîtresses d'une époque maintenant révolue. Qu'importe, pour les fins gourmets, Steven WILSON et PORCUPINE TREE c'est chou vert et vert chou.
Hier à Bruxelles, WILSON nous contait les péripéties de ses dernières dates allemandes – dont celle de Essen où il eut l'impression de jouer dans un cimetière (sic). Ce soir au Luxembourg, il nous narre sa toute aussi récente expérience finlandaise, se produisant face à des parterres assis peu enthousiasmants (re-sic), avec bobonne qui se morfond dans son fauteuil à côté de môsieur qui, lui, ne trouve pas du tout le temps aussi long qu'elle (re-re-sic). Bah ! ce n'est pas qu'Allemands et Finlandais n'appréciaient pas, c'est simplement qu'ils ont selon lui quelques difficultés à l'exprimer. Ah ah ah, british humour welcome…
Certains intellectuels culs-serrés en manque de bonnes phrases décrivent l'actuelle production de WILSON comme un chaos paranoïaque en provenance directe de l'ère post-vérité (hein ?! càd ?!). Nous nous contenterons pour notre part d'assimiler ce An Evening With Steven WILSON à un cliché en haute définition des temps déconcertants dans lesquels nous vivons: Steven Wilson nous les dépeint depuis l'horreur rampante de la technologie omniprésente à l'observation humanoïde de notre quotidien, de sa dramatique actualité à la déconcertante résilience dont la race humaine peut faire preuve en ces temps chamboulés (hein ?!). Pause.
Pour la bonne bouche, WILSON reste fidèle à lui-même d'une tournée à l'autre, continuant de fustiger les manchots qui brandissent à bout de bras leur smartphone pour poster sur YouTube une minable vidéo de m… (sic) qui n'intéressera en définitive strictement personne vu la quantité de vidéo de shit (re-sic) déjà présentes. Enjoy the show, les gars, plutôt que d'emm… ceux qui tentent d'en profiter derrière vous.

Steven WILSON, c'est comme le bouchon jeté à la mer: les plus grosses vagues (musicales) et les plus puissants courants (des modes) n'auront jamais raison de lui, qui restera toujours bien au-dessus de tous ces insignifiants remous ou de ces redoutables vagues de fonds.
Deux Steven WILSON d'affilée – hier à Bruxelles, ce soir au Luxembourg – c'est comme se resservir de dessert après le plateau de fromages. C'est comme s'offrir le vol retour en 1ère classe après avoir voyagé en economy à l'aller. C'est dans cette volupté non nécessaire qu'on découvre finalement le plaisir superflu et coupable qui rend le moment présent d'autant plus jouissif que fondamentalement essentiel. Rétrospectivement s'entend (hein ?!).