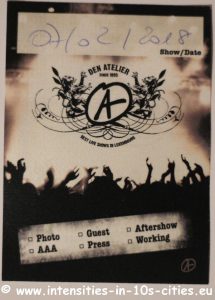 J'aime les chattes.
Petite bite.
Montrez vos nichons…
Zoomer sur la main gauche de Satchel aidera à comprendre les progrès fulgurants qu'il a pu accomplir ces dernières heures dans la langue de Voltaire et de Molière (qui est aussi malheureusement celle Maitre Gims et de Renaud). Un français phonétique léché et distingué bien sûr, tout en finesse et en raffinement. La totale classe. La méthode Berlitz, en accéléré et en un tantinet plus trash…
Comme le glamme – pardon: le clame – l'adage bien connu: qu'importe le flacon, pourvu qu'on ait l'ivresse. L'affiche de ce soir est du même parfum, ou plutôt du même tonneau / fond de barrique: Get ready for the hottest band out of Hollywood since Mötley Crüe, Guns 'n' Roses and Poison ruled the Sunset Strip. Get your GLAM on for STEEL PANTHER… !
STEEL PANTHER, ou comment le rock'n'roll circus n'a jamais aussi bien porté son nom. Concert? Show? Entertainement? Spectacle? Exhibition? Démonstration? Cabaret…? Comment décrire au mieux ces 90 minutes d'extravagance(s), que nous ne pourrions pas mieux qualifier de "cirque" en ce qui nous concerne?!
Une tablette disposée près de la console backstage, visible par les seuls STEEL PANTHER (et par votre serviteur), affiche le compte à rebours digital de 01h30 de show. A se demander si leur objectif n'est pas tout simplement de "tenir" 90 minutes sur scène, peu importe le manière de meubler, qu'importe le contenu et la forme de leur prestation. Ponctuée de Show your tits ! qu'ils font scander à répétition par l'assistance entre deux Let me f**k you et autres harangues raffinées, ce "show" ne restera pas dans les an(n)ales – du moins musicalement parlant.
D' ya know why we love Luxembourg? Because pussies are easy to fuck !… Certes, certes, à voir maintenant si l'avis est partagé par toute la gent féminine, et surtout par les mâles frustrés présents dans l'assemblée. Toute chose ayant du bon, avec ce show où la tchatche prend le dessus sur la musique, la traditionnelle plage-horaire accordée aux photographes pour officier (càd durant les 3 premiers morceaux) ne dure pas moins de… 25 minutes. Un régal donc pour l'objectif, mais c'est aussi dire combien le répertoire de STEEL PANTHER est au centre de leurs préoccupations scéniques…
Entre un (une?) Lexxi Foxxx qui passe la soirée à se refaire une beauté miroir en main, et un Michael Starr dont on se demande si les lèvres et les pommettes botoxées vont tenir la distance, on ne peut pas dire qu'il n'y a pas matière à mâter. Quand à l'ouïe, entre reprise e.a. de Black Sabbath et cover d'Ozzy qui ponctuent la set list, le répertoire de STEEL PANTHER demeure on ne sait trop où.
Entertainment, entertainment qu'ils disaient… Mouais: on s'est bien entertainé, certes, mais on ne peut pas dire que ça rassasie son homo rock'n'rollus.
Il y a un peu plus, je vous l' mets…? Allez, oui, c'est carnaval aujourd'hui :