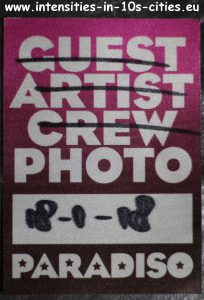 Red Skies Over Amsterdam…! FISCHER Z y débute son "Building Bridges Tour 2018" par un mérité et méritoire sold out au Paradiso: un superbe temple désacralisé garni d'une galerie sur deux étages, salle de moyenne contenance en plein centre-ville entre émanations des canaux et senteurs de cannabis (à moins que ce ne soit l'inverse).
Back to the eighties, quand John WATTS et sa clique arpentait les planches de l'Ancienne Belgique un beau soir de… 1982 à Bruxelles. Horreur: il y a plus de 35 ans ! Nous écrivions alors:
"Avec les new-yorkais de FLESHSTONES en première partie, l'ex-leader de FISCHER-Z nous réserve un bien beau set aussi propret que propre sur lui. L'Ancienne Belgique est encore cette salle de spectacle vieillotte et ringarde qui sent bon la poussière et le vieux, le moisi et le rance – comme dans un vieux cinéma – quand pas la veille chope et la cigarette. Nous sommes en rhéto, et débarquons à la capitale pour FISCHER-Z. Ce n'est pas vraiment FISCHER-Z mais John WATTS, mais finalement où est la différence…?! Non pas Vieille France mais plutôt Vieille Angleterre, Salute to you, Sir John WATTS".
2017 a été un nouveau jalon important dans l'histoire de FISCHER-Z qui a superbement fêté les quarante ans de son premier concert en sortant un tout nouvel album studio éponyme de cette tournée 2018 ("Building Bridges"). Cet écrin est sans doute l'album le plus abouti et le plus mature de FISCHER Z, et contient quelques perles qui sont probablement les plus plus rock'n'roll du band. La production s'affranchit définitivement d'une étiquette électro-pop-new wave anglaise gentillette et fait entrer FISCHER Z en pleine crise de la quarantaine ! Testostérone, testostérone…
John WATTS continue comme toujours de construire des ponts entre les religions, la droite et la gauche, les riches et les pauvres et des points de vue opposés sur les migrations mondiales, en prenant aussi plaisir à nous raconter de petites histoires de gens ordinaires. Cette tournée "Building Bridges" concilie le passé et le présent avec les nouveaux morceaux mais aussi un "greatest hits" des trois premiers albums de FISCHER-Z.
A 20h30 pétantes, John WATTS débarque sur la scène. Seul… Seul ? Oui, seul, pour annoncer que le concert débutera avec très exactement une demi-heure de retard, par respect pour les retardataires qui n'ont pu rejoindre à temps le Paradiso suite aux retards encourus par les trains hollandais secoués par la tempête de ces dernières heures.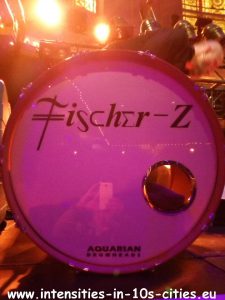 Total respect Mister WATTS, vous êtes un grand Monsieur et le respect que vous témoignez à votre public est à la hauteur de celui que vous méritez. Et les 105 minutes de pur bonheur qui s'en suivront n'en seront que la musicale et nirvanesque traduction, "Building Bridges" entre nostalgie et passéisme, entre madeleine de Proust et pure modernité. Votre voix est demeurée intacte, et si votre corps a comme les nôtres subi les affres des années, il n'en est rien à côté du poids des ans qui nous accable quand on regarde dans le rétroviseur: nous ne nous étions plus vus depuis 36 ans, Monsieur WATTS, mais c'est comme si nous nous étions quittés hier…