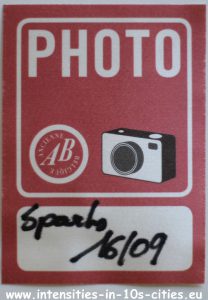 The SPARKS ! 45 ans que le génie inégal des frères Mael enchante le monde – de celui de la pop-rock à celui de la disco, en passant par le glam-rock et la synthpop via la new wave, l'électro rock et le rock alternatif. Mais toujours avec le talent et le génie des touche-à-tout mais qui n'ont pas viré bons-à-rien à force de se disperser…
Et c'est un peu de tout ça que les Mael Brothers nous balancent à la figure ce soir à l'Ancienne Belgique. "Our second home", dira même Ron à force d'avoir passé tellement de temps dans les studios d'enregistrement bruxellois ces dernières décennies. Il y a un peu plus, je vous le mets ?
Il y a de ces concerts où tu vas les mains dans les poches et l'esprit vagabondant ailleurs, en te demandant si tu ne serais finalement pas mieux peinard chez toi devant la TV avec une bonne bière (ou plus si affinités). Et ce sont ces soirs-là, rares au point d'en devenir mémorables, où tu reçois la trempe de l'année: celle qui te laisse sur le c…
Le show des SPARKS à l'AB sont ainsi ce ceux-là. Avouons qu'en 45 ans, hormis quelques tubes époque Giorgio Moroder et autres, The SPARKS avaient quasi glissé sur la carapace rock'n'rollesque de notre indifférence. Sans doute est-ce là une grande et grave erreur de notre part, mais bien vite rattrapée ce soir – et de quelle manière.
Compositions aussi géniales que délirantes pour certaines, constructions et rythmes aussi élaborés que parfois syncopés, le génie des frères Mael n'est pas usurpé ni surfait. Encore fallait-il en être ce soir le témoin privilégié dans une salle qui, définitivement, n'a pas non plus usurpé son classement dans le top mondial des "best acoustic venues". Et c'est peu dire !
Merci Greenhouse Talent pour cette accréditation-photo, assortie néanmoins de consignes émanant du management qui sortent quelque peu de l'ordinaire: There will be no photography from the pit / below the stage. Photography will be from the sound desk or equivalent using suitable long-lenses. Photographers will be permitted to shoot first 3 songs of the set, no flash.
Si la troisième consigne est un inébranlable classique de tous les shows (hormis dans le chef de ZZ Top, de BLACKFIELD et de BIG SUGAR), le fait de ne pas pouvoir shooter depuis le pit nous rappelle les directives identiques reçues à l'occasion des concerts de YES et de DREAM THEATER. Sans parler d'autres consignes plus coercitives presque, telles que celles émanant du management de SHAKA PONK ou de HOOVERPHONIC qui n'autorise aucune publication de photo sans avoir préalablement validé celles-ci…
Ces stars craindraient-elles pour leur image? Ont-elles peur que les affres de l'âge déteignent sur la perception de leur éternelle beauté qu'en conserve le public? Mais on pardonne tout aux frère Mael tant leur prestation ce soir est exceptionnelle. Tout comme la standing ovation sans fin, aussi bruyante qu'émouvante, qui les retient tous deux sur scène une éternité durant, dans un de ces rares moments où tu as conscience d'assister à un véritable événement…