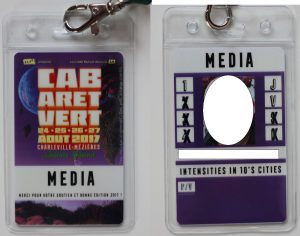 On remarque avec horreur que les années défilent quand on réalise qu'il y a tip-top un an, nous étions au même endroit à la même heure. Et c'était d'ailleurs également le cas il y a deux ans, trois ans, quatre ans, cinq ans… Tempus Fugit. L'édition 2017 du CABARET VERT est plus "Ardennes Sidérales" que jamais avec un total sold out qui a de quoi réjouir 100.000 heureux et décevoir un peu moins de malheureux probablement…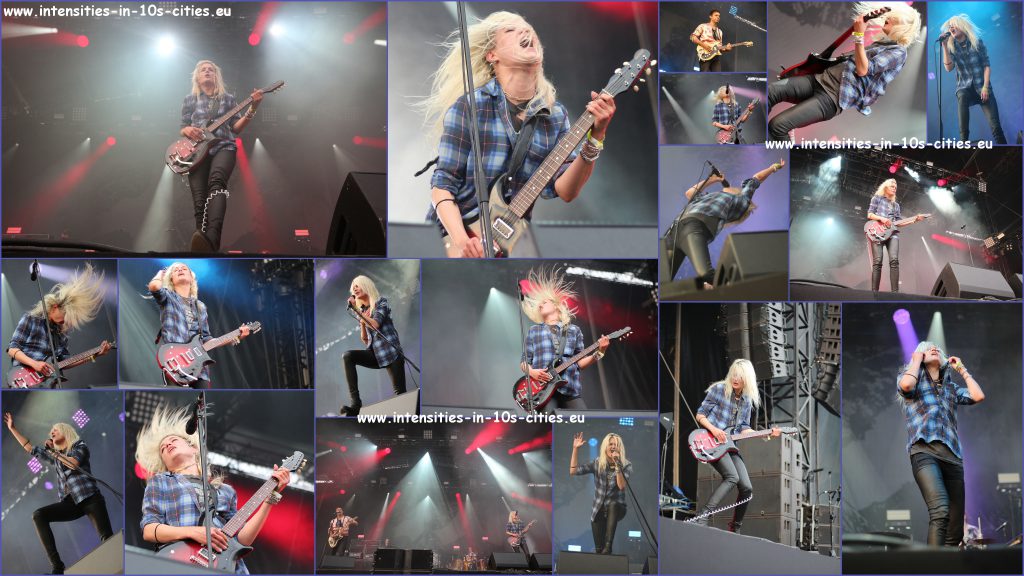 L'éco-festival CABARET VERT Rock & Territoire confirme à nouveau qu'il est notre festival pré-fé-ré de tous les festivals, car il confirme plus encore son côté original et unique. La tête dans les étoiles, les pieds dans les Ardennes. Le développement durable en actions. Un festival accueillant et bienveillant qui réconcilie économie locale, qualité de vie et respect de l'environnement. Une restauration durable avec des produits authentiques made in Ardennes et (un peu) au-delà n'en est qu'une des spécificités.
Le CABARET VERT, c'est un projet de territoire et un festival éco-responsable. C'est un village associatif mais aussi un festival pluridisciplinaire: musique, BD, arts de rue, programmation cinéma, cabaret, jeux et théâtre de rue, spectacles de marionnettes, expositions, bonimenteurs et fakirs… Le CABARET VERT, c'est un monde à part, vers l'infini et au delà. Un festival en apesanteur. Un des derniers festival associatifs autour duquel gravitent 2.000 bénévoles enragés et dévoués…
Le CABARET VERT, c'est aussi 41 bières différentes, brassées à moins de 200 bornes et toujours avec ce principe d'éviter les produits issus des grands groupes de l'agro-alimentaire. C'est 35 stands de restauration (et même un marché de producteurs) pour plus de 100 plats différents, 12 buvettes pour plus de 80 boissons différentes. Bref, de quoi ravir tant les oreilles que l'estomac et les papilles pendant les 4 jours de festival.
Le credo ? Privilégier les circuits courts, les micro-brasseries, ou plus grandes, mais familiales et indépendantes. Mais le Cabaret Vert, c'est encore 120 poubelles de tri sélectif, c'est plus de 2.000 et 44 associations impliquées dans l'organisation. C'est aussi 15 centres de tri. C'est un festival économiquement viable, socialement acceptable et écologiquement responsable sur un site exceptionnel.
Le développement durable, c'est une approche éco-responsable qui englobe tous les aspects du Cabaret Vert. La démarche est bienveillante, pas de moralisation. Chacun doit être volontaire. La déco, la restauration, l'accueil du public, les transports… Tout est pensé: quelle matière ? Quel prix? D'où ça vient ?
Un public bichonné, devant et à côté des concerts, des espaces pour la fête et la danse bien sûr, mais aussi un soin tout particulier donné à tout ce qui entoure la musique. Si on vient au Cabaret Vert, c'est pour le Cabaret Vert: c'est tout un univers, pas un simple empilage de concerts. L'affiche est comme chaque année pour le moins éclectique, pour brasser large et peut-être parfois trop large… The KILLS m'a tuer, avec un dirty sexy rock aussi sauvage que sensuel – ou comment rester classe et sexy sur des riffs garage bien bruts et féroces. Sexy, sauvage et racé. Nerveux, sensuel et élégant: le duo de choc nous a décoiffé…
Quant au death punk auto-proclamé de TURBONEGRO, il nous a carrément foutu la râââclée, même si l'on préfère quant à nous parler de heavy glam. Mi- Horror Picture Show, mi-Village People survitaminé, cuir, tatouages, glam, gros riffs, bordel sur scène, ça défouraille solide; c'est hargneux, c'est drôle, c'est cynique et très mélodique à la fois. Et vulgaire comme on l'aime avec "Rendes-vous with Anus", Blow Me, I Get Erection, ou encore Fuck the World où les gestuelles accompagnent mhmmmm les explicit lyrics.
Haranguant l'audience, la titillant, la provoquant et l'invectivant, tentant de pousser les Macronistes et les Le Penistes à en découdre, TURBONEGRO joue la provoc en associant rythme des Ramones et look Village People: explosif. Jouissif…
Pas facile pour KORN de prendre la relève après ces deux moments de bravoure. Et l'on ose dire que leur nu metal n'a pas la finesse de TURBONEGRO ni le sex-appeal de The KILLS. Si les Américains ont la puissance pure et le groove pour eux, s'ils bucheronnent comme des grizzlis, ça manque néanmoins de piment et de charme. Comme un gros diamant brut de décoffrage exposé à côté d'une pièce ciselée et d'une perle lustrée…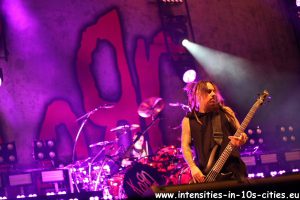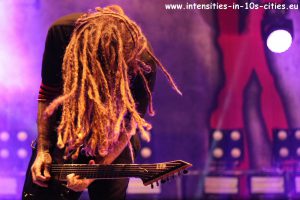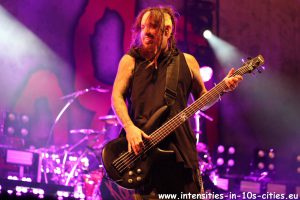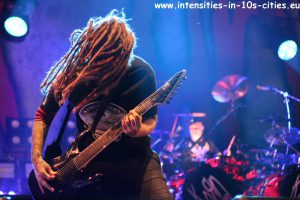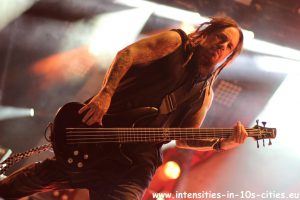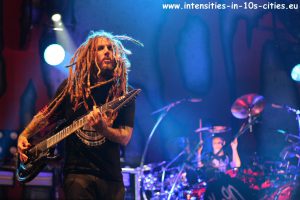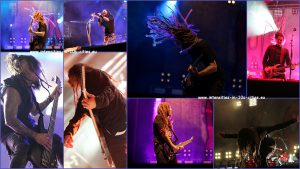 Pour terminer ce tour d'horizon du seul vendredi, PARQUET COURTS n'a guère de relief et manque de consistance quand on sait ce qui nous attend par après sur la mainstage. Comme trop gentils et trop proprets qu'ils sont. Mais ce qui n'est encore rien à côté de la naïve et gentille JAIN programmée entre The KILLS et KORN, rien que cela. Programmation incompréhensible pour qui n'a jamais mis les pieds en Ardennes Sidérales. Mais ça se passe comme ça au CABARET VERT et c'est pour ça qu'on y vient, qu'on y revient, et qu'on n'en revient toujours pas.