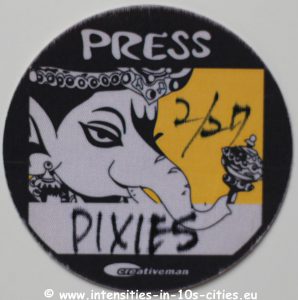 On nous bassine les oreilles avec le fait que feu (…pan !) Kurt Cobain aurait eu 50 ans cette semaine. En revanche, on nous les rabache nettement moins en passant sous silence que, sans The PIXIES, probablement jamais Nirvana n'aurait éclos. Ni Soundgarden, ni Pearl Jam, ni Alice in Chains et tutti quanti.

Les PIXIES, on le sait, ne sont pas particulièrement loquaces sur scène. Mais à ce point !? Sans doute l'idiome local tokyoïte de l'assistance n'a-t-il fait qu'accentuer les choses: pas le moindre mot à l'attention du public. Pas la moindre syllabe, pas le moindre Thank you, Japan ! Pas le moindre Good night, Tokyo !… On a beau le savoir et s'y attendre, ça surprend néanmoins.
Crâne chauve, veste noire, lunettes, Black impressionne derrière son pied de micro, fier comme un capitaine de navire tenant la barre au milieu d'une mer bien agitée. Dès l'entrée en scène, on retrouve aussi ce son de guitare saturé et les accords de Santiago qui ont hanté le rock alternatif des années 90.
Une set-list longue comme un jour sans pain (ni vin) rythme un set très en dents-de-scie, où les morceaux lents alternent de manière surprenante et même décontenançante avec des passages nettement plus musclés, et vice-versa. Changements de rythme et vertige du live pour le moins déconcertants pour notre premier PIXIES qui ne fait que confirmer la tradition et la marque de fabrique du quatuor.
Groupe culte par excellence du "Seattle Sound", sans The PIXIES et leur rock alternatif posé sur un mur du son, peut-être n'aurions-nous donc jamais connu Nirvana, Radiohead ou Blur. Après des hauts et des bas, onze ans de séparation, le départ de la bassiste historique, puis encore un hiatus de quelques années, on se pince presque pour y croire: ce band d'humains pleins de fêlures entre paquets de chips, parcours personnels chaotiques et cures de désintox, est en train de crapahuter son rock exutoire face à nous ce soir. Vertige du live…
Pas de décor, pas d'écran géant. Seulement quelques projecteurs qui plongent la formation dans des lumières bleutées, vertes, ou violettes qui rendent excessivement difficile la mise au point de l'objectif: la plupart du temps, les quatre musicos baignent dans la pénombre, éclairés en contre-jour d'un halo qui leur confère comme un aspect fantomatique…
L'avenant Franck Black est aux commandes depuis maintenant trente ans et le band semble (re)parti pour un bail identique, pour peu que tensions et amours qui ont ponctué la vie du groupe ne soient pas in fine la corde par laquelle il se pendra. Mais pas avant les festivals de cet été, siouplait : on se fixe rencart en août prochain à Colmar ou à Lokeren, ok mates…?!