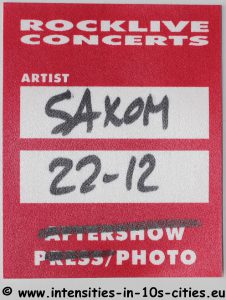 SAXON qui a franchi les décennies comme autant de Rubicon s'en vient défier sans relâche de son inlassable fierté une époque qui se plait à ignorer ses faits d'armes passés. En ce pré-soir de Noël, le mythique quinteron de métalleux félons investit de sa noble barbarie les terres anversoises et lève une fois encore les légions de ceux qui leur sont restés fidèles.
GIRLSCHOOL et SAXON partageant au propre comme au figuré la scène du Trix à Anvers, c'est terminer l'année 2016 en beauté(s) avec un bouquet final de NWOBHM digne du Père Noël ! Celui-ci envahit d'ailleurs la scène en fin de soirée avec tout le road-crew en habits de circonstances, la joyeuse bande au grand complet déversant dans le public confiseries et chocolats par brassées entières. Totale party ce soir, manière de saluer le dernier show de la tournée européenne avant que la bande à Biff ne continue sur sa lancée outre-Atlantique début 2017.
Si la plastique de nos Ecolières girslchooliennes a subi les affres des décennies avec fortunes diverses, voire revers de fortune, c'est tout à l'inverse de leur rock'n'roll qui n'a pas pris une ride. 40 minutes de GIRSLCHOOL tous les 10 ans, c'est toutefois un peu peu pour notre équilibre psychique, mais quand la qualité compense la quantité…
Lemmy sera le fil rouge de cette soirée, le buste de l'une d'entre elles arborant le célèbre t-shirt de l'époque de leurs amours bestiales d'antan avant qu'elle ne lance un vibrant appel à son souvenir alors que nous sommes quasi un an jour pour jour après sa disparition.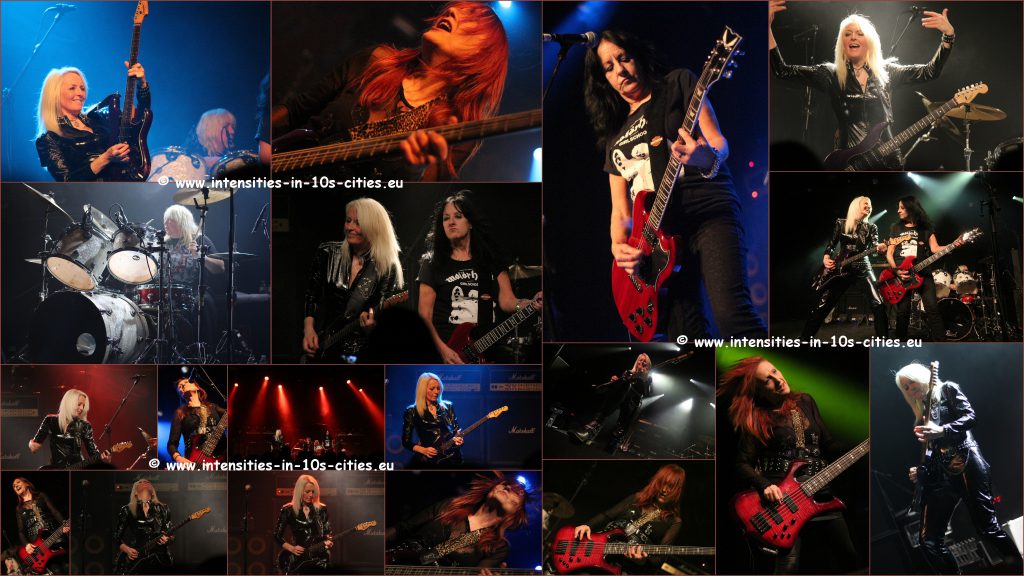 GIRLSCHOOL et MOTORHEAD avaient convolé en justes noces vinyliques à l'orée des années '80, noces électriques et célébrées à la vitesse de la Rickenbacker. Ce fait d'armes installa GIRLSCHOOL en de mâles repères qui restent d'actualité pour cet historique girls group voué au métal et à la distorsion. SAXON en rajoutera une couche par après avec un puissant Ace of Spade même s'il faut concéder qu'aucune version de quiconque n'arrivera jamais ô grand jamais à la cheville des boots du Gentleman Kilmister.
C'est assurément le meilleur show de SAXON auquel nous ayons assisté, avec une set-list qui nous balance rien de moins qu'un véritable best of apocalyptique de 120 minutes. Et que dire alors lorsque les deux bands prennent un malin plaisir à jammer ensemble par deux fois durant le set de SAXON, alors que Biff faisait déjà préalablement le pitre sur scène pendant la première partie, déambulant balai à la main au milieu des Ecolières qui chauffaient une salle pourtant déjà portée à ébullition.
L'intitulé des morceaux figurant sur la set-list de SAXON scotchée à même la scène pour Biff donne déjà à elle seule le ton joyeux et festif de cette soirée. Et si la déconne totale et la bonne humeur sont effectivement au programme, c'est toutefois sans négliger non plus une redoutable efficacité et une effroyable force de frappe que conservent les Anglais.
Avec déjà le tonitruant "It's a long way to the top if you wanna rock'n'roll" repris à tue-tête par le public pour annoncer l'arrivée de SAXON sur la scène, il n'en fallait pas plus pour mettre tout le monde à genou dès la première minute de la soirée, et jusqu'à la toute dernière: merci petit Papa Noël…