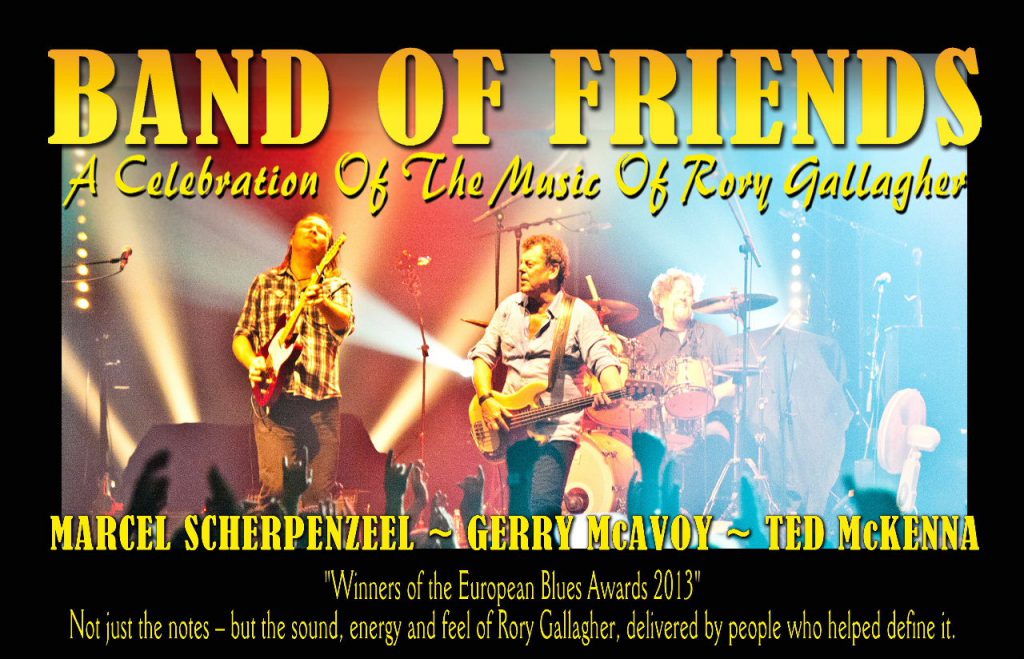 Etre puni par où on a péché, mais aussi disparaître tragiquement au sommet de sa gloire – ou comment Rory GALLAGHER est entré au Panthéon de l'Histoire du RRR (Real Rock'n'Roll) par la toute grande porte. Ainsi se créent les mythes, ainsi les légendes s'écrivent. (Et si l'on est effectivement puni par où l'on a péché, que la prostate de Rocco Siffredi ne défaille pas avant le reste…). Rory avait 47 ans quand son foie a défailli, quand sa greffe a eu raison de lui. Nous n'avions que 30 ans. Il en a toujours 47 aujourd'hui, et nous en avons bien plus maintenant…
D'un blues-rock assez rustique jusqu'à un rock de plus en plus puissant dans les années '80 avec le cataclysmique live "Stage Struck", GALLAGHER a toujours su garder une sensibilité très bluesy qui le démarquait des autres guitar heros. Jusqu'au triste soir où son corps de 47 ans n'en a plus voulu, de cette saloperie de greffe. Et de tout le reste qu'il lui avait fait endurer.
Nous n'avons eu droit qu'à un seul face-à-face avec la Bête – c'était en 1994 déjà. Rory GALLAGHER, c'était 100% party, 200% no compromission, 300% energy, 400% live on stage et 500% heart & soul. Ce soir à nouveau, les yeux fermés, c'est à s'y méprendre. Car BAND of FRIENDS n'est pas un tribute band : c'est un groupe au sein duquel le destin a, par la force des choses, troqué l'élément fondateur centripète par une symbiose explosive à force centrifuge.
En 35 ans de carrière, l'homme à la chemise à carreaux a vendu des dizaines de millions de disques sans jamais se la péter. Gerry McAVOY, durant vingt ans, a été le bassiste de celui que Jimi Hendrix himself désignait comme le plus grand guitariste. Nous avons déjà rapporté que dans une interview, à la question : "Qu'est-ce que ça vous fait d'être le meilleur guitariste du monde?", Hendrix répondit tout simplement: "Je ne sais pas, demandez à Rory Gallagher".
Gerry McAVOY rejoint donc le premier groupe de GALLAGHER en '67 à Belfast. La littérature prétend que Rory avait réussi à articuler ses chorus dans une rythmique sous-jacente avec pour conséquence que, lorsqu'il partait en solo, on avait toujours l'impression qu'un guitariste rythmique jouait derrière lui. Cette technique terriblement exigeante fait que GALLAGHER n'a eu que très peu de successeurs. Et à ce petit jeu – ou plutôt à ce jeu de titan – Marcel Scherpenzeel n'a aujourd'hui pas que la consistance de Rory au sein du BAND of FRIENDS mais également son panache et sa flamboyance.
Edward " Ted " McKenna aux drums est le troisième homme du BAND of FRIENDS, lui qui a officié à la charnière des 70′ et des 80's aux côtés de GALLAGHER également. Le trio ne fait donc pas que célébrer la musique de Rory, c'est également le son, l'énergie, le doigté, l'âme et le charisme de GALLAGHER qui sont à la fête ce soir encore. Encore, encore et toujours.
Y a-t-il d'ailleurs jamais eu autant de sueur qui ait coulé sur les planches du Spirit of 66, autant que ce soir, autant que Rory himself en aurait fait couler?! Too much is not enough: une étoile continue sacrément de briller là-haut, didju…