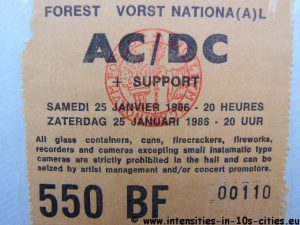 Une fois n'est pas coutume, une review de quelques lignes avant même d'assister au concert. C'est dire l'état d'esprit dans lequel nous sommes, alors qu'AC-DC nous attend sous peu au Stade Vélodrome de Marseille…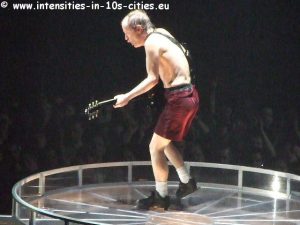 Après l'éviction peu glorieuse il y a quelques semaines de Brian Johnson (mais est-ce bien une éviction?) qui fait suite à celle déjà très peu reluisante de Phil Rudd l'année dernière pour d'autres obscures et discutables raisons, après le départ de Malcolm Young contraint de jeter définitivement l'éponge pour cause de sévères problèmes de santé, on ne peut pas dire que le line up de cet ersatz d'AC-DC nous transporte de joie à quelques jours de décoller pour la Canebière.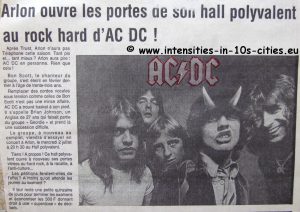 Le véritable leader du groupe était Malcolm. Il était non seulement le maître du riff, mais c'était aussi un chef de clan qui avait l'autorité naturelle pour envoyer ch… les businessmen de l'industrie du disque quand ils devenaient trop ballbreakers. Après son départ, c'est Angus qui a dû reprendre l'affaire familiale en tombant probablement sous la coupe des cadres de chez Sony qui ont les yeux rivés sur le rapport profit / investissement. Ceci explique cela, et notamment la configuration à géométrie variable actuelle du groupe qui doit (?) honorer les dates de cette méga-tournée mondiale. Business is business, the show must go on: raisons suffisantes pour expliquer la surprise du chef sans pour autant la justifier…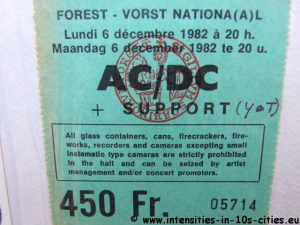 Cette demi-surprise donc que représente l'arrivée du dépanneur / plombier de service, Axl Rose, a un drôle de goût, même si pas dénuée de timbre. Après la reformation historique de Guns & Roses (ou du Guns & Roses historique) en ce printemps 2016, l'ex-sémillant Axl vient donc dépanner au pied-levé les Australiens en leur prêtant son organe afin de mener ce Rock or Bust World Tour 2016 à son terme . Bonne ou mauvaise nouvelle?! L'avenir nous dira sous peu si nous avons raison de pencher pour la seconde hypothèse…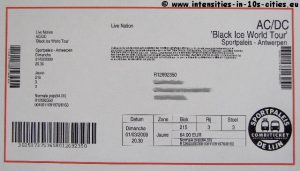 AC-DC plays working class rock n'roll for working class rock n' rollers. C'est le cas, et l'a toujours été depuis plus de 40 ans: boulot, métro, dodo – sans que le band ne soit mu par une impérieuse nécessité alimentaire. Depuis des décennies, chacun de leur disque est un plagiat du précédent, chaque tournée qui en découle répète inlassablement le même scénario – voire la même set-list. Les modes et les années passent, AC-DC demeure. Le tiroir-caisse et la planche à billets fonctionnent à merveille, au point d'embaucher une nouvelle vendeuse sur le retour pour l'actionner. Mais la fin justifie-t-elle les moyens…?! AC-DC est mort une première fois avec la disparition de Bon Scott et une seconde fois avec le départ de Malcolm Young. Aujourd'hui, on assassine une dépouille, on sacrifie ce qu'il reste d'un mythe sur l'autel des affaires…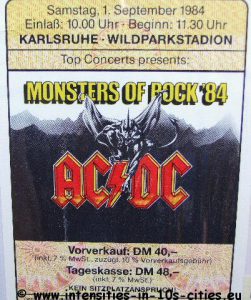 Car que reste-t-il finalement de l'âme et de l'essence de ce band, pour peu qu'il s'agisse encore bel et bien d'un band et non pas d'une formule "Angus Young & Friends" (ou plutôt A. Young, CEO d' AC-DC Enterprise). L'heure est venue de tourner la page et de refermer le livre "AC-DC, the Band". Que les Australiens accomplissent ce geste maintenant, et avec dignité. Si Angus Young souhaite continuer de jouer (avec ou sans son vieux complice de la première heure, Cliff Williams aka le dernier des Mohicans), qu'il troque son dress-code d'étudiant pour un bon vieux jeans et qu'il s'en aille former un r'n'r blues band qui porte son nom, a l'instar de bien des rock stars en fin de carrière ou poussés vers la sortie.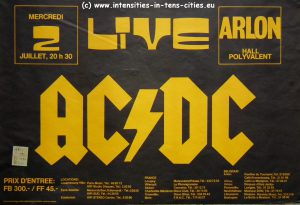 Reste maintenant à espérer que l'épisode Axl Rose soit l'épilogue et non pas un nouveau et inutile chapitre. Tu as fait du bon boulot, Angus, et parfois même mieux que quiconque. Mais quand son heure est venue, remiser son cartable au vestiaire et partir pour une retraite bien méritée au soleil est un geste noble. Dans le cas contraire, la fuite en avant risque bien de tourner à rien et même de virer carrément en eau de boudin. Et du boudin pathétique, c'est lourd à digérer. A l'instar des plus grands champions, la sagesse requiert de s'arrêter au sommet de sa gloire, et il est comme qui dirait peut-être déjà trop tard aujourd'hui – mais nous serons rapidement fixés. For those about to retreat, we salute you…