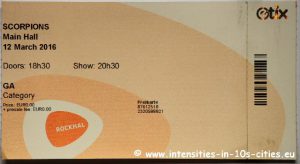 Foule des grands soirs à la Rockhal : SABATTON en sold-out dans le Club, et The SCORPIONS qui font quasi de même dans le main hall. Le n°1 de l'Avenue du Rock'n'Roll n'a décidément jamais aussi bien porté son nom… En 2012 ici-même, assistions-nous (ici) à la tournée d'adieu de SCORPIONS – The Farwell Tour. Quatre ans plus tard, même endroit, même heure, les Teutons sont toujours à l'affiche. Allez-y comprendre quelque chose, ma bonne dame, et un jour où l'autre viendra néanmoins la tournée de trop, le concert de trop.

Ne nous méprenons pas sur ce qui suit: nous a-do-rons The SCORPIONS. Mais époque Herman R., Francis B., Michaël Sch. et Uli Jon R. surtout… Si ce n'est pas la tournée de trop ce soir, le show de trop de Klaus Meine ne semble pas si éloigné que cela dans l'avenir. Comme éteint ou à tout le moins mauvais comédien ce soir, il est peu convaincant. Si ses vocals demeurent certes au top, ses sourires sont comme qui dirait forcés et ses harangues ont un arrière-goût artificiel de production de masse ressassée 50 ans durant.
Quelle est la pénibilité faîtière d'un concert de SCORPIONS ? Le spectacle affligeant et désolant du préposé à la batterie, ou ces interminables moments-guimauves qui semblent attirer ces milliers de spectateurs et autres rombières qui ont fait le déplacement et cassé leur tirelire (lire, tirelire la) ? Si ces – habituels – bémols mainstream nous sont de plus en plus pesants au fil des années, il n'y a cependant rien à jeter des deux autres tiers du show.

Une set list bien musclée nous promène efficacement dans le dédale des décennies passées du vrai SCORPIONS, rehaussée d'un impressionnant visuel toujours (très) haut de gamme. La preuve en est, ce rouleau compresseur n'est pas du goût de toutes les oreilles – notamment féminines – qui passent de la guimauve à la charpie, qui virent de rose Barbie à rouge-sang. Sachez Mesdamekes que figurent au tableau de chasse de SCORPIONS de véritables tueries et non pas seulement de crapuleuses minauderies. Et que oui, le scorpion peut méchamment user de son dard quand il décide d'encore piquer: c'est la blitzkrieg à tous les étages, wunderbar !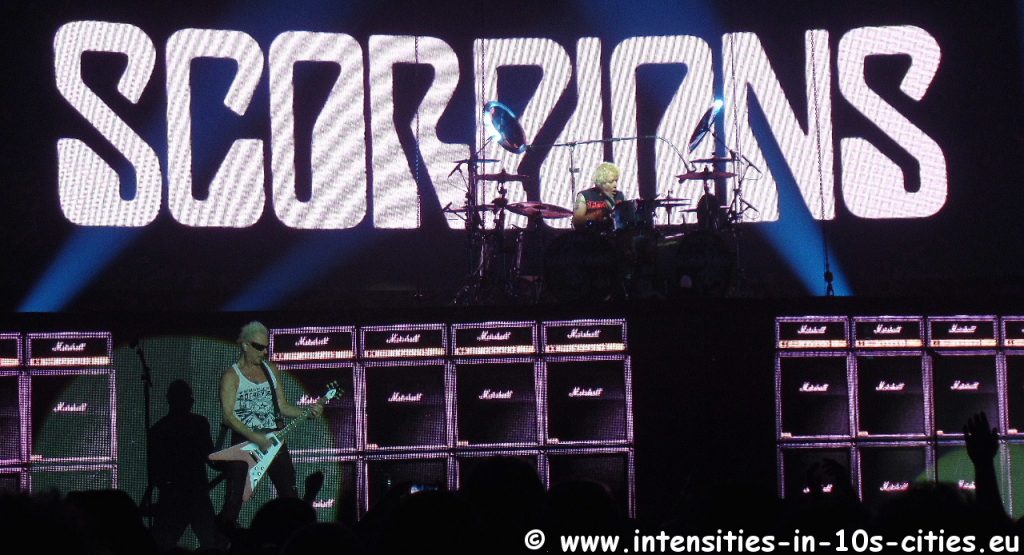 Une fois n'est pas coutume, la ligne de basse est tout aussi agressive qu'omni-présente, inversement proportionnelle à un Pawel Maciwoda aussi transparent qu'insipide. Il assure de la sorte sur scène le parfait (?) pendant d'un Matthias Jabs peu enjoué ce soir dont l'enthousiasme et l'entrain semblent dorénavant plutôt relever d'un formalisme de bon ton. Comme toujours (mais pour combien de temps encore ?), Rudolph Schenker irradie et demeure le showman flamboyant de service. Leader incontesté, arpentant la scène de long en large, il semble porter et assurer à lui seul le show en déployant tous ses artifices de guitariste chevronné à qui on ne la fait plus. Restera maintenant à compter les années durant lesquels ce cirque continuera de tourner, avec pour fauve un seul véritable équilibriste à la manoeuvre entouré de figurants sur le départ (… ou sur le retour).

Même s'il ne faut pas cracher dans la soupe de scorpion, la tambouille symphonique épique de BEYOND the BLACK qui officiait en première partie était d'une affligeante banalité parsemée de lieux communs cent fois éculés. C'était déjà le présage d'un menu peu équilibré où la cuisine de fin gourmet côtoyait ce soir la grosse bouffe de cantine. Ce 50th Anniversary Tour est probablement l'occasion de mettre définitivement un terme à la carrière de SCORPIONS avant qu'il ne soit définitivement trop tard, et que surtout la tournée suivante ne gâche ce qu'il reste de réel plaisir. Dans le cas contraire, pourraient ne demeurer sur piste que trois lévriers en bout de course et un morpion grassouillet entourant tous les quatre un félin racé, génial équilibriste et frontman hors pair: le décorum ne suffira alors plus à compenser…
(Photos © 2010, 2012, 2015 et © 2016 pour les clichés non-datés)